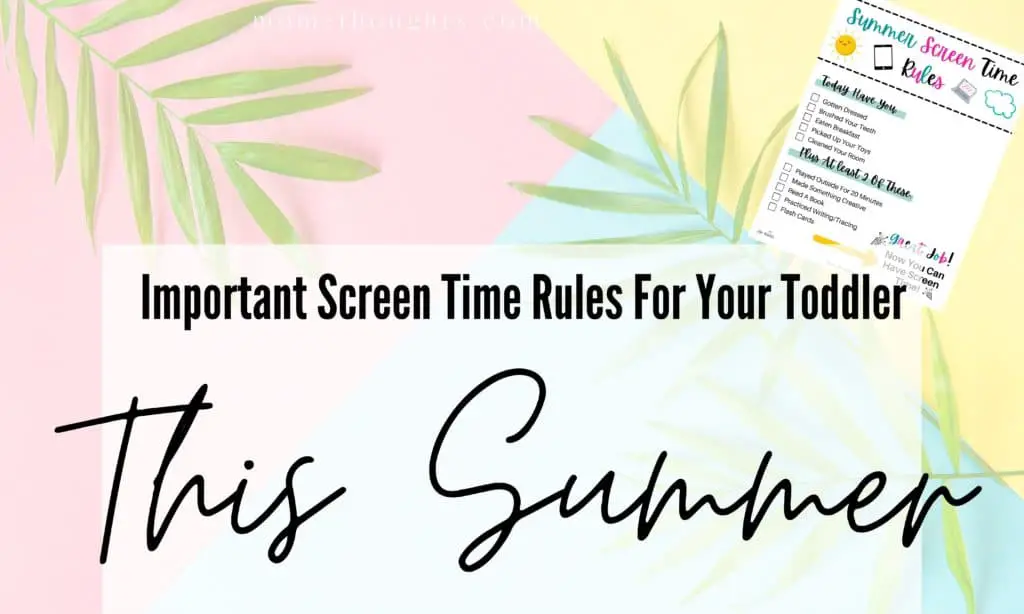 FREE SUMMER SCREEN TIME RULES PRINTABLE
Summer time used to mean running outside in the morning to play around the neighborhood with friends until the sun went down. But now a days kids waste the summer away sitting on the couch with their eyes glued to a screen. Even though some screen time can even be educational, it's still important to implement summer screen time rules to keep your child active and healthy.
So in between summer beach trips with your toddler, and other cool road trips you may be taking this summer, follow these tips to avoid screen time overload this summer!
As a means for providing for my family, I may earn commissions if you shop through the links on this page at no additional cost to you. Thank you!
Scroll To The Bottom Of This Post To Get The FREE Summer Screen Time Rules Printable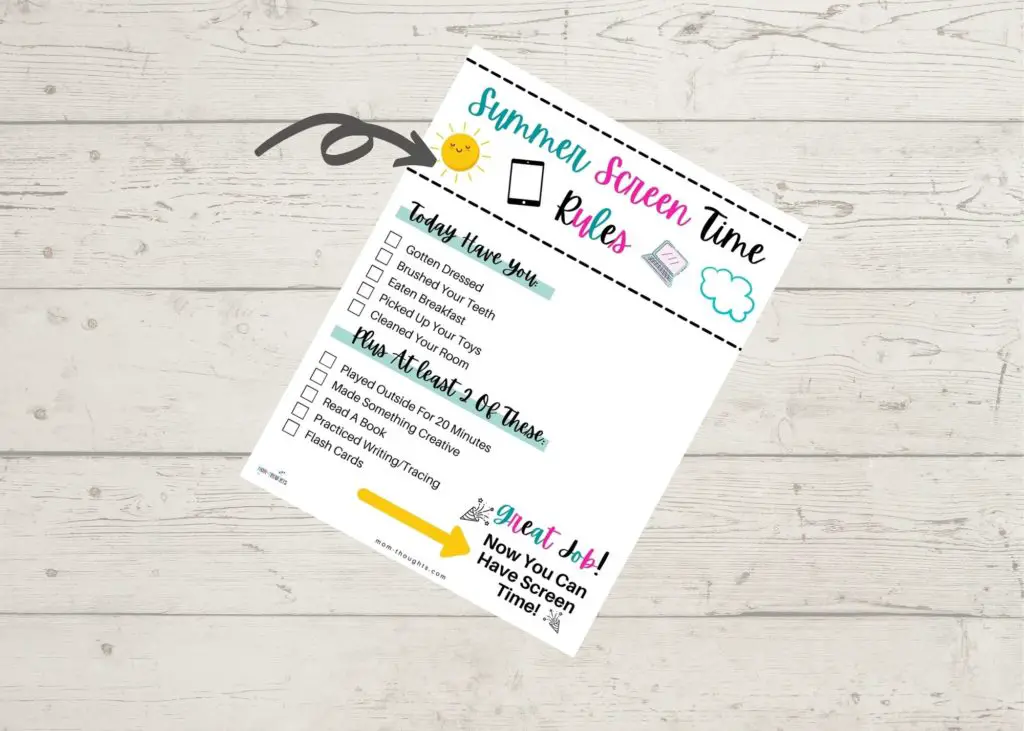 While its not realistic to have a zero screen time rule, there are ways that you can limit screen time to an appropriate amount. I use this Summer Screen Time Rules Printable, and I stand firm on the rules being followed each day.
This ensures that everyday before they get any screen time they do the essential things including:
Getting Dressed
Brushing Their Teeth
Eating Breakfast
Picking Up Their Toys
Making Sure Their Room Is Clean
Following these rules helps avoid your toddler having their face buried in a screen from the moment they wake up.
In addition to the essentials though, you also want to make sure your toddler/child has done things that are good for their physical and/or mental development and health.
Stay strict on the summer screen time rules and have them do at least two (2) of the things from this list before they enjoy any screen time:
Played outside for 20 minutes
Made Something Creative (i.e. a drawing/painting, play dough/clay, other crafts, written a story, etc.)
Read A Book
Practiced Writing/Tracing
Flash Cards
More Tips For Summer Screen Time Rules:
How To Make Screen Time Educational
Kindle Unlimited: Make the most of your toddler/child's daily screen time by making it educational. Try out Amazon's Kindle Unlimited. You'll get unlimited reading from over 1 million ebooks, unlimited listening to thousands of audiobooks, etc. They have a free trial going on where you can try it for a month free HERE.
Fire Tablet: Rather than just having your toddler tinker around on your phone or other device, get them a Fire Kids tablet. It's "toddler proof" and comes with a bunch of educational games, videos, and ebooks.
Plugo Count by PlayShifu – This is great for toddlers and kids 4+. It's an App Based learning tool to teach addition, subtraction, multiplication and division. The App is free and lets your child play 5 STEM games with 250+ progressive levels. You select your child's grade to adjust the difficulty of the games. There is various story-based math activities solving word problems, timed trials, and arithmetic questions.
Check out more details HERE.
Plugo also has a "Letters" version which is jam packed with Educational Vocabulary games!
HAVE YOU SEEN OUR TODDLER/PRESCHOOLER DAILY LEARNING CALENDAR?

Osmo Little Genius Starter Kit For iPad: This is a really cool, award winning learning game for toddlers that lets your child interact with tangible educational toys and an iPad, while bringing their actions to life.
It includes fun preschool learning toys that help your child's brain really flourish! (Designed for toddlers age 3-5). The games help your child develop creativity, imagination, fine motor skills, verbal proficiency, empathy, and spatial reasoning.
This game really makes the most of your toddler's screen time as they learn to recognize letters and learn phonics (ABCs), develop pre-drawing skills (Squiggle Magic), identify social-emotional cues, and experiment with clothes and colors (Costume Party), and develop problem-solving skills (Stories).
More Details HERE.
Negative Side Effects Of Too Much Screen Time For Toddlers And Children
Obesity
Trouble Sleeping
Chronic Back and Neck Problems
Lower Test Scores
Depression
Anxiety
Poor Eye Sight
Slowed Cognitive and Motor Development
Lowered Emotional Intelligence
Delayed Learning
Weakened Memory
Trouble Focusing On Single Tasks
Get The Free Summer Screen Time Rules Printable
MORE RESOURCES FOR TODDLER MOMS