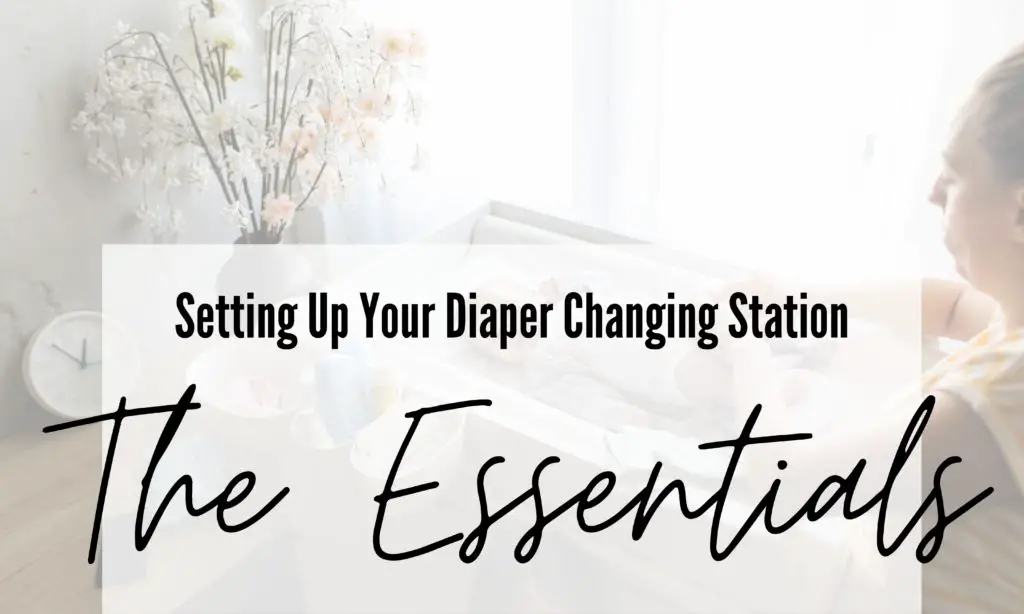 Everything You Need At Your Diaper Changing Station
The first year of your baby's life you're going to be living in an endless loop of changing dirty diapers. While it's not exactly glamourous, there's just no way around it. And our cute little peanuts are totally worth it. That being said, you want to make sure your diaper changing station is totally on-point!
You want your baby changing station to be organized, practical and stocked with ALL of the changing table essentials. It's also a good idea to have a little portable baby changing station/caddy in reach because you may want to carry it to different rooms of the house throughout the day. A lot of people think all you need at your diaper changing station is diapers and wipes, but that's not the case. There are actually quite a few things you're going to want to have on hand at your changing table.
As a means for providing for my family, I may earn commissions if you shop through the links on this page at no additional cost to you. Thank you!
Don't forget to set up your FREE AMAZON BABY REGISTRY to get access to all of the perks!
Scroll to the bottom of this page to get the FREE Changing Table Essentials Checklist!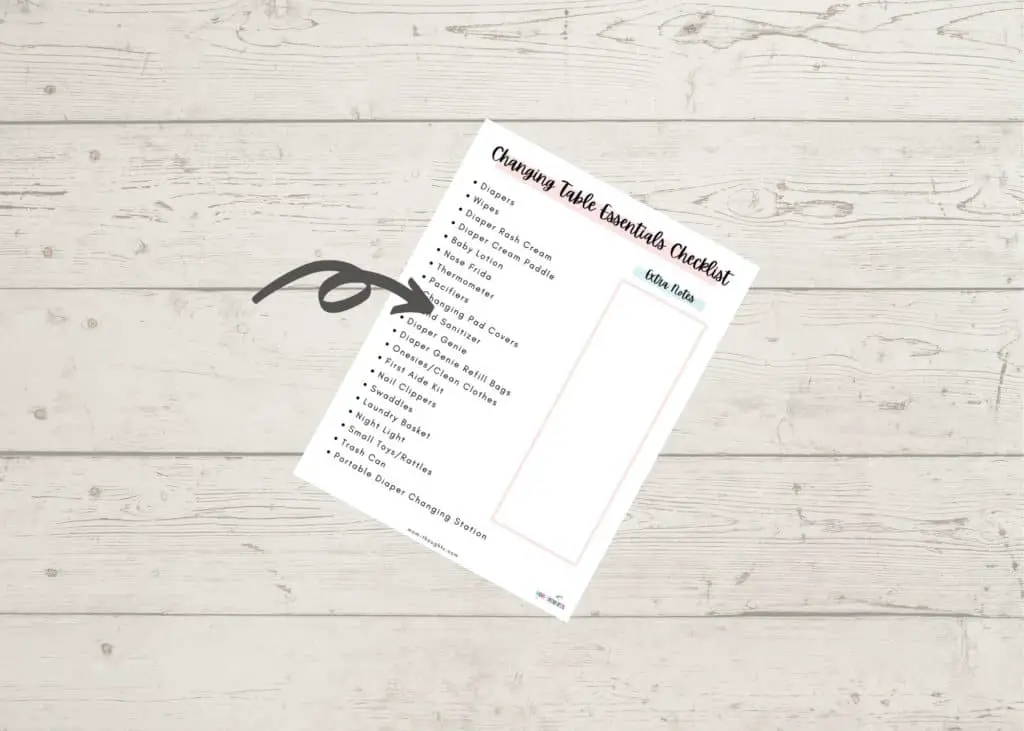 Changing Table Essentials
Here's everything you need for your diaper changing station:
Diapers
Duh. First and foremost on the list of changing table essentials…diapers. Stock your changing table with PLENTY of diapers. On average, a newborn baby will go through 8-12 diapers per day.
Wipes
Diapers and wipes go hand in hand. Some of those dirty diapers are going to be pretty gnarly, so you're going to want your changing station to be very well stocked with wipes. My favorite wipes are the Huggies Natural Care Sensitive Wipes. My baby has extremely sensitive skin, so these work very nicely.
Diaper Rash Cream
Diaper rashes are pretty inevitable. Especially in the hot summer months! You can definitely do things to lessen the frequency and severity of diaper rashes, but they are still bound to happen sometimes. Always have diaper rash cream in reach. My top choices are both Aquaphor Healing Ointment and Boudreaux's Butt Paste. I recommend keeping both in your diaper changing station because they are both good for different purposes. Aquaphor is great for minor scrapes, and chapped and irritated skin. Where the Butt Paste works wonders for those nasty diaper rashes.
Diaper Cream Paddle
If you have any experience with diaper cream, then you know that stuff is THICK. So it can be a real S.O.B. to get off your hands. These diaper rash cream paddles are so inexpensive that it makes it a no brainer. They save you a lot of hassle and mess which makes them a staple item for your diaper changing table. Just scoop (or squeeze) the diaper cream on the paddle, plaster that little baby butt, and wipe the paddle clean with a single baby wipe. Game Changer!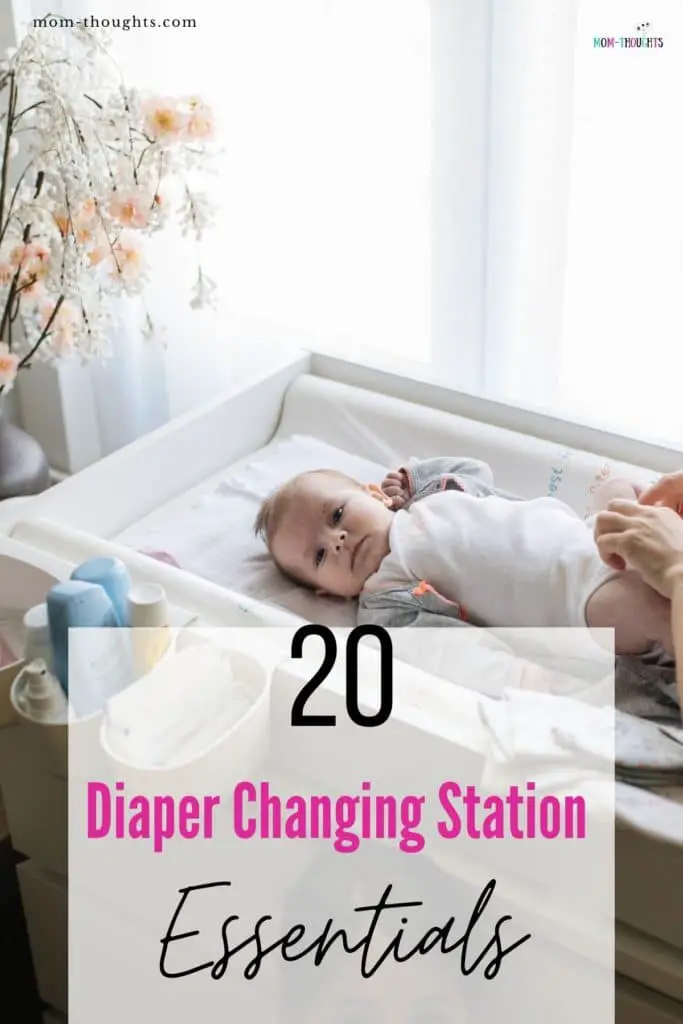 Baby Lotion
Make sure you're applying baby lotion in the morning, and every night after their bath. My baby's dermatologist advised that we should be applying lotion twice a day. My absolute go-to baby lotion brand is Aveeno. It's great for baby's sensitive skin! If your baby suffers from baby eczema like mine does, check this Baby Eczema Therapy Lotion.
Nose Frida
The Nose Frida is all the rage. It seemed REALLY weird to me at first, but it actually does a way better job at clearing out your baby's boogers then those old fashion bulbs. Since baby's can't blow their noses yet, they need a lot of help in that department. And don't worry…the boogers DON'T get in your mouth!
Thermometer
Keep a minimum of 2 thermometers at your diaper changing station. I learned this lesson after spending an evening at Urgent Care with my newborn that I thought had a high fever, only to find out that our thermometer was wrong! So you'll want to be able to confirm the temperature. I highly suggest this FridaBaby 3-in-1 Digital Thermometer. It's adjustable for oral, underarm and rectal readings. I also like to have a Forehead Thermometer on hand. The forehead thermometer also comes in handy for taking your baby's temperature while they are sleeping, so you don't need to wake them up.
Pacifiers
Keep a few pacifiers on hand for when your baby is feeling extra fussy during those diaper changes.
Extra Changing Pad Cover
Keep an extra changing pad cover at your changing table because accidents are going to happen. Your baby's going to pee on it while you're trying to get a new diaper on, there's going to be blow outs where the cover gets dirty, etc. Fun stuff, right mama?
Hand Sanitizer
For obvious reasons. At my diaper changing station, I like to keep a bottle of this Alcohol Free Babyganics Hand Sanitizer. It's formulated without parabens, sulfates, phthalates, artificial fragrances or dyes.
Diaper Genie/Pail
Every once in a while I'll see the Diaper Genie on lists of "baby products you don't actually need". But I will never understand why people put it on that list. You absolutely need a Diaper Genie/Pail at your baby changing station. Not only are are not going to have time to run the diaper to the outdoor trashcan 8-12 times a day, but it also helps to control the odor. Which is way a regular trash can won't do. It's really not very expensive at all, and given how often you will use it every day, and for how long you will use it, it's totally worth the money.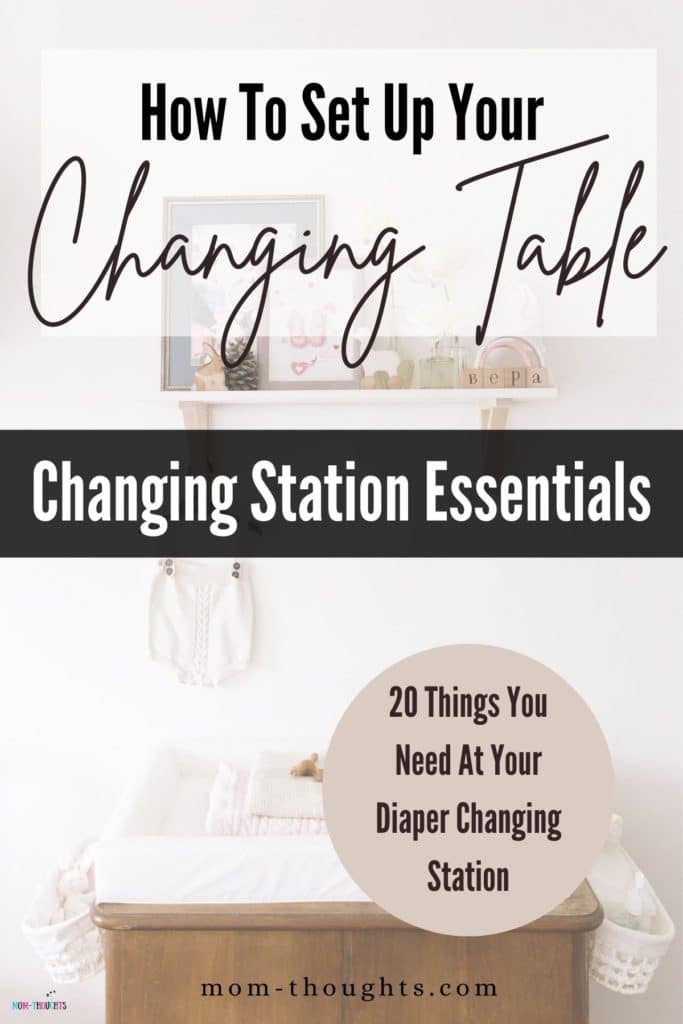 Diaper Genie/Pail Liners
Keep your Diaper Genie Refill Bags in close reach from your diaper changing station. Also, get them on Amazon's Subscribe and Save Program! You can save a good bit this way. Do the same thing with diapers, wipes, etc.
Onesies
Have extra changes of clothes nearby for when you need to switch your baby into clean clothes. For example, if you find yourself in a classic "blow out situation"…you'll want those clean clothes in arms reach.
First Aide Kit – With Nail Clippers
The diaper changing station is the easiest and best place to trim your baby's nails. Check out this Royal Angels Baby Electric Nail Trimmer to make things easier and safer for your baby!
Swaddles
After you get your baby all changed into a clean diaper, it's the perfect time to swaddle them up for their nap or bedtime. I've spoken about these before, but I HIGHLY recommend the HALO Sleepsack Swaddle. Make sure you get the right now…the SWADDLE one. This is by far one of my best "Mom Purchases" that was a total life saver on more than one occasion!
Laundry Basket
Have a laundry basket at your diaper changing station too so you have somewhere to easily toss the dirty clothes. Check out this trendy Large Cotton Rope Basket. It'll go perfectly with just about any nursery design.
Night Light
Keep a night light by your baby changing station for those middle of the night changes. The last thing you want to do is turn on a bright light in the middle of the night when you're already crossing all of your fingers and toes and praying to God that your baby will go back to sleep! This #1 Best Seller Hatch Baby Rest Sound Machine Night Light is really cool. You can control it through an APP on your phone and it has tons of cool settings. Definitely check this one out. If you're still waiting on your baby's arrival, then put it on your baby registry!
Small Rattle/Toy
Some babies absolutely HATE getting their diaper changed. So keep some of their favorite small toys at your diaper changing station.
Trash Can
In addition to your Diaper Genie, just keep a small trashcan by your baby changing station. This way you'll have a quick place to toss the trash such as empty wipe bags, diaper cream bottles, etc.
Portable Baby Changing Station/Caddy
It's important to have a portable diaper changing station for a couple reason. For one, it will make changing diapers on the go a lot easier, and cleaner. I'm sorry but I do NOT trust putting my baby on those changing tables in public bathrooms. But also, depending on the layout of your house, you may not always feel like taking your baby to their nursery to change their diaper. This Gimars Portable Changing Pad is awesome. It has a changing pad to lay your baby while changing them, pockets for ALL of your changing table essentials. Plus it has a special place for the baby wipes so you can easily grab them.
Get The FREE Diaper Changing Station Essentials Checklist!
MORE RESOURCES FOR NEW MOMS:
50+ Hippie Names For Your Free Spirited Boy Or Girl
Top 10 Baby Products To Survive The First Year With Baby
New Mom's Complete Guide To Formula Feeding
6 Game Changing Formula Feeding Hacks
Tips For Returning To Work After Baby
Unique One Syllable Girl Names
Must Read Tips For A Road Trip With Babies