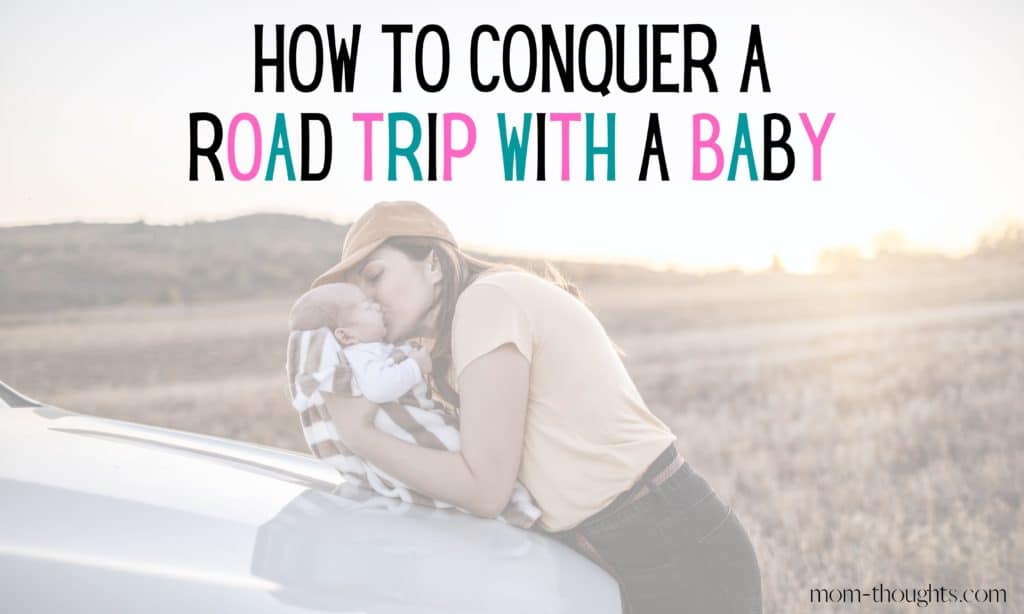 Mission: Survive Road Trip With A Baby
Going on a long road trip with a baby can sound really scary! Especially for first time moms, or if it's the first time you're going on a long car ride with an infant. There's so many things you need to take into account and you feel like you're inevitably going to forget at least one important thing that you need.
Scroll To The Bottom Of This Post To Get The FREE Road Trip With A Baby Checklist (Beach Vacation Edition!)
The first time I went on a road trip with my baby, it was about an 8 hour drive to the beach. And I was TERRIFIED! But luckily, I took the time to read up on how to prepare for that long drive with my baby and it went so much smoother than I could have ever imagined! The key is really to plan ahead and be prepared.
As a means for providing for my family, I may earn commissions if you shop through the links on this page at no additional cost to you. Thank you!
ROAD TRIP WITH A BABY CHECKLIST – QUICK LIST
---
Tips To Survive Your Road Trip With Your Baby
Tip #1: BE PREPARED
I cannot stress this enough mom friends! Be P.R.E.P.A.R.E.D! This is a lot different than those spontaneous road trips before kids!
Make sure your diaper bag is FULLY stocked and ready to roll. Fully charge all of your phones and tablets and have the chargers in the car with you! (Don't pack your chargers away, have them easily accessible.)
Quick Tip: This diaper bag is really cool because it actually has a pull out section that turns into a changing pad.
Pack multiple changes of clothes for both yourself and the baby. (Just think spit ups and blow outs and you'll understand why everyone needs extra clothes!)
Pack extra wipes and some sanitizing wipes for cleaning up yucky messes. 
Bring plenty of formula and/or frozen breast milk. If you're a formula feeding mama, grab these sectioned formula containers from Amazon.
If you're a breastfeeding mama then don't forget your Boppy or Brest Friend. This will make breastfeeding on the go much more comfortable.
Also, don't forget to pack a small bag with some toys. This will help to keep your baby entertained on that long car ride. 
I also suggest getting a Tablet Headrest Holder and a Kid's Kindle Fire if you don't already have one.
You can sign up for a free 30 day trial of Amazon Video HERE, so you can play some movies/shows that will keep your little one's attention. They love watching the bright lights and listening to the sounds. Don't overdue the screen time if you can help it, but it can truly be a life saver during these long road trips.
Tip #2: Driving At Night Might NOT Be A Good Idea
One of the pieces of advice for going on a road trip with a baby was to drive at night. And look…I get the concept, and I'm sure it's worked wonderfully for many people.
But hear me out…who says your baby is going to sleep in their car seat through the night like they do in their crib? A lot of babies are pretty particular about their sleeping arrangement. 
So what's worse? Driving through the night when everyone would normally be sleeping (including yourself), listening to a screaming baby that you can't really console because they need to be strapped into their carseat, OR getting a good night's rest and then waking up early and driving during the day? I'll take the latter personally.
Plus if you need to stop for an emergency, or even food, there will be a lot less options in the middle of the night.
Tip #3: Be Flexible
While it's super important for you to plan out your road trip with your baby, it's also extremely important to remember and accept that not everything is going to go as planned. 
It's okay if your plan needs to shift gears a few times. And in terms of planning, you don't necessarily want to plan out your stops. When you have a baby in the car for these long rides, the baby is going to determine when you stop.
Stop when the baby gets hungry, or when he/she is fussy and needs to be held and take a break from the car seat. Stop when they need to be changed. Then just handle your business during these stops too. Go to the bathroom, grab food, stretch your legs. 
And just remember…you'll get there when you get there. It's okay if the trip takes longer than you planned. You'll get there. Just keep trucking along!
Tip #4: Pack Plenty Of Snacks and Drinks
Since you want to be able to base the stops on your baby, you'll want to make sure you have snacks and water for the ride. That way if you get hungry or thirsty while your baby is peacefully sleeping or behaving, you can take advantage of that time and keep driving! 
I highly recommend this car seat organizer and cooler! It will store your cold snacks and drinks while also helping you organize your things that you'll want to have easy access to. (Wipes, napkins, toys, tablets, chargers, etc.)
Tip #5: Have one adult in the back seat with the baby (if possible) 
If you're going on a road trip with a baby solo then this obviously won't be possible. (Hats off to you mama!)
But if it is possible, have one adult sitting in the backseat with the baby. That way there will be someone right there to console a crying baby, feed them a bottle, play with them, and get them whatever they need. 
This helps to limit the number of times you're having to pull over and make stops to see what's wrong and to tend to your little one.
Don't Forget To Grab This FREE Printable Checklist!
You May Also Like:
Tips For Road Tripping With A Toddler
How To Actually Enjoy A Beach Vacation With A Toddler
Complete Formula Feeding Guide For New Moms