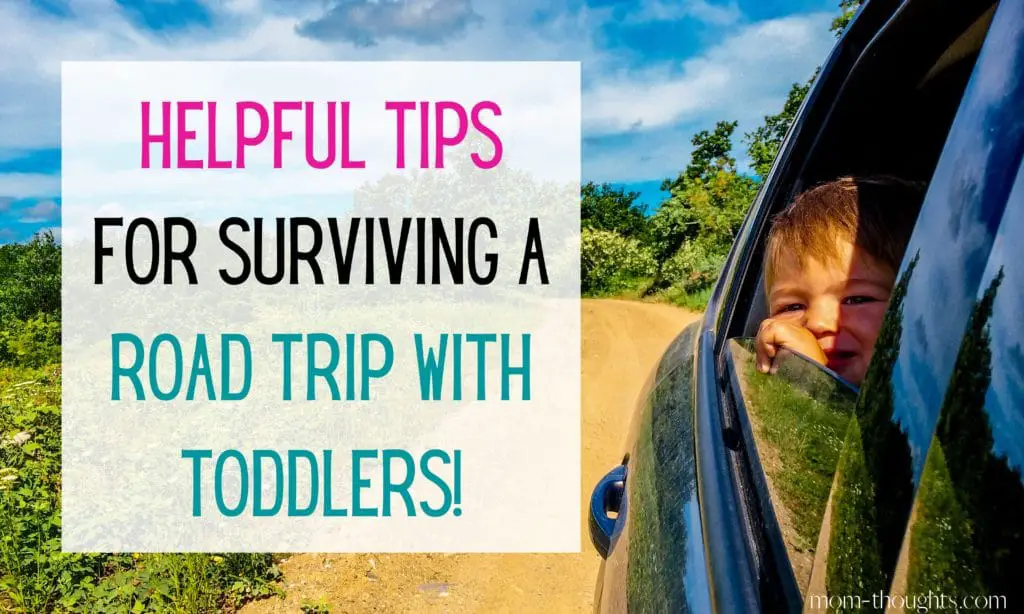 Road Trip With Toddlers…just the sound of those words sent shivers down my spine! For our first long car ride with our toddler, we took a 9-10 hour trip to a beach in North Carolina. To say I was nervous about how to keep my toddler entertained and happy during that road trip would be an understatement! I'm not crazy about long car rides in general, so adding a crazy toddler to the mix seemed, well…miserable to be honest!
So I did what all of us moms do…I hit the internet to find all of the best tips for taking a road trip with a toddler! And my fellow moms did not let me down!
I've compiled all of the top tips, and the absolute BEST toddler road trip essentials to help make sure your road trip goes as smoothly as mine have! (I got you mama!) Scroll to the bottom of this post to get the FREE Road Trip With A Toddler Checklist.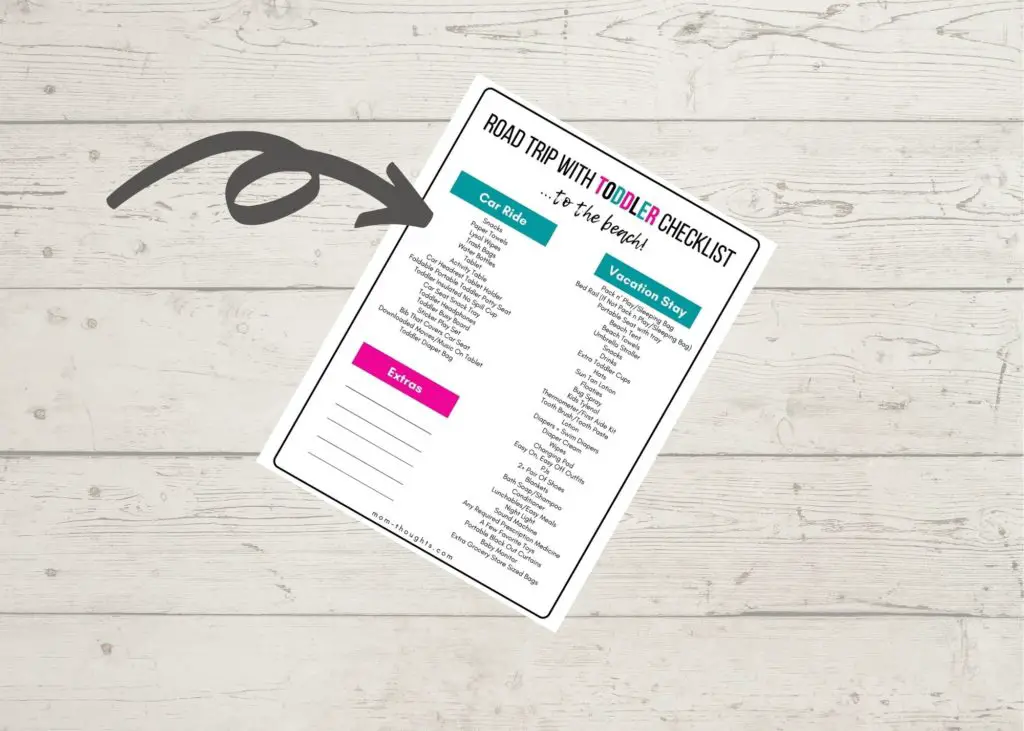 Before we get into the must have essentials to keep your toddler entertained on that long car ride, let's start with some quick tips that you'll want to follow!
As a means for providing for my family, I may earn commissions if you shop through the links on this page at no additional cost to you. Thank you!
---
How To Use The Daily Toddler Learning Calendar
---
Tips For A Road Trip With Toddlers
Drive during the night. If you can't drive during the night, than leave EARLY.
Pack plenty of snacks that your toddler enjoys. Be sure to include their favorites!
Get your music playlists together and include your toddler's favorite songs
Open an Amazon Audible account and listen to children's books. (

Before your trip, sign up for a Free 30 Day Trial HERE

.)
Pack older toys your toddler hasn't seen in a while and/or new toys that you haven't given to them yet.
Have someone sit in the back with your toddler. At least for a good bit of the trip.
Plan your stops as much as you can. Be sure you're giving your toddler opportunity to stretch their legs and get out of that car seat for a while!
Bring a few trash bags. (One for trash, but also some extras as a "puke bag" incase your toddler gets car sick.
Pack a toddler diaper bag, so when you stop for meals, potty breaks, and leg stretches, you can easily grab what you need to without having to shuffle through a million bags.
Bring paper towels, disinfecting wipes and Lysol to clean up any unfortunate messes that occur.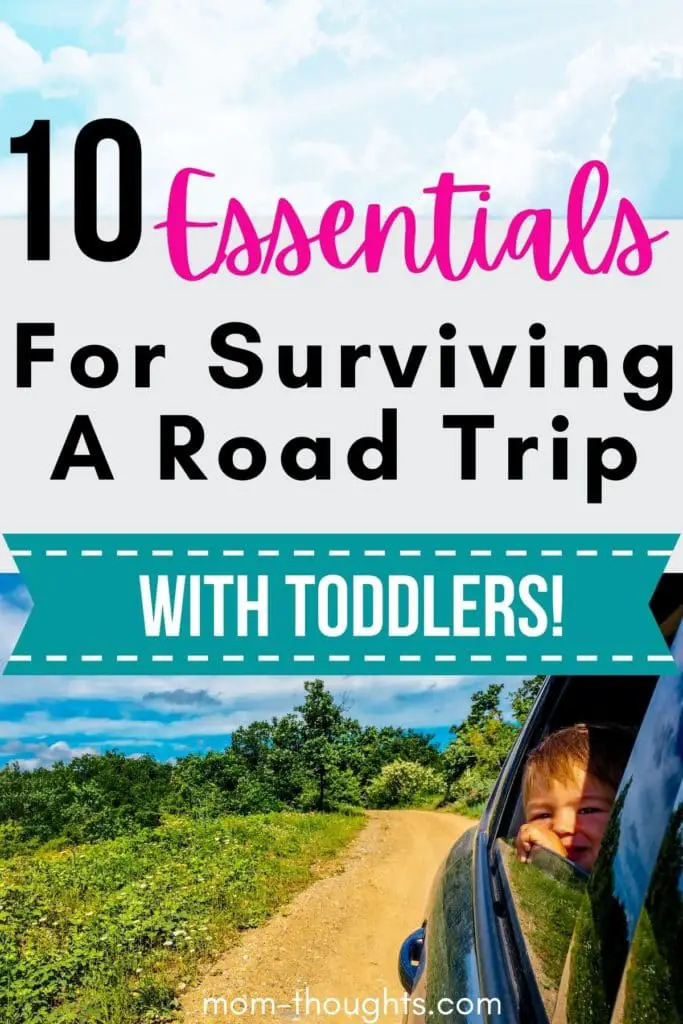 Alright mamas…now the fun part. The must have, totally essential items that will help you ROCK a road trip with toddlers!
Must Have Products For A Road Trip With Toddlers
Quick Reference List:
Foldable Portable Toddler Toilet Seat
Insulated Portable Toddler Cup
This portable toddler toilet seat is awesome for potty trained toddlers! (Or toddlers that are working on potty training.) It's perfect for road trips, but it's also just an essential to have in your toddler car kit/diaper bag. It folds up so it's really portable and convenient.
I love this thing because I don't like the idea of my toddler sitting on a dirty public toilet, and those darn paper covers can be a hassle! This is a definite MUST.
---
You'll definitely need to bring an Insulated Toddler Cup to make sure they stay hydrated! Otherwise, you'll find yourself making an extra stop because they need something to drink or because their drink "got hot". These cups are also really cute with their favorite characters on it which is a fun plus!
Check out all the different character options!
---
This Car Seat Snack Tray is really convenient for keeping your little snacker satisfied during the long drive!
---
Moms…you NEED a tablet for a long road trip with toddlers.
Let me say that again for those of you whose kids were screaming while you were trying to read this…YOU NEED A TABLET FOR A ROAD TRIP WITH TODDLERS!
I love this Amazon Fire Tablet because it's basically indestructible, it's affordable, and it's built for kids so it comes with a lot of toddler appropriate games and videos. This will save you a lot of headache during that long drive. (It comes in handy at home too!)
Sign Up For A FREE Amazon Prime Trial Here and get tons of music and movies for the drive.
---
This Car Headrest Tablet Holder is perfect for putting a movie/videos on the tablet and letting your little one watch it. It also helps make sure they don't accidently click out of the movie their watching. Plus you don't have to be bothered with them constantly dropping it.
---
Unless you want to listen to freaking Blippi and Cocomelon on repeat for hours on end, get your toddler these fun Toddler Headphones.
They come in 8 different colors. They are WIRELESS. Plus they are built for young kids with a volume restrictor to ensure they don't listen to things too loudly. And get this…they have built-in microphone for 2-way calling! Great for quick check ins with the grandparents, or other family members!
---
This Montessori Sensory Activity Board for Toddlers is awesome for keeping toddler's entertained on road trips and as a bonus it's great for strengthening their fine motor skills! (Win Win!)
---
My toddler LOVES playing with stickers. I'm pretty sure all toddlers do. These Sticker Play Sets are really cool because they come with cute puffy stickers and double-sided glossy background cards to put the stickers and create a fun little scene! You can peel the stickers off and use the background cards again and again.
---
No one likes vacuuming out those dang car seats! They get SO gross with all the crumbs that our little ones smash deep into the cushions.
When you're on a road trip with a toddler, they're going to be snacking in their car seat A LOT! So save yourself some trouble by getting one of these Bibs that cover the car seat! You'll be glad that you did!
They come in 10 fun designs that your toddler will love.
---
Last, but DEFINITELY not least, get yourself a Kids Travel Tray.
Dry Erase Board Doubles as Eating Tray
iPad/Tablet Stand Secures in Place
Detachable Cup Holder & Storage Compartment
Mesh Storage Pockets With Pen Holders
Stores Everything Your Child Needs
Attaches Securely to Any Car Seat
Also Use With Stroller, High Chair, Kids Chair, & More
Easy to Take In & Out of Vehicle
Multiple Color Choices
---
Preparing For A Road Trip With Toddlers – Get The Checklist!
Been thinking about starting a blog of your own? What are you waiting for?! Get started with BLUEHOST HERE at a super low cost!