Looking For The Best Baby Monitor? Lollipop Baby Monitor is definitely a high contender!
By: Heather Little
Lollipop Baby Monitor Review – Overall Verdict
Overall I am extremely happy with the Lollipop Baby Monitor. Given the choice again, I would go with Lollipop from the start. It makes the list for Top 10 Baby Products That All Moms Need!
It's a nice looking monitor that actually fits in with the aesthetic of a baby's room, rather than a bulky security camera looking thing.
The local Wi-Fi capability makes it super easy and convenient and safe to check in on your baby from anywhere in the house, or if you're outside doing yard work. You could also pop in an check on your baby if you're out and your baby is home with a sitter!
As a means for providing for my family, I may earn commissions if you shop through the links on this page at no additional cost to you. Thank you!
My Rating: 4.5/5
---
Where Can You Get The Lollipop Monitor?
They even have a Lollipop Sensor now that also measures room temperature, humidity and air quality!
---
Lollipop Baby Monitor Features
Bendable Leg (Wrap on Crib or Wall Mount)
Plays Lullabies and White Noise
---
Pros
1. Ability to sync with multiple phones/tablets
WiFi (with private connection option)
2. Super user-friendly (and NON-SUBSCRIPTION) App
3. Excellent video and audio quality
4. GREAT value for the cost
5. Can link to multiple cameras (PERFECT for twins/multiples as well as if you want to have a camera hooked up in more than one area such as crib, and play area.)
Cons
1. Doesn't come with ALL of the bells and whistles of some of the more expensive options out there such as this Owlet Monitor which can also track your baby's oxygen and heart rate. Those additional features can be very comforting to an anxious new mom, especially if your baby has any health complications.
Common Questions About The Lollipop Baby Monitor
Does the lollipop camera have to be plugged in?
Yes – the lollipop baby monitor camera does need to be plugged in. It is not battery powered. I've found that this is the case with most baby monitors though and I personally don't see it as a problem.
For me, I don't mind it needing to be plugged in at all. It's only the camera that needs to be plugged in, which typically stays in one place anyways…just pointed at your baby's crib. And then you can view it from your phone or tablet which of course you can carry around with you anywhere, not plugged in.
Before we got the Lollipop Monitor we had the Summer Baby Monitor. And while it did the job, we found it incredibly inconvenient having to carry around the separate display monitor, plus the battery was always dying on that dang thing.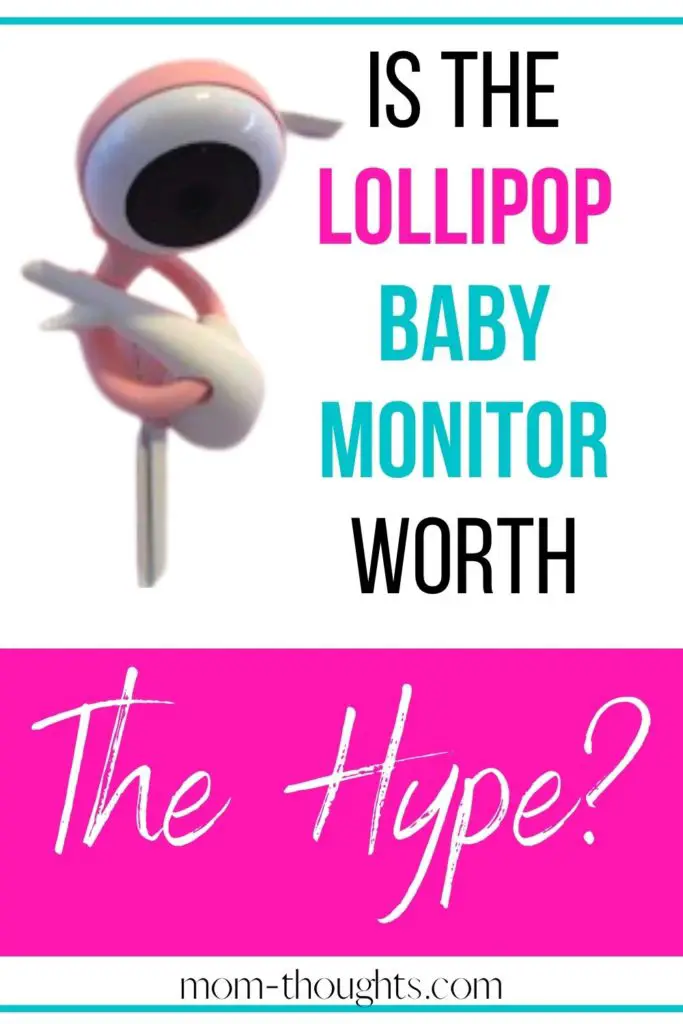 What is crossing detection on Lollipop Baby Monitor?
This is an awesome safety feature of the lollipop baby monitor where you set a border inside the camera view, and if there's movement outside of that border, you get a notification. This could help to notify you if your baby's arm or leg gets stuck in the crib walls, or especially useful when your baby reaches the age where they start trying to climb out of their crib! (That's always been a worry of mine!)

How do I reset my camera on lollipop?
Super easy. Underneath the silicone ring of the camera, you'll see a small hole. Just grab a needle, or something with a small enough point and press it for about 10 seconds. Make sure the camera is plugged in during this process.
Do you need to always keep the app open on your phone?
Nope! You do not always need to keep the lollipop app open on your phone. When you turn on the audio-only mode, you can turn off your phone screen and the audio will still play through. Then just turn the video back on anytime you want.
You also don't need to have it constantly playing through your phone if you don't want to. You'll get a notification on your phone if there's any activity such as loud noise or crying. Then you can pop in the app and check to see what your little one is up to.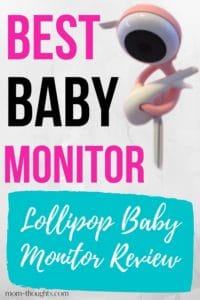 Can you talk to your baby through the lollipop device?
Yes. There is 2-way communication on the Lollipop Baby Monitor. There is a microphone button on the screen, and you just hold that down and speak to your baby. I really enjoy this function to help soothe my baby when they just need to hear my voice to drift back to sleep. It has also come in extra handy as my baby has turned into a toddler!
Can you use the lollipop baby monitor with multiple cameras?
Yep, you can connect the Lollipop Monitor to multiple cameras! Live View shows up to two cameras at a time, and then you can swipe across to view more video feeds as applicable. This is a great capability if you have multiple young children, or if you want to have a camera set up in multiple areas of the house, such as bedroom and playroom!
Can you pair the lollipop baby monitor with multiple phones?
Absolutely! You can pair the Lollipop with multiple phones and tablets as needed.
Amazon Top 10 Best Sellers For Baby Monitors
---
More On Infants And Newborns
10 Products EVERY New Mom NEEDS
Formula Feeding Tips – Everything you Need To Know!
Returning To Work After Maternity Leave