By: Heather Little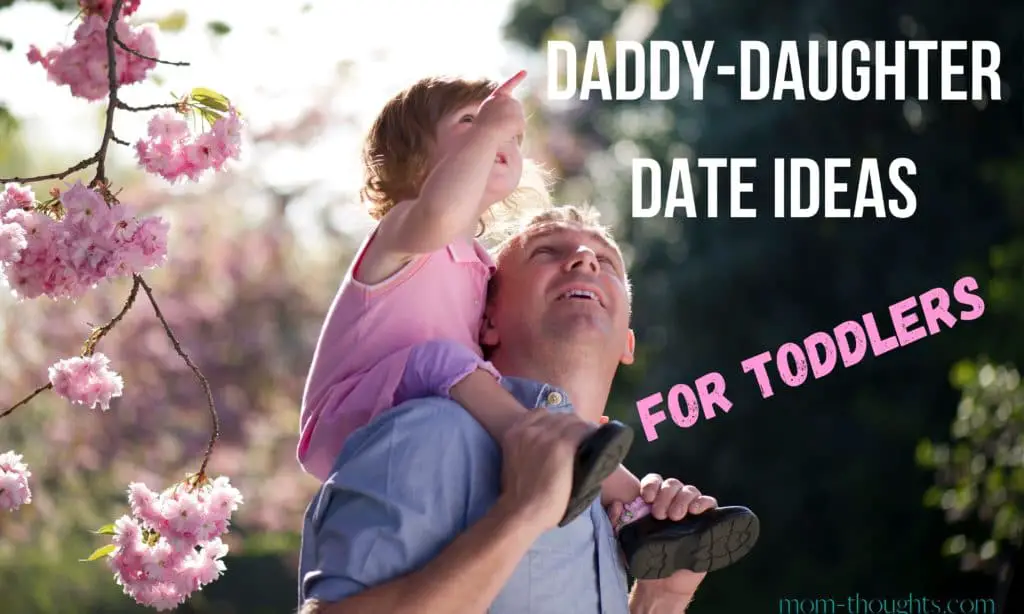 Looking For Amazing Daddy Daughter Date Ideas For Toddlers? It's never too early to start!
The bond between a father and daughter is so incredibly special and powerful. A father is blessed with the beautiful opportunity to teach his daughter exactly how she should expect to be treated. By witnessing his love and admiration for her mother, and by incorporating daddy daughter dates from a young age, a father can ensure his little girl knows her worth, so she never settles for a man that treats her less than her remarkable value. These daddy daughter date ideas for toddlers are the perfect way to establish her confidence to grow into a strong and powerful young woman!

As a means for providing for my family, I may earn commissions if you shop through the links on this page at no additional cost to you.
What Is The Role Of A Father To A Daughter?
A father is one of the biggest and most impactful role models for a little girl. Growing up with a positive male influence helps to develop a sense of confidence, strength, and self respect. These three character traits are absolutely crucial, especially for girls/women in this world!
Daddy daughter dates are such a fun way to develop and grow these traits in your daughter! A lot of people struggle with coming up with things for dads to do with toddlers, or cute things dads can do with their daughters. But it's really not that hard! In fact, it's quite easy!
From father daughter day trips, daddy daughter activities at home, dinner dates, and so much more, you'll strengthen that father-daughter bond in no time!
Let's cut the small talk and get into these daddy daughter date ideas for toddlers!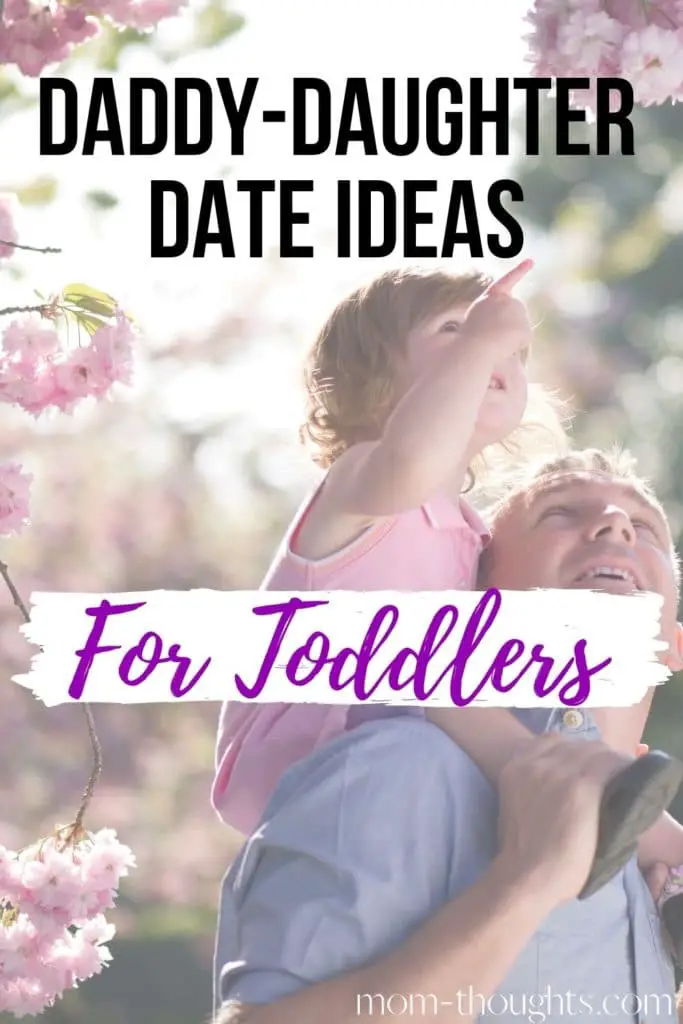 Special Daddy Daughter Date Ideas For Toddlers
A Night Out On The Town
Dinner Date At Her Favorite Restaurant
Really put in the effort for this one to make it special! Get her a pretty dress like this adorable dress from Amazon, have mom help her with the hair, and then "pick her up" at the front door with flowers, or even get these adorable plush flowers from Amazon while your daughter is still a young toddler! She will feel SO beautiful and special!
Ice Cream Date
Go to one of the ice cream places where you get to build your own ice cream with all the toppings you want! No sweet limits on daddy daughter date night!
Ice Skating
Going to the local skating rink is a super fun daddy daughter date idea that toddlers or older kids would be sure to enjoy!
Hit Up The Mall For Some Shopping
What girl doesn't love a nice shopping day? Go to the mall and walk around, grab some food at the food court and let her pick out a couple things to buy!
Bowling
Hit up your local bowling alley for some real fun! With gutter blockers and the little kids ball ramp, your toddler is totally big enough for this daddy daughter date!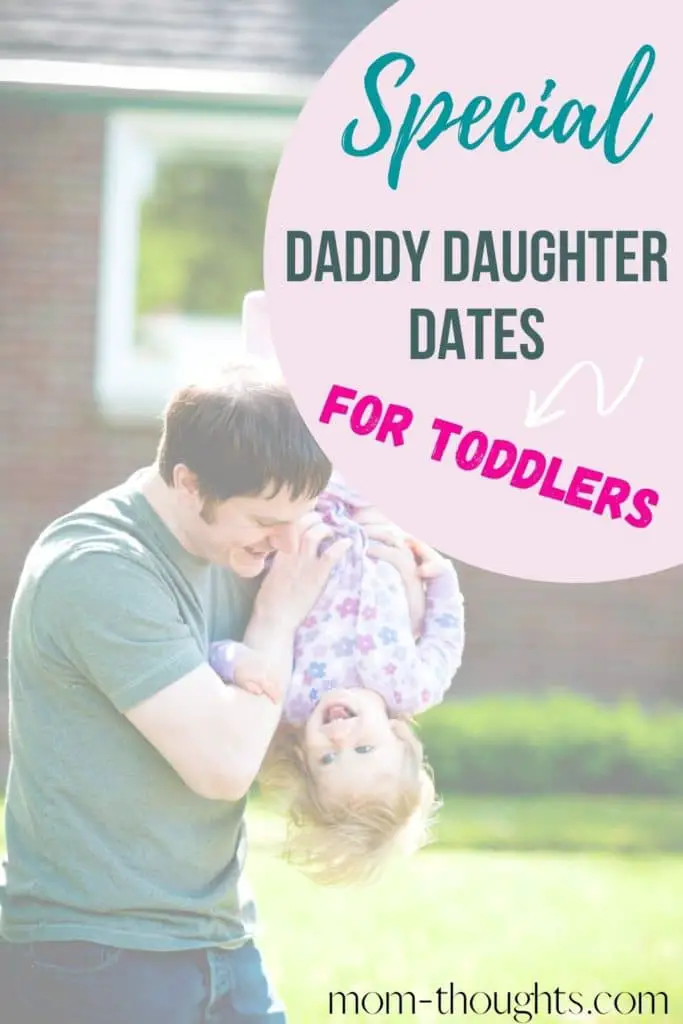 Daddy Daughter Activities At Home
Cook A Fun Dinner At Home Together
This is a really fun bonding daddy daughter activity to do at home! Your toddler will likely need a helper stool like this highly rated one from Amazon. You'll also need to get this knife set that is safe for toddlers so they can help with the cutting!
There's tons of easy recipes you can make together that will be totally scrumptious! (Check out this post on recipes to make with kids from creatingmyhappiness.com!) Really make things exciting and surprise her with this adorable little apron to wear!
Craft Day At Home
This one is REALLY fun, and you get a keepsake at the end! Cratejoy is an awesome company that has every subscription box you could ever think of, with options for the whole family. If you don't want to do an actual monthly subscription box, you can also just do a one time purchase.
They have this really fun craft box option that is curated for ages 3-9! Each box comes with a themed story with 4 or more coordinated crafts with easy to follow photo instructions! So even if you only get one box, and not the subscription, you still get enough for several craft dates!
Chocolate Fondue Night
This is such a fun thing for dads to do with their toddler! Grab this highly rated electric fondue pot made specifically for melting chocolate/candy melts! It's much safer then the traditional fondue pots when you're dealing with a toddler. Then use fondue sticks to dip things like marshmallows, strawberries, bananas, pound cake, etc.
Movie Night At Home
Bring the movie theater to the comfort of your own living room!
Surprise your little one with the total experience! Pop some yummy popcorn in these super fun plastic popcorn containers that look like the ones from the theater, add a special punch with these fun popcorn seasonings! (The set comes with Nacho Cheddar, Ranch, Caramel Corn, White Cheddar, Bacon Cheddar, Kettle Corn, Cheese Jalapeño, and Butter!) Yum!
As an extra fun surprise, get her some fun new jammies to wear! After all, this isn't just any old movie night…it's daddy daughter date movie night!
If you don't already have it, sign up for an Amazon Prime Video Free Trial Here, and you'll have plenty of movies to pick from!
Backyard Camping Night
Create a wilderness adventure in your own back yard!
Pop up a tent, and get a fire going in the firepit! (I really like this affordable one from Sunnydaze.)
You can roast marshmallows, tell stories while you look at the stars, and these Coleman Sleeping Bags will keep you warm and cozy all night! This will be such an amazing memory for your little girl!
Build Your Own Pizza Night
Every toddler loves pizza! And it's so much more fun when you get to build your own with any fun toppings you want!
Make it extra special and surprise her with these fun matching daddy daughter pizza shirts!
Cookie Night
Get some easy break and bake cookies and then have a decorating contest! These Frosting Bulbs are much easier then the bags and less messy for toddlers!
Day Time Daddy Daughter Activities

and Day Trips!
Zoo or Aquarium
Going to your local zoo or aquarium is such a fun day date for a father do to with their daughter!
Home Depot Kids Workshops
These workshops are a great thing for a dad and daughter to do together! Dad will probably enjoy it just as much!
McDonalds
It's totally ok to keep it simple for some of the daddy daughter dates! Especially as a young toddler, they will still have a lot of fun just hitting up the local McDonalds and chowing down on a happy meal with dad!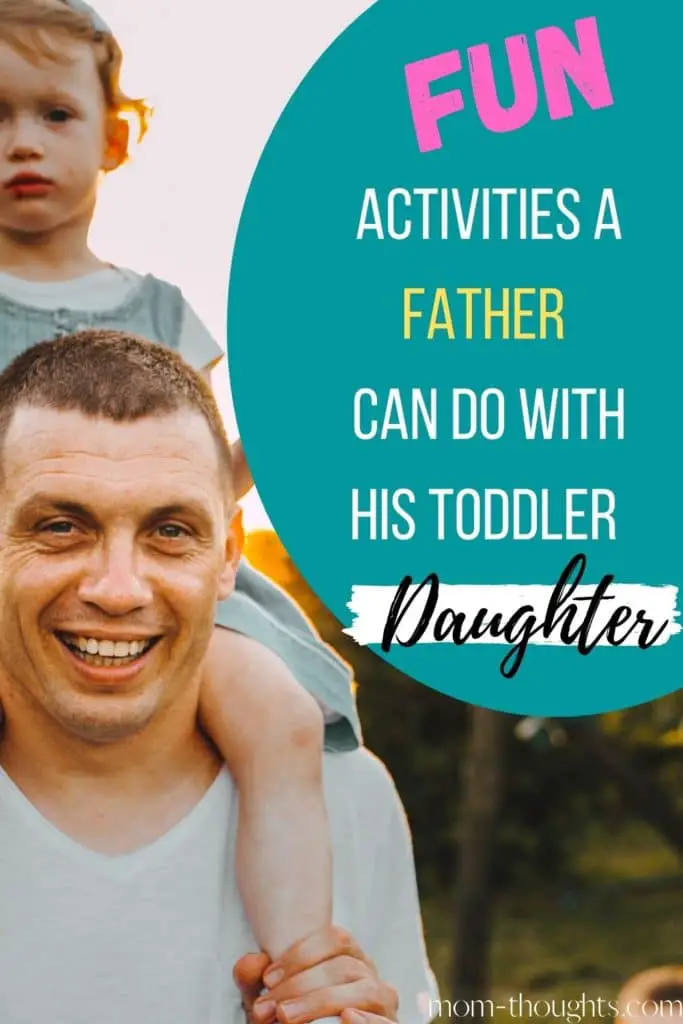 Chuck E Cheese/Dave and Busters
When you're looking for things for dads to do with toddlers, taking them to a place like Chuck E Cheese or another game type place like that is a total no brainer! Dad and Daughter will both have fun playing the games and you can leave with a fun prize! Maybe Daddy can even win her a big teddy bear!
Pool Day
This is another easy, no fuss activity for dads to do with their daughters where you can both have a lot of fun. So soak up that vitamin d and get your splash on!
Beach Day
Nice day outside? Pack up and take a father daughter day trip to the beach! Don't forget the sunscreen, snacks, and drinks to stay hydrated! Babyganics makes a great sunscreen that's safe for young toddlers!
Picnic At The Park
Pack up some sandwiches, chips and fruit and head to the park! Bring a nice blanket to sit on, and maybe a frisbee or ball to throw around.
Paint Your Own Pottery
Pottery painting is a simple yet fun day date for fathers and daughters! You each get to pick out the pottery of your choice, then paint it and turn it into your own personal masterpiece to take home. Fun!
Want More Resources For Toddlers? Check these out!
How To Sneak Veggies Into Your Picky Toddler's Dinner