I may earn commissions if you shop through the links on this page at no additional cost to you.
 Does it ever feel like your toddler is surviving off of chicken nuggets and applesauce pouches? Same here. Why in the world do they have to be SO picky?!
Toddlers seem to have a solid 2 or 3 meals that they will eat, and God forbid you try to introduce them to some other yummy delicious meal that you spent your precious time in the kitchen making.
After wasting far too much time and food trying to cook my daughter different meals each night, I finally decided to get creative. It's good to continue to introduce new foods every now and then to attempt to expand their pallet, but at the end of the day, you just need to make sure they're getting the nutrients that their little bodies need to grow strong and healthy. 
Like most toddlers, my daughter LOVES spaghetti! Check out how I sneak real, healthy veggies into her spaghetti dinner! (And the SAME tip works for tacos!!)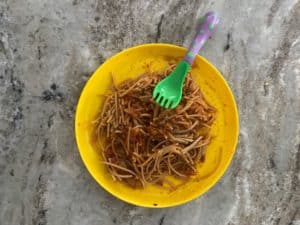 Here's what you'll need: 
Spaghetti Noodles of your choice (I use this Whole Wheat Spaghetti for added nutrition)
Spaghetti Sauce (Homemade or Jar. I like to use this Vero Gusto Calabrian Marina. You'll need a total of 3 jars)

1 lb Ground Beef

And the secret special ingredient…1 package of this Green Giant Riced Cauliflower and Broccoli!

(Optional: I put some of this Organic Agave In the Raw (Agave Nectar) to add some additional sweetness to the sauce! Yum!  GREAT substitute for sugar/honey!)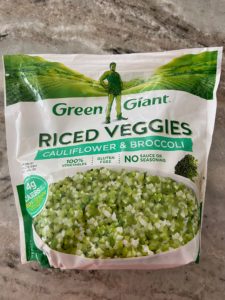 Alright, you have your ingredients, now time to whip up this easy, delicious and sneakily nutritious dinner!
Step 1: Brown your ground beef
You know the drill….brown the ground beef (I also add diced onion), and drain the grease. While doing that go ahead and pop the Green Giant Riced Cauliflower and Broccoli in the microwave (it's a steamer bag). I only put it in for 4 minutes (less than what the packaging calls for)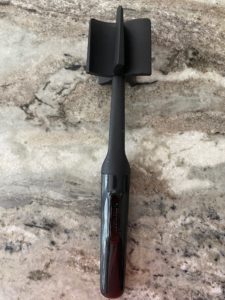 Tip: Toddlers tend to like their textures smaller, which is also safer from a choking hazard stand point. I use this super handy Meat Masher while browning my ground beef and it makes it a lot quicker and easier. I didn't even know this was "a thing" until about a year ago, but now I'm obsessed!
Step 2: Add the secret ingredient!
Add your Green Giant Riced Cauliflower and Broccoli to the ground beef and dump in your spaghetti sauces. Add in any additional spices (or the Agave Nectar)
Your little picky eater will have no idea about the super secret hidden veggies! 
Step 3: Boil the Spaghetti Noodles
Cook the spaghetti noodles (or whatever kind of noodles you like) according to the packaging. And that's it! Sit back and watch your little one devour their dinner! 
Makes a yummy meal for mom and dad too! (We need our veggies too after all!)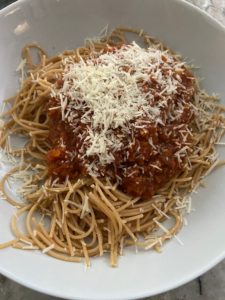 Just like how you mix the riced veggies in with the ground beef for the spaghetti sauce, you can do the same exact thing with Taco Meat! 
For a quick last minute throw together dinner I also use the Perdue "Chicken Plus" Nuggets that have ¼ cup of vegetables per serving. I pair that with one of the Birds Eye brand "Veggie Made" pasta sides. You can find both of these things in the frozen aisle of your local grocery store. 
Bon appetit!
Check out more resources!