By: Heather Little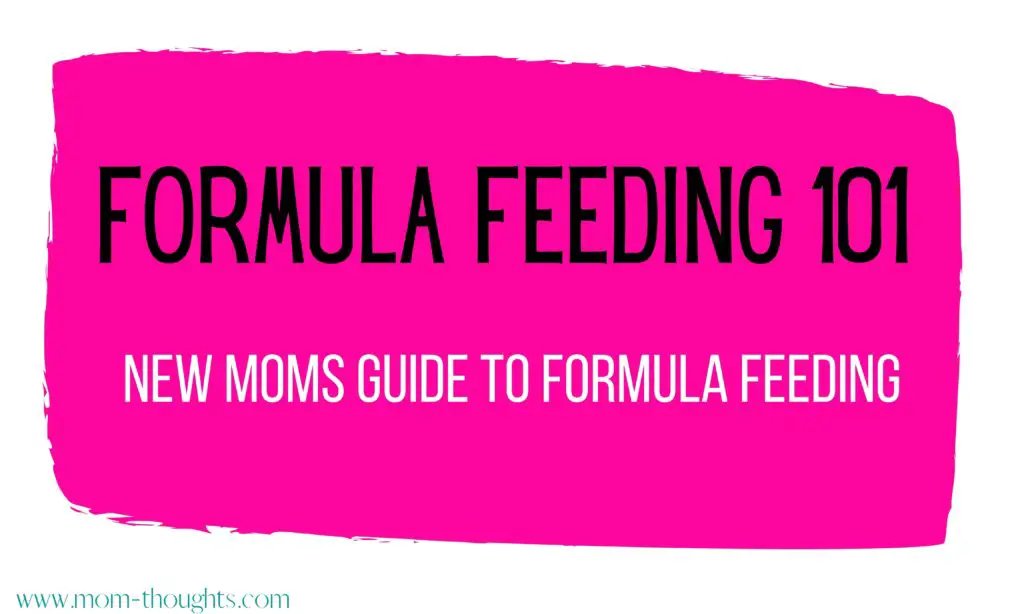 ---
So you're thinking about formula feeding?
How to feed my baby was something I had thought about since before I was even pregnant. Personally, I knew pretty early on that I wanted to formula feed. Breastfeeding just wasn't for me.
And when I had a complicated and traumatic pregnancy, that just made it all the more necessary for me to go with my desire to formula feeding, for my own mental health. By looking out for my mental health, it allowed me to be the absolute best mommy to my new little baby.
Whether you're formula feeding by choice, or formula feeding for other medical reasons, I'm here to help guide you through everything you need to know about formula feeding!
In this Formula Feeding Tips article you'll find information on:
Formula Feeding Common Questions
Common Mistakes With Formula Feeding
Formula Feeding Must Have Items
Benefits Of Formula Feeding
I may earn commissions if you shop through the links on this page at no additional cost to you.
Common Questions About Formula Feeding
What is paced bottle feeding?
Paced bottle feeding is when you slow down the flow of milk or formula to the nipple of the bottle. The main purpose of paced bottle feeding is to reduce the risk over overeating which can cause tummy pains for your baby.
In order to successfully pace bottle feed, you'll want to use a smaller bottle like this 4oz bottle, and be sure to use slow flow nipples like these.
Then, rather than having your baby in a totally reclined position, have them sitting somewhat upright. Tilt the bottle in such a way that only about half of the nipple is filled with milk/formula.
After a few gulps (Around 5), tilt the bottle upward, giving your baby a break. When they start to suck on the bottle nipple again, you can repeat the process.
What is cluster feeding? And do formula and bottle fed babies cluster feed?
Cluster feeding (aka bunch feeding) is when a baby wants to have a lot of frequent feedings close together, but the feedings are shorter. This is very common with breastfed babies, but sometimes formula fed babies cluster feed as well.
It often involves a fussy baby who will feed for a brief moment, then stop eating and go back to fussing, then another brief feeding, then stopping again, and so on. It can be really frustrating and confusing, especially for new moms.
A lot of moms worry that their baby isn't getting enough milk, or become overwhelmed because their baby seems hungry, but will only feed for a short amount of time. Always talk to your baby's pediatrician if you're worried, but cluster feeding is very normal for newborns!
What is the best baby formula?
This is probably one of the biggest formula feeding tips that moms are searching for when deciding between formula feeding or breast feeding. (Or if they've already landed on formula feeding.)
When it comes to determining what is the best baby formula, or which formula is closest to breastmilk, you should always consult with your pediatrician to get their input.
After a lot of research and speaking with a couple different doctors, we landed on Enfamil and were very happy with our choice. To this day, we still give our toddler the Enfamil Toddler Nutrition Drink to give her some extra nutrients in addition to what she gets from her meals. 
Enfamil is also great because they have a reward program where you can earn free formula! You Get 75 Points Right Away Just For Signing Up, And Then You Earn 1 Point For Every $1 You Spend!
We used Enfamil Neuro Pro Gentlease and it worked wonders for my baby's sensitive tummy! It was perfect for combating fussiness and gas.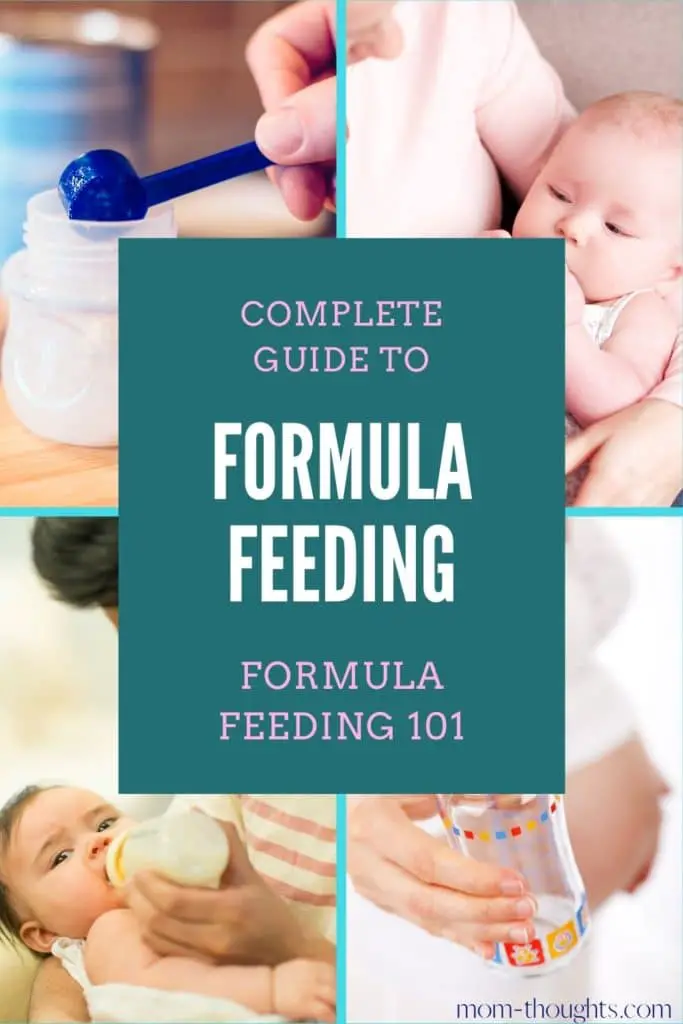 What are the best ways to prepare bottles for night time feedings?
When it comes to night time feedings, make sure you follow these formula feeding tips to save yourself a lot of middle of the night frustrations!
Set up a feeding station in your bedroom (or where ever your baby sleeps at night)!
That feeding station should include:
Bottles filled with the premeasured water
The Formula (Do yourself a favor and have the formula set up in

these premeasured formula dispensers

. With these, you won't need to worry about measuring out the formula while you're half asleep, and likely in the dark!
Burp Clothes (I really like the shape and size of

these burp cloths.

Plus they're organic which is always a plus!)
If you're doing room temperature bottles, which I would highly recommend, then that's really all you'd need! (For more information on room temperature bottles and other formula feeding hacks, check out this article and find out how to make formula feeding easier!)
However, if you are going to be heating up your bottles, do yourself a huge favor and grab this Dual Baby Bottle Warmer and Defroster. It's surprisingly affordable!
How Do You Mix Formula?
Make sure you have clean hands
Pour the desired amount of water in the bottle
Add level (unpacked!) scoops of formula to the water as directed on your formula container
Put the cap back on the bottle and shake 'er up!
Feed immediately, or store in the refrigerator in accordance with your formula brand's guidelines
Pro Tip: Make your days easier by pre-mixing your formula for the day in this awesome formula mixing pitcher and storing it in the fridge. Check your specific formula to see how long formula stays good for after mixing, but typically it's good for up to 24 hours when refrigerated!
Common Mistakes With Formula Feeding
Feeling guilty about formula feeding. One of the best formula feeding tips is to ditch the breast feeding guilt! Formula gives your baby the nutrients that they need, and if that is the right choice for your family, then go with it! Do what you need to do in order to be able to show up as your "best self" for your baby.
Using the wrong nipple flow. Make sure you don't use ones that flow to fast which could cause overeating and an increase in air intake causing uncomfortable or painful gas.
Switching Up Formula Brands. Pick a formula and stick with it. While it may be tempting to get what's on sale that week, switching up the type of formula you feed your baby could really mess with their tummies.
Formula Feeding Must Haves
So what do you need to formula feed? Let's wrap up these formula feeding tips with some must have products!
Formula – Obviously.
Enfamil's NeuroPro Infant Formula with brainbuilding nutrition inspired by breast milk including MFGM and DHA.
Bottles – You'll of course need bottles. Stock up because you're going to be going through ALOT of bottles throughout the day. Just like with the formula, don't switch up the bottles. Once you find one that your baby likes, then just stick with it. (And buy like 10 of them!)
My baby loved these Philips Avent Natural Bottles. I loved them too because they were super easy to clean! I hate those bottles that come with a million little pieces that you have to assemble and dissemble each time! These come in pink, blue, purple and clear.
Sectioned Formula Container – You'll absolutely need a sectioned formula container/dispenser for feeding on the go! As I mentioned, it also comes in handy for night time feedings. I prefer this Philips Avent one for the diaper bag because it's small in size.
Clean Purified Water (With added fluoride) – Your house water may be fine. My baby's pediatrician recommended this nursery water, so we went with it!
Baby Bottle Scrubber – I always liked the Munchkin Brand bottle scrubber. It gets the job done well, and the bottom pops off and is a little hidden bottle nipple cleaner. And they're also super cheap. You don't need to waste money on anything fancy here.
Bottle Drying Rack – I like this one way better than the silicone one that every has that looks like rubber grass. If that's your vibe than go for it, but I really like this space saving drying rack!
It's got a place for all your bottle pieces to dry nicely, it's a much cleaner look, and it doesn't take up all that counter space that the other ones do!
Microwavable Sanitizing Bags – You'll need to sanitize your bottles before using them first, and it's recommended to sanitize them every few weeks or so. DO NOT waste your money on a fancy bottle sterilizer. It's just not necessary. These Microwaveable Sanitizing Bags are SO cheap and they do the same darn thing! AND they take up less space in your kitchen!
These are literally the exact same ones that they used in my baby's NICU unit. That's actually how I found out about them. Thank God I hadn't already wasted money on an expensive, clunky sanitizing machine!
BONUS Formula Feeding "Must Have"
While this isn't a total MUST, it is totally bada$$! ESPECIALLY if you plan on warming your baby's bottles. If you are going to warm your baby's bottles, then I may actually consider this a MUST. This Baby Brezza is basically a Keurig for baby bottles!
You totally deserve this extra bit of help, so treat yourself girl!
Benefits Of Formula Feeding
I can't end an article on formula feeding tips without talking about some of the benefits of formula feeding for new moms. With so many mom shamers out there chanting about how "breast is best", it's easy to feel pressured to overlook the benefits of formula feeding and pretend that there are none. But that is just not the case.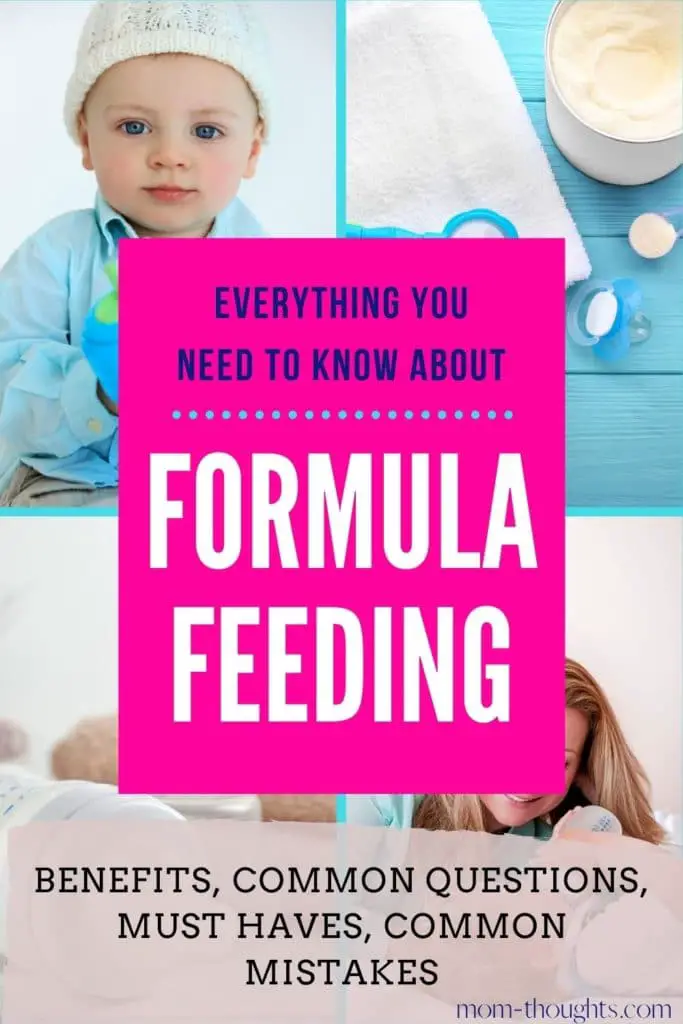 I would never tell anyone that formula feeding is better than breastfeeding, or vice versa. How you chose to feed your baby is up to you and your personal choice and situation.
So if you're considering formula feeding for your baby, here are some of the main benefits to formula feeding you should keep in mind:
1. It is easy to track exactly how much your baby is eating. (You can track it on this Newborn and Infant Daily Log to stay on top of your baby's health and schedule.) There's no guess work involved in determining how your baby is eating.
2. Feeding your baby doesn't fall completely on your shoulders. This is actually a huge benefit to formula feeding. It's beneficial to both you and your spouse.
It gives your body and mind a break, and helps prevent you from feeling over exhausted and overwhelmed. Given that newborns feed like every 2 hours (even more often for breastfed babies) it can lead to a lot of resentful feelings.
This also gives dads the opportunity to equally participate in the feedings and get that bonding experience.
3. No Pumping! 'nuff said.
4. You don't have to worry about your diet. When you're breastfeeding you often have to avoid certain types of food that your baby has an intolerance too. It's also often a trial and error experiment of trying to determine what in the world from your diet is causing the issues.
More Things On Newborns and Infants:
Top 10 Products To Survive A Newborn
Formula Feeding Hacks You Need To Know!