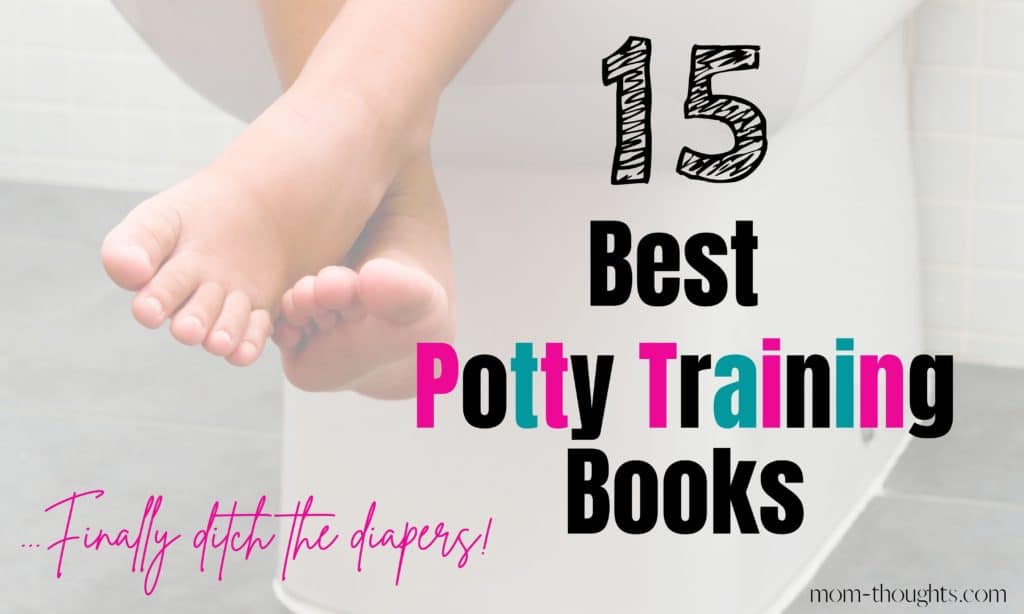 Searching For The Best Potty Training Books?
Potty training books are a great resource to use to help your little one succeed in potty training. There's books that teach parents different strategies and approaches, and then there's also the books for kids that help to get them excited about using the big kid potty. Both are equally impactful in different ways.
Potty training a toddler sometimes feels like an impossible task! I've always heard that potty training boys is harder than potty training girls. But I'll tell you what…my daughter gave us a run for our money!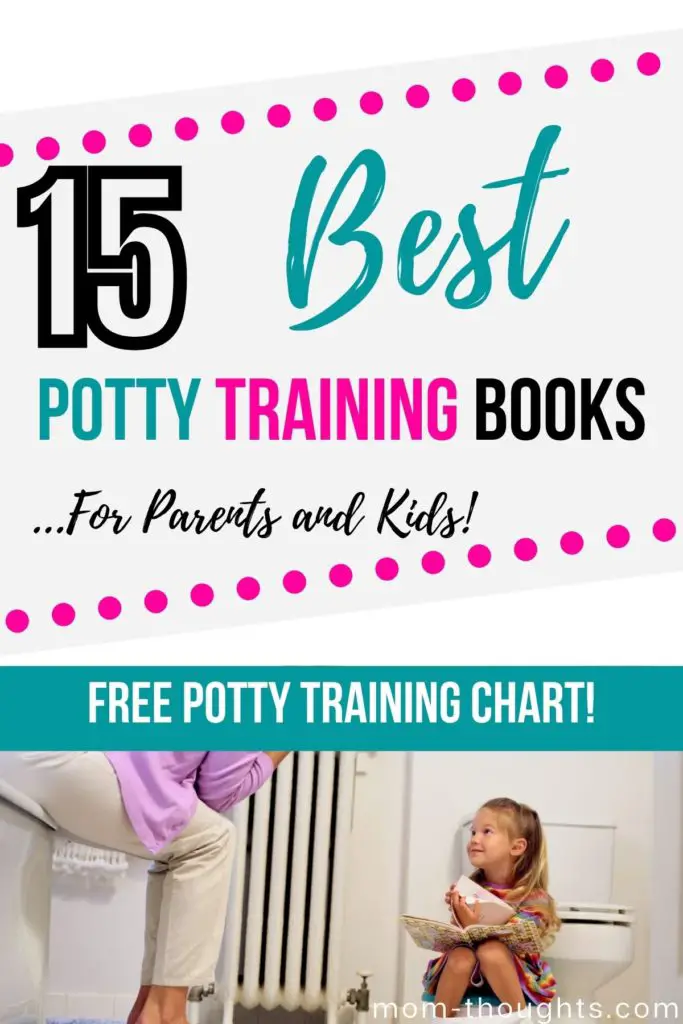 As a means for providing for my family, I may earn commissions if you shop through the links on this page at no additional cost to you. Thank you!
You May Also Like:
I feel like all parents say this, but my toddler is the definition of stubborn! So when it came time to potty training my stubborn toddler, I knew I was in for the challenge of a lifetime.
One thing that also helped my toddler get excited about using the potty was this FREE Potty Training Chart. She was always really eager to use the potty so she could get a sticker to put on the chart, and earn her way to a prize. So definitely check it out!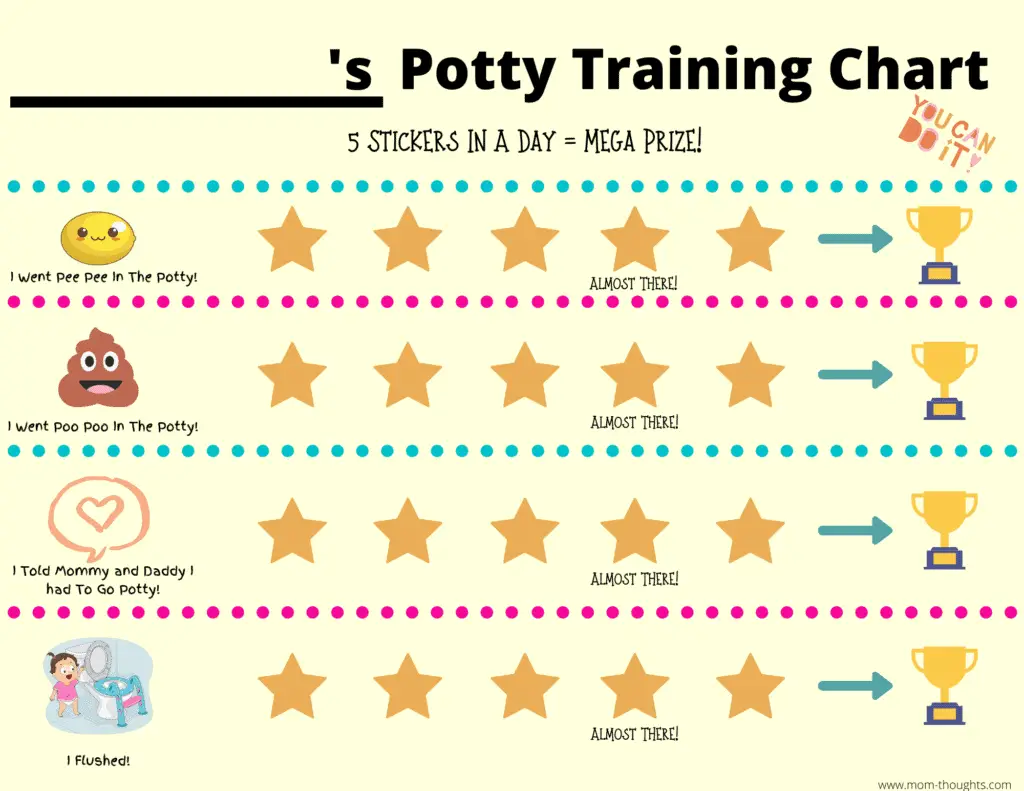 In this post you'll find the best potty training books for toddlers AND books for parents. I'll also go over some of my favorite potty training tools!
Let's dive in to the Potty Training books!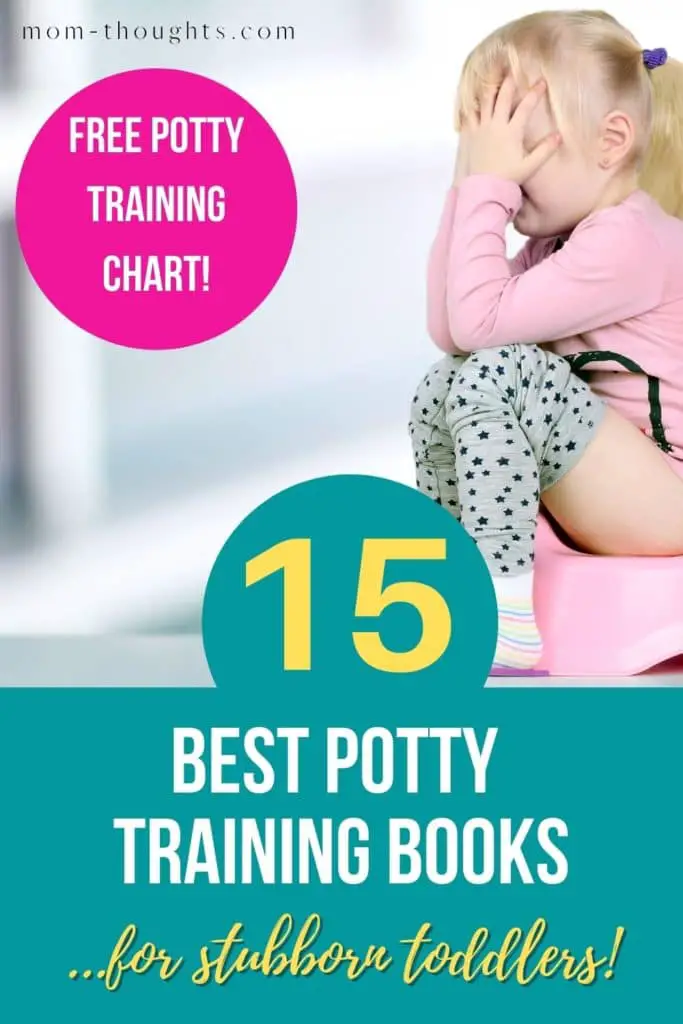 QUICK LIST
For Parents:
For Kids:
BEST POTTY TRAINING BOOKS FOR PARENTS
Potty Training In 3 Days by Brandi Brucks is a best seller on Amazon, and it's pretty obvious why. Who doesn't want to potty train their toddler in 3 days?!
This potty training book for parents is great. It includes actual step by step plan for getting your toddler potty trained in 3 days. The process is designed for toddlers as young as 1-3 years old!
It follows a proven 5 step plan, and provides you with insight to your toddler's mind and what they are experiencing during this crazy transition out of diapers. It also provides parents with support and advice on keeping their cool. Potty Training can get extremely frustrating…so take all the tips you can!
Keep in mind though, this method does require you to be home for 3 days, but it is VERY effective!
---
Oh Crap Potty Training by Jamie Glowacki is another great book to help parents get their toddler potty trained once and for all!
This book teaches parents a 6 block method which allows parents to be part of the process with their child. It's really informative and provides answers to any questions you may have throughout the process. But the author will also have you chuckling along the way!
---
The First-Time Parent's Guide To Potty Training by Jazmine McCoy outlines a step-by-step 3 day program to get your toddler potty trained quickly.
Importantly, it also provides parents with advice on how to deal with accidents, backsliding, temper tantrums, etc. My toddler would throw some Emmy Award worthy tantrums when we were potty training! It's not always easy to know how to handle them in the moment.
I also like that it teaches ways to offer your child guidance when they're feeling anxious or reluctant. After all, this is a stressful time for parents but imagine being the little 1-3 year old that is being "forced" to change their way of life.
---
Stress-Free Potty Training by Sara Au and Peter Stavinoha Ph.D. teaches parents to tailor their potty training approach based on their child's specific personality.
We all want to be able to do the 3-day quick and "easy" method, but if that doesn't work for your child, then this would be a really great book to check out. Every child is different and what works for one, may not work for another.
---
No Cry Potty Training Solution by Elizabeth Pantley starts by helping you determine IF and WHEN your child is actually ready to start potty training. Which is really helpful!
You might want to start potty training your child before they turn 2 years old, but that doesn't mean they will actually be ready for the change yet.
---
In case 3 days wasn't quick enough for you, Teri Crane helps you attempt to potty train in ONE day with this book Potty Train Your Child In Just One Day!
After first helping you determine if your child is ready for this big one day adventure, it focuses on "Potty Parties" to make it fun, exciting and not so stressful!
---
BEST POTTY TRAINING BOOKS FOR KIDS
Potty Time! by Scarlett Wing is a #1 Best Seller on Amazon for potty training books for kids.
This interactive book will prompt your child to press the buttons as you read the story. Sing a song with Daniel Tiger, make a toilet flushing noise, and be reminded to flush and wash your hands! (My toddler LOVES this one! She especially loves the potty song button! It's so cute hearing her sing along.)
---
Take your toddler on a superhero adventure with this highly rated book, Potty Superhero by Parragon Books.
This book is specifically written to help potty train your stubborn boys!
---
Don't forget that girls can be superheroes too!
The same fun approach is taken with this book to help your little girl learn to use the big girl potty. These books motivate toddlers to start using the potty and fly off to the finish line of a diaper-free life!
It's a thick board book, and the illustrations are fantastic!
---
Let's Go To The Potty! written by Allison Jandu provides your toddler with the support and encouragement that they need to conquer this whole potty training thing.
The story-driven guide includes engaging pictures that give toddlers a vision of what their progress will look like along the way. It includes fun short rhyming potty song which helps toddler's learn how to communicate all of their needs when it comes to potty training.
This book takes a gender neutral approach that would be great for both boys and girls that are trying to ditch the diapers!
---
Everybody Potties – An I can Do It Children's Board Book by Cheri Vogel is also highly rated on Amazon.
This book takes your toddler along an adventure with their animal friends that teaches toddlers that everyone uses the potty, teaches them how to pull down their own pants to use the potty, and even reminds them about flushing and washing their hands when they're done. This encourages them to have a sense of independence when using the potty. And we all know by now that toddlers love exploring independence!
It's short and sweet (5 pages), and perform to read while they are sitting on the potty.
---
This is a #1 New Release! Published on May 11, 2021. Where Do You Poop by Agnese Baruzzi turns potty training into a funny and interactive game of learning!
It's a 16 page book and goes through different animals. Where Does a bird poop? Wow – right in the air while flying through the sky. A dog goes poop on the lawn, and the hippo does it while his bottom is partly under water! How about the little boy? The little boy goes poop in his very own potty!
Each page has fun illustrated pictures as the animal explains it's potty habits in a funny way which will keep your toddler interested and laughing. Each page includes a pull flap that makes the animal's potty appear. The last flap shows the the little boy happily sitting on the potty.
Definitely check this one out!
---
Dino Potty – Learn To Potty With Dino by Rainstorm Publishing is highly rated for 2-4 year old toddlers.
This book takes your child along on the adventure with Dino while he learns to use the potty and try out his brand new big kid underwear. By the end of the story, Dino is ditching the diapers for good!
Read and watch Dino go through all of the steps from learning about the potty, and when to go, all the way to flushing, washing hands, and saying GOODBYE to diapers once and for all! (This was one of my toddler's favorites!)
---
Any Sesame Street Fans out there? P Is For Potty by Naomi Kleinberg is a 12 page Lift-The-Flap board book.
This was is a bit more "wordy", so judge it based on your child's personality and the types of books they typically like. Give them the book while they sit on the potty and let them look through the images and lift all of the different flaps to discover what's hiding underneath.
---
We Poop on the Potty by Little Grasshopper Books, Jim Harbison and Nicole Sulgit is a Mom's Choice Awards Gold Award Recipient!
This potty training books takes a funny approach to teaching kids that everyone poops, and that people poop on the potty. Every page emphasizes that no matter where all the other animals poop, HUMANS go poop on the potty!
It's also really cool with there is a downloadable app which includes games and facts to help with potty training! The app helps you engage more with the book and hear fun sound effects.
---
More Favorite Potty Training Tools
Potty Training Seat: Potty Training Seat with Step Stool Ladder
On-The-Go Potty Training: Foldable Toddler Travel Potty Seat
Potty Training Watch: Athenas Futures Potty Training Watch
Potty Training Chart: Mom-Thoughts FREE Potty Training Chart
Mattress Protection: Two Pack Water Proof Mattress Protector For Toddlers