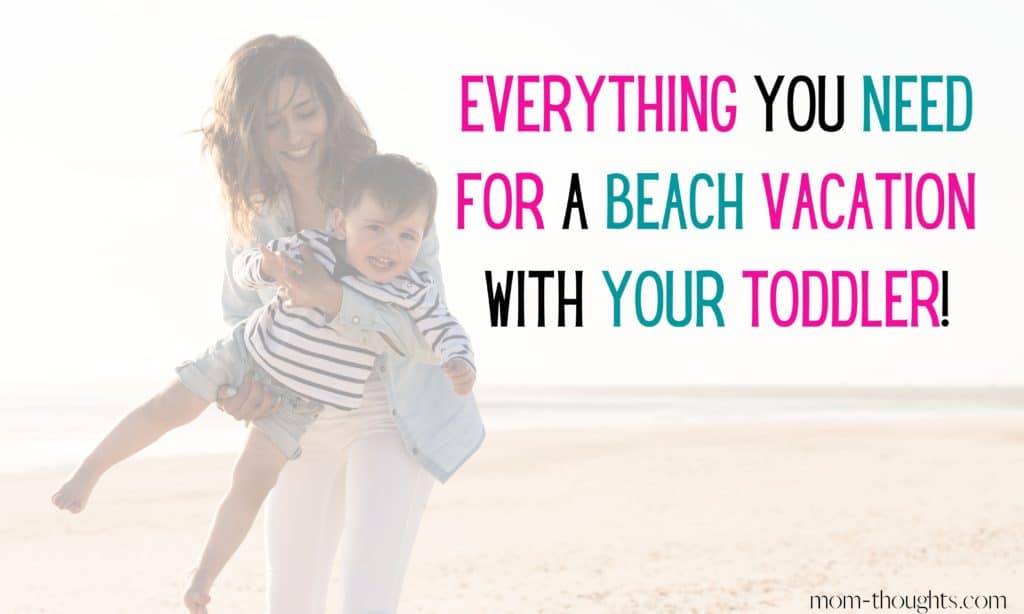 Planning A Beach Vacation With Toddlers?
Remember going on beach vacations before having kids? Sleeping in, chilling at the beach all day, day drinking, having no concept of time…good times. Things look a little different since motherhood huh? But the good news is that a beach vacation with toddlers can still be a genuinely good time!
It may not be as carefree as it used to be, but as long as you go in prepared, you can have a great time and make some amazing memories this summer at the beach with your toddler!
Before we get into the Beach Vacation With Toddlers Packing List, let me start with a few amazing tips and mom hacks!
You may also like:
Tips For Long Road Trips With A Toddler
The Best Outdoor Baby and Toddler Swings
The Best Educational Wooden Puzzles For Toddlers
Fun and FREE Toddler Chore Chart With Age Appropriate Chores
As a means for providing for my family, I may earn commissions if you shop through the links on this page at no additional cost to you. Thank you!
Scroll to the bottom of this post to get the FREE Packing List!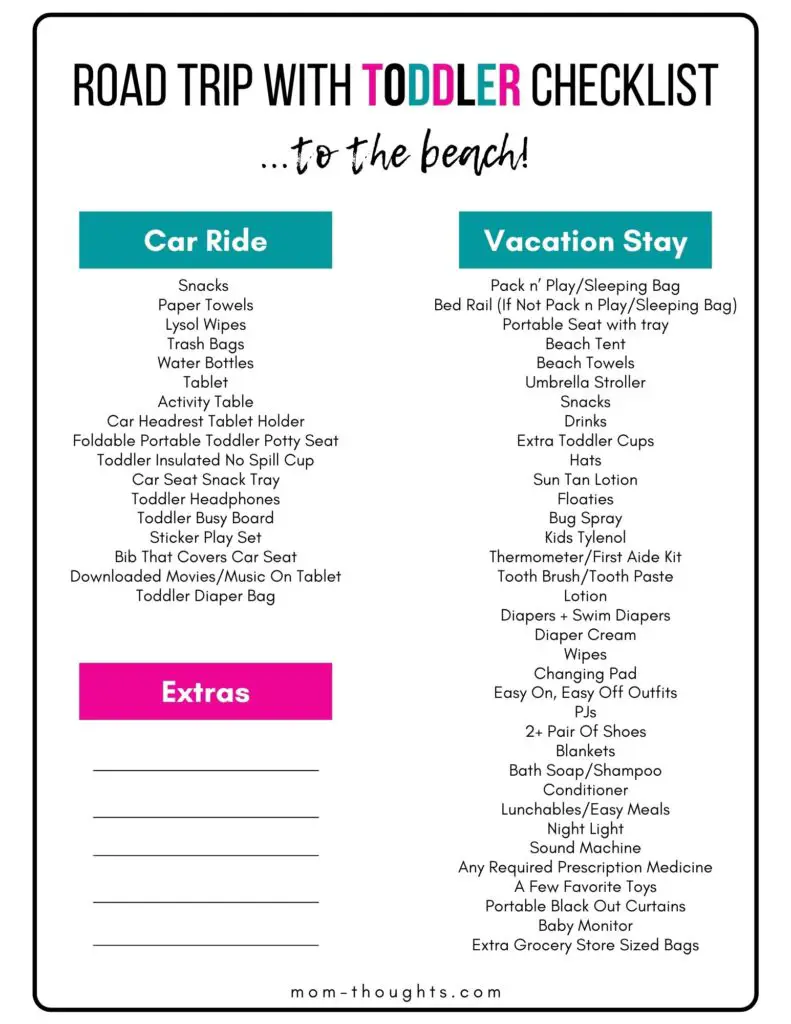 Toddler Sunscreen Tips
I've found that it's actually easier to put the sunscreen on before putting their bathing suits on. Just give it a few minutes to dry before putting their suits on. 
But my FAVORITE, most game changing mom hack for putting sunscreen on your toddler is USE A MAKEUP BRUSH! It can be helpful on the body too, but it's especially helpful when applying it to the face. 
I use this flat top kabuki brush and it works fabulously! 
Don't Over Pack With A Bunch Of Toys
Going to the beach is still a really new and fun experience for our toddlers. We don't need to pack 10 million different beach toys that we'd then have to haul all the way to the beach. In fact, that sounds absolutely miserable!
This set from Amazon is PLENTY for the whole trip, and it comes with a carrying bag. 
You've got your bucket, your shovels and rakes, sifter, watering can, and san molds. Trust me, you don't need any other beach toys! 
Ok, now let's get into some of the top essentials for your beach vacation with toddlers!
Packing List for Toddler Beach Vacation
This one is pretty non-negotiable. You need a Toddler Beach Tent to give your little one a place to cool off and get out of the sun. 
I love this Babymoov Anti-UV Tent! It has strong UV protection, and folds up into its own carrying case making it super easy to transport to and from the beach! 
Highly recommend it! 
Include some long sleeve rash guards in your toddler's bathing suit collection. This will help protect them from the sun, and also save you the hassle of having to reapply sunscreen so many times. You can get these Carters ones on Amazon for a really affordable price! They have a bunch of styles to choose from. 
Here's some great options for the little boys!
Don't forget an insulated water bottle for your toddler so they can stay hydrated! All that sun and beach play will really work up a thirst! Make sure to get an insulated one so it keeps their drink nice and cold. 
These are my "go to" for my toddler's beach water bottles.
These Hooded Beach Towels/Ponchos are great for a lot of reasons. They offer some extra sun protection over their bathing suits, use them as a picnic blanket on the beach, dry off from the water, and plus they are cute!
Pack plenty of sunscreen! I always order this 2-pack of Babyganics Sunscreen Spray.
In addition to the genius (if I do say so myself) makeup brush hack, I also always have a couple of these Sun Bum Sunscreen Sticks on hand for some quick application. 
Pack a couple sun hats to help protect the top of their little heads! These are great and come in a bunch of different color options! 
This will make hauling stuff (and kids!) to and from the beach a lot easier! This beach wagon has nice thick tires, which will make it easy to roll on sand. Be sure not to get one that has narrow tires! 
You can throw in your cooler, snacks, towels, toys, EVERYTHING. Total life saver.
Safety first! Do NOT forget your toddler's Swim Vest! This one is great, and highly rated. It comes in tons of different designs that your toddler will love. Toddler's love playing in water and we love to watch them have fun, but as their mothers, safety is of course a top priority!
Like I said though, you really don't need to overdo this one. This set from Amazon is a perfect choice. 
Beach Vacation With Toddlers Must: Portable Fan With Mist.
You'll love this toddler beach essential as much as the kids! The beach feels 10 times hotter when you're wrangling a crazy little one. Do yourself a favor and pack at least one of these bad boys on your beach vacation with toddlers!
Snacks and Waters
Load up your Beach Cooler with some sandwiches, chips, carrot sticks, and WATER. (I really like this Beach Cooler!)
These reusable sandwich and snack bags are great! They come in several different designs to choose from. 
More Other Beach Essentials for Toddlers
Mom Hack Alert! Order this Talc-Free Baby Powder for your beach vacation with toddlers! It is a total game changer for getting sand off your feet/body. After all, who likes putting sandy feet back into your shoes? Yuck. 
Old plastic shopping bags work as well, but these Reusable Wet Dry Bags are just nicer and of course MUCH better for the environment!  
These will come in handy for dirty diapers, clothes that have been spilled on, wet bathing suits, and so on.
Water shoes are a great idea to bring on a beach vacation with your toddler. We all have experienced that painful sprint on the beach when the sand is scorching hot! Just trying to make it to the wet sand or your beach towel. 
Spare your little one's feet with these adorable water shoes.
Download The FREE Packing List For A Beach Vacation With Toddlers!