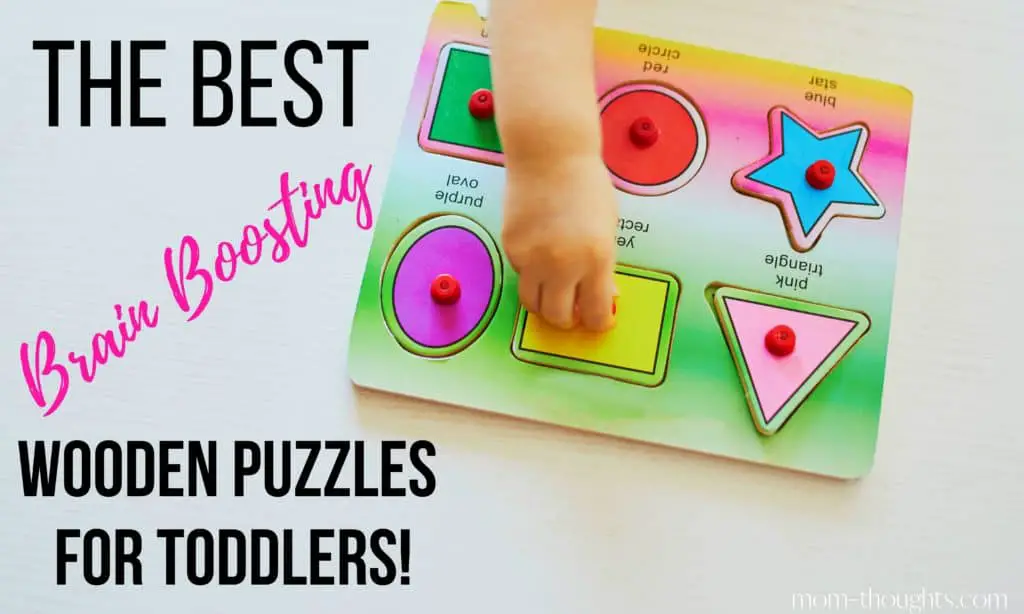 Looking for awesome gifts for your toddler? Puzzles are some of the BEST things you can give your baby and toddler to play with! Not only are they fun, but they are GREAT for your toddler's development! To top things off…they are basically all super affordable! I especially love wooden puzzles for toddlers because they are more sturdy so they can survive our wild child's rough handling, and they are must easier for their little hands to maneuver. So what are the best wooden puzzles for toddlers?
I'm excited to share my toddler's all time favorite wooden puzzles, but first let's address a couple common questions!
I may earn commissions if you shop through the links on this page at no additional cost to you. I only recommend what I love. Thanks for the support mamas!

What Age Should Toddlers Do Puzzles?
Toddlers should start doing puzzles as early as 18 months! It is fantastic for their development! It never hurts to start introducing puzzles to them at an even earlier age. Start with some simple beginner wooden puzzles first, and before long they will be moving on to more advanced puzzles!
Are Puzzles Good For Toddlers?
YES! Puzzles are great for toddlers!
Toddler puzzles teach and develop a wide range of skills! They're a great change of pace from so many of the other toddler toys that have a bunch of lights, sounds and gadgets. Puzzles allow your toddler to start learning to art of FOCUSING on a single task.
Some of the most important skills that puzzles help toddlers develop are:
Concentration
I swear a toddler's attention span is like half a second at best. In a world full of technology and over stimulating things, it's no wonder kids (or even adults for that matter) can't focus on a single task at a time! Puzzles are an amazing why to help your toddler develop a stronger ability to focus and concentrate on a specific task.
Shape Recognition
Shapes are an important concept to learn at a young age. It's easy to overlook the actual importance of shape recognition in the grand scheme of things. Learning to recognize shapes is how you learn the ability to identify things. Think about it, how does your child learn their letters? How does a child look at the letter "A" and know that it's an A? Well…because the letter A is shaped a certain way. It's the foundation to a lifetime of growing knowledge.
Fine motor skills
As parents we hear a lot about the importance of fine motor skills and how we need to engage our babies and toddlers in activities that develop fine motor skills. Fine motor skills help are toddler's gain independence with things such as buttoning their shirts, and eventually learning to write!
Memory
In order to strengthen your child's memory you've got to work those brain muscles! It's no mystery that a strong memory is an amazing skill to have that benefits you throughout your entire life. Puzzles are an amazing way to help your toddler develop a good memory!
Hand-Eye Coordination
Placing the puzzle pieces together and getting them to fit just right takes hand-eye coordination. You'll notice when your toddler first starts doing puzzles, and other similar activities, that they struggle with this quite a bit in the beginning. It can be a little frustrating for them at first, but just keep encouraging them to "try again", and they will be so happy and proud when the get it to fit! Then, you'll watch in amazement as it gets easier, and easier for them as their Hand-Eye Coordination improves right before your eyes!
Spatial Awareness
This is basically all about being aware of objects in a particular space and your bodies position in relation to those objects. This skill is important for things like knowing how to navigate your surroundings, grammar, mathematics, understanding where things are located ("on" the chair vs. "under" the chair"), having a grasp on personal space, and so on. You'll notice when your toddler first starts playing with puzzles they will just kind of smash the puzzle pieces together in all different directions trying to make it fit. There's really no rhyme or reason to it. But as their spatial awareness develops and strengthens, you'll see them using their brains to think and grab the right pieces, and understanding how to put them together. It's really cool to watch this skill develop.
Topic specific knowledge and vocabulary
Puzzles are designed in certain shapes or themes. In this article you'll find some of the best wooden puzzles for toddlers that teach toddlers about: animals, shapes, colors and the alphabet! So for example, while your toddler is putting together a puzzle of dinosaur, your toddler is also learning about that specific topic! They are learning what a dinosaur is, what it looks like, and perhaps even the specific type of dinosaur it is!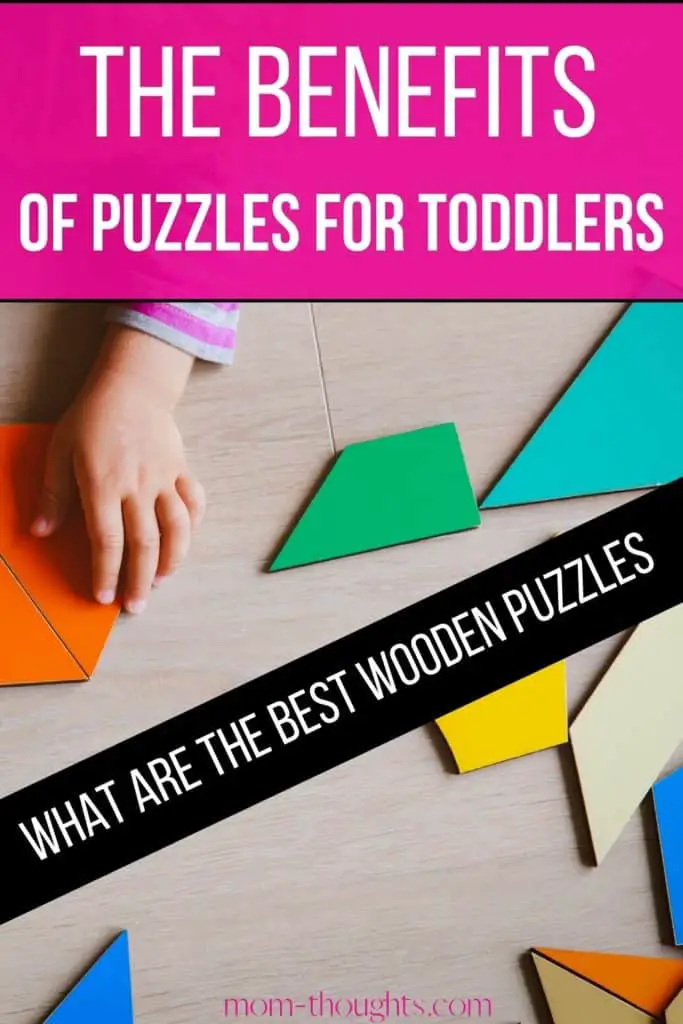 Ok, time to dive into the all-time best wooden puzzles for toddlers!
Best Puzzles For Under 2
This adorable puzzle is one of the best wooden puzzles for toddlers under two!
It's Montessori inspired design is a great start for your toddler to start learning the skill of sorting. The holes in the box are different sizes, so your little one can work their little brains to figure out which carrot goes in what opening.
---
This wooden puzzle makes a great first puzzle for your little one! There is a small variety of shapes and sizes, but not too many to where it would be overwhelming for a toddler under two.
The large wooden knobs make it nice and easy for their clumsy little hands to grasp and maneuver!
---
This super cute Wooden Animal Puzzle is another GREAT starter puzzle for toddlers under two!
With the seven different animal pieces, it's not TOO easy, but since each animal is in one piece it makes it a great option when they are just one step away from slightly more complex toddler puzzles.
---
Best Animal Puzzles For Toddlers
So your little one is ready to move onto the next level of puzzles! This set from Magifire is one of the best wooden puzzles for toddlers!
It comes with six different puzzles that are a bit more complex because they are broken into more pieces. It's high quality with fun bright colors, and their size makes them travel friendly.
These puzzles will also help your toddler expand their vocabulary learning the words: Ladybug, car, bee, bear, butterfly and turtle!
---
This Sorting and Stacking puzzle is so cool! Talk about a brain boosting puzzle for toddlers! I would say this would more so be for little ones 3 and up. It's different than the traditional toddler puzzles which makes it really fun. This will be nothing like their other puzzles!
It comes with 60 different fun design cards, and your toddler can build what's shown on the card, or come up with their own masterpiece! Add "imagination building" to the list of benefits!
The design cards even double as flash cards to help expand your toddler's vocabulary. Check it out for yourself!
This is another great set of wooden animal puzzles that would be perfect for any toddler!
This set comes with EIGHT different puzzles. Your toddler will have so much fun learning these new animals while they figure out how to put each puzzle together!
The wood material is nice and sturdy, it'll last a long time! Hang on to it for future siblings!
---
Do you have a dinosaur fan on your hands? They'll love this six pack of wooden dinosaur puzzles!
The name of the dinosaur is on each puzzle which I love! Just another amazing way to impressively expand your toddler's vocabulary and knowledge.
To make things even better, it comes with a convenient and cute carrying case!
---
Best Shape Puzzles For Toddlers
I gave my two year old this wooden shapes puzzle the other day and she LOVED it. To top things off, she learned 3 new shapes in one night! (She already knew the others, but she learned rectangle, oval and diamond.) It was so cute watching how excited she got about her new found knowledge!
This is definitely one of the best wooden puzzles for toddlers, and as my toddler has shown…it's a great tool to teach them their shapes!
---
This shape sorting puzzle is another great option to add to your toddler's collection!
It presents a fun twist and a new challenge with the numbered pegs in each shape category. It's so satisfying to watch their little brains churn while they sort the different shapes and get them to fit correctly on the pegs!
It's also a good tool to start teaching your toddler counting.
Best Alphabet Puzzles For Toddlers
This Chunky Alphabet Puzzle is for sure one of the best wooden puzzles for toddlers that teaches them the letters of the alphabet! I especially love this one because each letter space also has a picture and word on it that starts with the applicable letter.
The letter pieces stand up on their own which also makes for a really fun spelling activity! Definitely add this one to your list.
---
This 3-Pack of Puzzles is a great option if you want to kill two birds with one stone. Well really, it's three birds. This is a super nice wooden puzzle set that comes with 3 puzzle options that teach your toddler about the alphabet, numbers AND shapes.
I also personally like the color scheme of this puzzle set for a change of pace!
---
Best Color Puzzles For Toddlers
I love this Color Sorting Clock Puzzle! Your little one may not be quite ready to tell time yet, but it's a great start to learning numbers and counting, while also learning colors!
Then, as your toddler gets older, it will be an amazing tool to teach them to tell time!
---
This Color Sorting Beehive Puzzle is such a fun twist on the traditional puzzle!
The wooden bees are so adorable and your toddler can place then in the correct hive based on color using their hands OR really step up their fine motor skills and use the tweezers!
This is truly a must have for your toddler's wooden puzzle collection! It also makes a great gift for the other little ones in your life!
---
More Amazing Toddler Resources:
How To Sneak Veggies Into Your Picky Toddler's Meal
Impactful Daddy Daughter Date Ideas For Toddlers
Gift Guide For One Year Old Girls
Gift Guide For One Year Old Boys