Can't figure out what to get that special little man in your life? Look no further! Through trial and error I've compiled a list of gifts that your 1 year old boy will absolutely LOVE!
We've all been there…you spend your hard earned money on toys and they'd rather just play with the box, while that special toy just sits around cluttering up your house. Or at least the toy that you THOUGHT was special! 
The gifts on this list are sure to excite your little guy and make you the coolest mom (or dad, or aunt, etc.) in town! 
I may earn commissions if you shop through the links on this page at no additional cost to you.
On To the list of gifts for One year old boys!
If you don't already have this, it is a MUST. This is one of those staple items that it seems like every single person gets their child, and it's with good reason. 
You can quickly assemble it in about 5 minutes. It's loaded with activities and it grows with your child. The front activity board easily pops off so you can just lay it flat on the floor for your little one to play with. This is especially handy if your child isn't walking yet. 
The walker function of this toy was a critical aide in my baby's journey of learning to walk. We actually have 2 of these…one for downstairs and one for upstairs. It's really that good!
No surprise here. Puzzles are great for your little ones development. 
They're great for hand eye coordination and fine motor skills. It's so fun to see how excited they get when the successfully complete a puzzle! 
I liked these because of their convenient size and honestly just how cute they are!
How cute is this little chair!? 
Your little one will love being a big boy in his own special interactive chair. 
Similar to a lot of interactive Fisher Price toys, it has 3 "levels" which I always appreciate it because it makes the toys last longer. (Don't even get me started on those expensive baby shoes that they grow out of in a month!) As your child grows and develops, you can "level up" so the content grows with them so they can continue to learn and get value and excitement from the toy.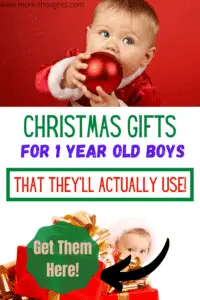 At 1 year old, your little one is too young for a "real" tablet, but this education learning tablet from Leap Frog is jam packed with educational and developmental activities perfect for a little toddler. 
The screen is really responsive, so there's no issues with it properly reacting to your baby's touch which saves a lot of frustration for both you and baby. 
There is so much here to keep your baby busy while you're cooking dinner or doing work around the house. This was one of our main "go to diaper bag essentials" to keep our little one occupied while we were out and about. Great for long car rides as well. 
This activity cube is awesome!
It's made out of plastic and wood, which adds some nice texture elements to it, and also keeps it light weight, while still looking high quality!
Fun colors, no sharp corners, tons of activities AND the top part comes off so it can be played with separately! 
Not much to say other than you can't go wrong with this one…
This interactive book is great for helping your little guy expand their vocabulary!
The illustrations in the book are really nice and when you touch an image, the book says the word. 
It's sectioned out into categories such as animals, pets, meal time, colors, activities, opposites, and more. And there's 3 interactive methods: Words, Sound Effect, and Fun Facts. 
We got this for our little one when they were 1 year old, and it's still a favorite toy over a year later!
Take it back to the basic with this adorable rocking horse! Your little boy will have SO Much fun rocking back and forth on this! It is so funny to watch their big giant smiles and belly laughs! 
It holds up to 50 pounds and the seat is specifically designed to keep your child from falling forward or backwards. Burn all of their energy out so they're all set for bed time!
These little swimming turtles are super cute!
You wind them up on the bottom and put them in the water and their little turtle fins circulate and sends them swimming through the water. Your baby will get an absolute kick out of it!
Who needs a germ filled Chucky Cheese Ball Pit when you can have one of your very own at home!
This thing is a freaking blast! You can arrange it with several different maze options, and it comes with a set of "dart" balls to throw on the target circle.
It's for ages 1-6, and comes with a portable bag so you can take it to the park or friend's house!
Every little boy needs their first set of blocks!
These 80 piece jumbo set is the perfect pick! The big bag makes for quick and easy clean up and storage. 
Get their little creative juices flowing and see what masterpiece they come up with!
Grab your little handy man their first toolbox set!
This company donates 10% of their proceeds to charity!
Each of the tools makes a realistic sound that your little boy will enjoy. The plush design makes it totally safe for all ages and super light weight for easy traveling. It comes with a hammer, screw driver, drill, saw and a handy dandy toolbox to store it all!
This is so cool and totally revamped for 2020!
This has 24, 24-page small paperback books. Each book is individually wrapped in a paper sleeve which keeps every story leading up to Christmas a surprise!
It's such a fun and exciting twist to to count down until Christmas! 
This is sure to become a family tradition that you do every single year with your little ones.