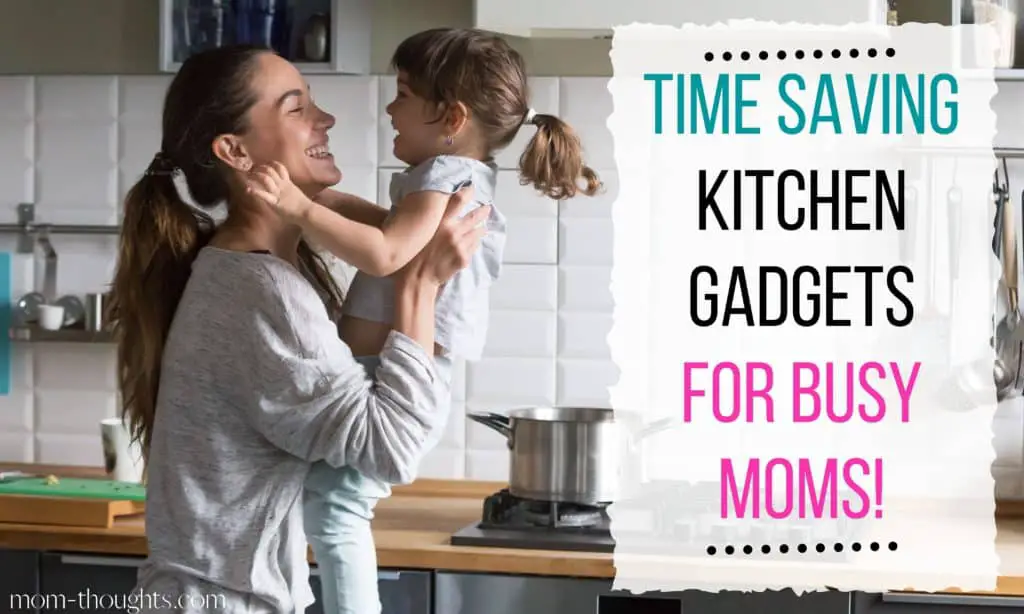 As moms, we're ALWAYS busy! There are never enough hours in the day, no matter how much we try to multitask! I hate hitting my pillow at night only to feel like I didn't accomplish what I wanted to do that day. It took some time for me to get here, but I finally feel like I have a good grasp of my daily schedule! In addition to Time Blocking, I also utilize EVERYTHING I can to save me time! Especially in the kitchen ! So, what are the best time saving kitchen gadgets for moms?
I've come up with a list of my all time favorite time savings kitchen gadgets for moms that will be total game changers in your day to day life!
Being a busy mom also means that we don't have time to wait weeks for our life changing products to arrive, so I've found products that are ALL available on Amazon Prime! (If you somehow don't have Amazon Prime yet, get on it! You can sign up for a FREE 30 day trial here.)
Let's jump into these time saving kitchen gadgets for moms, so you can put those extra hours into something more fun!
I may earn commissions if you shop through the links on this page at no additional cost to you.
Best Time Saving Kitchen Appliances For Moms
I got a Ninja Foodie Grill for Christmas and it has been a total game changer! It's my absolute favorite thing in my kitchen! We basically don't even use our oven anymore.
It works as an indoor grill AND you can air fry, bake, roast, broil and dehydrate with this bad boy! I mainly use it for the indoor grill (it's my FAVORITE way to make chicken!), and the air fryer function. It's quicker and easier then the oven and it tastes WAY better!
It makes it so simple and QUICK to throw together a delicious meal. You don't have to spend time mixing together a bunch of fancy ingredients. A super simple and quick meal we'll do is just marinate chicken breasts in a McCormick marinade in the morning, then at dinner time we put the chickens in the Ninja Foodie Grill. It doesn't need anything else because it cooks so perfectly and gives a nice grill char flavor! For sides we'll just do a steamer bag of vegetables and some Kraft Mac n' Cheese. Doesn't get much easier then that!
Highly, HIGHLY recommend!
---
Every kitchen needs a slow cooker! This Hamilton Beach Slow Cooker is great and it comes with a temperature probe so the food can cook to the correct temperature before automatically switching to warm.
Slow cookers are really a no brainer! Not only are they great for parties, but you can just throw all the ingredients in the pot in the morning, and it can slowly cook throughout the day while you're working, cleaning up around the house, or chasing your kids around. It fills your house with the most heavenly aroma all day!
Confession time…I own 5 slow cookers and use them all on a regular basis! (Plus a buffet one for parties!)
---
I'm not talking about those old pressure cookers that could explode, I'm talking about THIS Instant Pot Electric Pressure Cooker! It works as a Pressure Cooker, Sterilizer, Slow Cooker, Rice Cooker, Steamer, Sautee, Yogurt Maker, and a Warmer.
It has over 10 built in safety measures to ensure safe pressure cooking and it's 6 quart large capacity makes it perfect for cooking for the whole family, or even meal prepping for the week!
Because it cooks things quickly, it's an ideal time saving kitchen gadget for moms like us!
---
You can use electric griddles for a lot of things, but my favorite thing to use it for is breakfast! My personal favorite is this Tilt N' Drain Electric Griddle from Presto!
It super easily adjusts from being completely level for cooking things such as eggs, to a slight tilt for draining grease while cooking meats like bacon and sausage! (Or burger patties)
The large surface of an electric griddle like this makes it SO much quicker to make breakfast in the mornings! Especially if you have multiple children, or your making food for the whole family!
---
I got this Ninja Food Processor over 5 years ago and it still works like it's brand new!
I absolutely love it. I'll use it when I need to quickly and finely chop things like onions or peppers. But the main thing I use it for is making things like salsa, smoothies, and dips. When we do fondue nights, I make a hibachi restaurant style ginger sauce, and this Ninja Food Processor makes it quick and easy!
It's really easy to clean and it's dishwasher safe. I also love that after blending up the salsa, dip or whatever you made, you can just lift the blade out. It comes with a lid for the container so you can just store it in that same container than you blended it in! I'm all for anything that means less dishes!
This is such a cool kitchen gadget for moms!
Making my own baby food was never my journey, but it would also work great for that!
---
If you don't think you'd use all of the functions of the Ninja Foodie Grill, and you're just interested in the Air Fryer, then you'll want to check out this award winning, highly rated air fryer from Cosori!
One thing I like about this particular air fryer is that it comes in multiple color options so you can get one that matches your kitchen perfectly!
It has ELEVEN one-touch preset options including: Steak, Poultry, Seafood, Shrimp, Bacon, Frozen Foods, French Fries, Vegetables, Root Vegetables, Bread, and Desserts. One simple press of a button and you're all set!
Air Frying is all the rage right now, and for good reason! It's quicker than the traditional oven, and it cooks the food crispier and more delicious!
If you've somehow managed to fight the urge to jump on the bandwagon and get an air fryer…it's time to just give in to temptation! You won't regret it!
---
If you drink tea, then this Cuisinart Electric Kettle is a MUST HAVE on the list of time saving kitchen gadgets for moms!
It has 6 preset heat settings so you can make the perfect tea, every time. It also has a warmer function which keeps your tea warm for 30 minutes.
It's easy to clean and has an auto shut off safety feature. You can't go wrong!
---
I've had my Roomba for quite a while now and I seriously don't know how I ever lived without it!
Trust me and just go with the Roomba right out of the gate! We made the mistake of getting an off-brand version at first and it was a total waste of money! The stupid thing just wandered around aimlessly and would always get itself stuck somewhere. And even the off-brands/copy cats are not cheap! We ended up wasting money, trying to save money!
The Roomba is especially necessary if you have pets. We have two dogs and two cats so we could never keep up with the vacuuming! This has been a total God send for my family! No more tumble weeds of pet hair when we miss a couple days of vacuuming!
It pairs with your Alexa too which is pretty cool!
---
That's a good segway to my next must-have for time saving kitchen gadgets for moms…the Alexa.
I mean, what doesn't our dearest Alexa do? She makes shopping lists for us, tells us when our Amazon package is delivered (or perhaps running late) plays us music (great sound quality!), answers all of our dire questions, tells us jokes, and so much more! As we've already covered, she can even control your freakin' Roomba Vacuum!
I love my Alexa. The main things I use her for are playing music when I'm working in the kitchen/living room, shopping lists, and timers. When I'm running around the kitchen it's so much easier to just say "Alexa, set a timer for 20 minutes!" or "Alexa, add milk to my shopping list!".
Not only does it allow me to keep doing what I'm doing without stopping, but the reality is when I open the fridge and see we're running low on milk, I'm not going to stop what I'm doing to add milk to my shopping list. I'm going to make a "mental note" to add it to my list later. And we all know what happens to those "mental notes"!
---
Kitchen Tools That Save Time
Alright, so we've got our must-have time saving kitchen appliances, but time saving kitchen gadgets for moms aren't just about appliances! How about some time saving kitchen tools for busy moms?
These Herb Scissors are great for saving time and making the obvious tasks easier such as perfectly cutting up herbs and scallions.
That is actually why I originally bought them. I still use them for those purposes as well, but I also discovered an awesome time saving toddler hack with these scissors! I use them to quickly cut up my toddler's spaghetti! It makes it SO much quicker! It helps .with shredding chicken and other things like that too.
They are easy to clean too. I just pop them in the dishwasher with the silverware. The green plastic sheath it comes with works great as a safety case and for easily clearing out the blades. 10/10 would recommend!
---
This Grape Cutter is an absolute must have for toddler moms!
I mean, at what point do we stop cutting our child's grapes? Highschool? College? When they get married and their spouse can start cutting their grapes?
But in all seriousness, grapes are a big choking hazard for toddlers and young kids. This cutter will save you a lot of time cutting up their grapes and other similar foods like cherry tomatoes (works great for cutting them up for your salads too!).
---
Just like with the grapes, this best selling Strawberry Slicer is a really cool kitchen gadget for moms! It's great for slicing up strawberries for your toddler or baby, or also if you're making a recipe that calls for sliced strawberries such as a fruit salad.
It's just one of those small inexpensive things that will save you time, so why not have it on hand? My toddler LOVES strawberries…so it's an everyday product for sure!
---
This Meat Masher is another one of those time saving kitchen tools that I can't believe I ever lived without!
Use it to sneak veggies into your picky toddler's dinner!
See It In Action!
We love tacos and spaghetti in my house, so we do a lot of ground beef browning. These just makes it SO much quicker and easier to mash up the meat while it's cooking. Plus it helps get the meat broken down into nice small pieces which I love. Especially for my toddler!
---
Garlic makes everything taste better! Plus it's packed with nutritional goodness, so what's not to like?
Well, the one thing I always hated about garlic is chopping it. You typically want to get it diced up nice and small. However, its so potent that the smell gets all over your hands!
So if you don't already have a garlic press, make sure you get one!
I have this Garlic Press from OXO, and I absolutely love it! It works great, is easy to clean (dishwasher safe) and it saves me time and hassle in the kitchen!
I definitely would recommend this to all my garlic loving mamas out there!
---
Does anyone still use recipe books or are we all just using our phones and tablets to make Pinterest recipes these days?
Propping your phone or tablet on this cute stand makes it a lot easier and more convenient to follow recipes!
I love this Cell Phone/Tablet Stand because it's nice and sleek, adjustable, fits both phones and tablets, AND it comes in 9 different color options! I personally love the rose gold.
---
My aunt got me one of these One Touch Electric Can Openers when I was moving into my college apartment like over 10 years ago and it still works like a charm!
All you need is AA batteries, and it fits perfectly into your kitchen drawer! You just set it on the can and hit the button and move onto the next step in the recipe while it opens your can for you. No sharp edges! This is a great addition to your collection of time saving kitchen gadgets for moms!
---
This Batter Dispenser is really nifty! It's perfect for making pancakes, cupcakes, waffles, and more!
Not only does it make it easier and quicker to measure, but it is also way less messy! Less mess = Less clean up!
I am all for ANYTHING that means less clean up in the kitchen!
---
I love this Salad Spinner from OXO!
Especially now a days, it's so important to clean our fruits and vegetables before eating. I don't know why (I think because of the texture and thinness), but lettuce is one of the more difficult and time consuming vegetables to wash. The water gets trapped in all the crevices so you either have to eat a soggy salad, or give it a bunch of time to dry.
Salad spinners solve that problem for me and make it much easier and quicker to thoroughly clean AND DRY my lettuce. This OXO one has a one handed pump operation with a patented break button. Maybe I'm just a kitchen gadget nerd (probably), but I think this is awesome!
---
This Full Star Food Dicer and Slicer is like the mac daddy of food choppers!
It works flawlessly to dice, thinly slice (Mandolin slicer!), spiralize (2 spiral options), and even juice your produce! It cuts your prep time in half and just gets you better results.
This is also great if you're accident prone like me!
It comes with a nice peeler as well, and a mess free blade organizer. This will seriously become one of you favorite kitchen gadgets!
---
I hope this compilation of time saving kitchen gadgets for moms helps you get some of your time back that was previously being wasted in the kitchen!
As busy moms, we need all the time saving help we can get! Add these cool kitchen gadgets for moms to your collection or grab one for a fellow mom friend!
---
RELATED:
Self Care Tips For Tired Moms – It Only Takes 30 Minutes Per Week To Avoid Mom Burn Out!
9 Things That Make Mom-Life Easier!