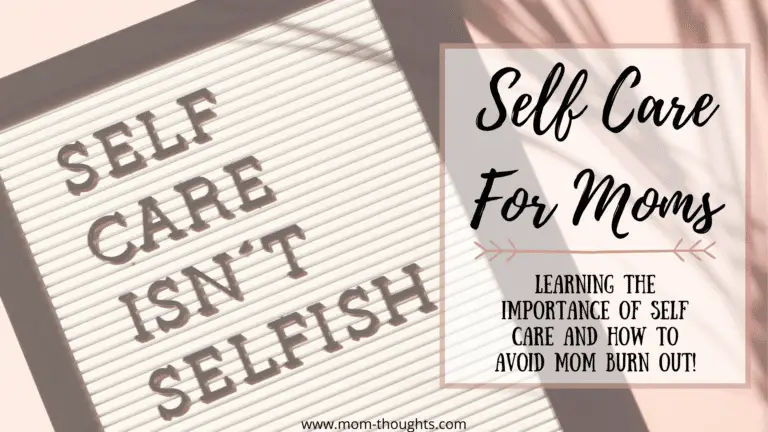 Are you feeling that classic "mom burn out"? In desperate need of a break? We may be "Super Moms", but at the end of the day…we're human.
Without making a true commitment to understanding and implementing self care for moms, it's only a matter of time before you reach your breaking point. 
Taking a 3 minute shower, going to the bathroom alone, going grocery shopping…these things are NOT self care! Those are literally bare minimum essentials for simply keeping yourself alive. 

I may earn commissions if you shop through the links on this page at no additional cost to you.
It's easy for moms to get caught up in a mind set of "I don't have time for self care". But think of it this way, do you ever tell yourself that you don't have time to feed your child that day, you don't have time to give them their medicine, you don't have time to change their diaper that day…absolutely not. You know why? 
Because you look at those things as priorities. Those things need to get done, no matter what else is going on.
Trust me when I say, your mental well-being, and your mental stability is 100% a HIGH priority. Your family depends on you to be in a good mental state. Self care is how you protect, maintain, and achieve your mental well-being.
All too often moms put selfcare on the back burner. They suck it up day after day, putting everything and everyone before their mental health. Each day is filled with overwhelming feelings of stress, anxiety, resentment, and exhaustion. 
They go to bed feeling guilty because they lost their tempers and yelled over something small. 
They go to bed feeling guilty that they overreacted about something with their spouse. 
Then one day, it all becomes too much, and they break.
I've struggled with mental health, specifically depression and anxiety since before I became a mom. 
My anxiety and depresion started when I was the victim of sexual assault as a teenager. But I bottled it up, and kept it all to myself, and told myself I was fine. It heightened when my mom got sick with cancer. And shortly after, when my mom and dad passed away only a year apart from each other…my anxiety and depression was almost unbearable.
But I kept telling myself I was fine, and I put no real effort into taking care of myself, and my mental well-being. Finally, as i got a little older, and I knew a child was in my not too distant future, I knew I needed to figure out how to take care of myself. The only way to truly take care of someone else, and love someone else, is to make sure you're taking care of yourself with equal priority.
Loving and caring for yourself IS loving and caring for your child.
Make the commitment to self care today! Check out these simple ideas for Self Care for Moms, that only take 30 minutes! Incorporate them daily, or weekly! (AT LEAST weekly!)