Working mom, stay at home mom, mom of one, or mom of many…all moms have at least this one thing in common…we wear SO many different hats at once! Chef, nutritionist, nurse, accountant, personal shopper, house cleaner, lifeguard, and the list goes on and on! And you know what, it gets freaking exhausting! Luckily we live in a time where there are a ton of things that make mom's life easier!
While I'm at my wits end and constantly needing things to make mom's life easier, I often find myself thinking back to my childhood, and remembering how clean my home always was, how delicious our home cooked meals were every night, how extravagantly decorated our house was for each holiday, and more. 
It fills my heart with so much joy and makes me feel so grateful, however I also feel guilty now that I realize how under appreciated my mom was. She must have really been working her butt off every single day!
I so badly wish my mom was still here so I could give her a big ol' hug and a million thank yous! Man, now that I know how hard it is, I'd make sure she had ALL the things that make mom's life easier! 

I may earn commissions if you shop through the links on this page at no additional cost to you.
Can you imagine raising kids in a time where there was no washing machine, or clothes dryer, or dishwasher!? NO THANK YOU! Not for me! 
As a busy, overworked and overstressed mom myself, I am a HUGE fan of Amazon. I know this sounds dramatic but like, I seriously don't know how I functioned before Amazon Prime! Two Day Free Shipping….I mean…is there any other way to live life?!
So keeping that in mind, I am keeping this list of things that make mom's life easier specific to things you can get on Amazon! I know I'm not the only Amazon junkie out there!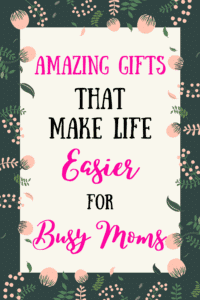 This thing is so freaking cool!
This Ninja Foodie is literally an indoor grill, air fryer, roaster, and you can bake and dehydrate with this bad boy!
My favorite functions are by far the grill and the air fryer!
Just about everything tastes better grilled, and O-M-G, I am still amazed with the idea of an AIR fryer! A healthy way to fry things, where you still get that delicious crispiness. What a world we live in!
You can air fry so many different things! Yeah there's the classics like fries, chicken nuggets, and things like that. But you have to get this Ninja Foodie and try air frying things like pizza, breakfast potatoes, quesadillas (Air fried quesadillas are the BEST quesadillas I've ever had!), egg rolls, dumplings, wings, bacon, brats, fried pickles, pizza rolls…omg ok I need to stop. But trust me it is SO GOOD!
The fact that this thing is multifunctional makes it one of the BEST things to make mom's life easier. This way you don't need to have several different small appliances taking up space. This one Ninja Foodie has you covered!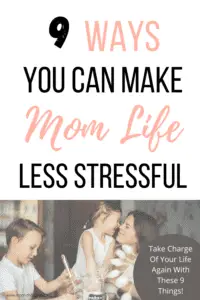 Starting off your day in front of a cluttered mess of a bathroom counter sets the stage for your day. Whether you consciously realize it or not, living in clutter and mess causes you to have a cluttered mind, thus amplifying any feelings of stress, anxiety, and frustration!
Makeup gets messy and crowded quick! This makeup organizer is great because it's nice and durable and fits all your make up with no problems! Plenty of space for your mascaras, eye liners, bronzers, blush, highlighters, eye shadow pallets, lip sticks, and whatever else is in your collection. 
It's also extra cool because the pieces are detachable so you can "DIY" your own set up (or use them separately). You can also add more to expand it if needed. 
Trust me when I say EVERY mom needs a Roomba!
I learned my lesson the hard way and tried to get a knock-off version several years ago. It would just wander around the house in random and weird patterns and inevitably get stuck somewhere, or get lost and not find it's way back "home".  That thing eventually was tossed in the trash, and we sucked it up and got a real Roomba, and it has been life changing!
We have 2 dogs and 2 cats, so the shedding is no joke around here! We constantly found ourselves getting too busy to vacuum as much as we needed to (EVERY.DANG.DAY!), then we'd see a furry tumbleweed blow across our floor as a reminder. 
This thing was a total game changer and completely solved that problem! We call him Vincent, and he is valued member of our family! haha (But seriously…)
Ya'll…there is even one that MOPS! Praise Jesus!
This Snap and Strain Strainer is so innovative and super versatile! It easily and securely snaps onto just about any round pot, pan, or bowl! Big or small, it's a true One Size Fits All! 
When looking for things to make mom's life easier, this one definitely makes the list!
It is of course BPA Free and Dishwasher Safe! (Because what mom has time for hand washing?! Not me!)
We are big Alexa fans in our house! It just makes things so convenient, in multiple ways. 
When I'm running around the kitchen trying to cook family dinner, clean up, pack my toddler's lunch, snack and breakfast for the following morning, all at the same time, I can just say "Alexa, add *apple sauce pouches* to my shopping list!" or "Alexa, set a timer for 20 minutes!" I don't need to stop what I am doing to add something to my shopping list, or to set a timer for the dinner I just threw in the oven. It's actually a little surprising how helpful that has been!
I also really like this particular version because it's a video display too where you can do video calls with loved ones. Now a days video calling, and skype meetings are our only ways of seeing and connecting with our friends and family in many cases. My daughter has underlying health issues, so we've had to be extra cautious which has become quite lonely. So video calls have been my saving grace!
You can also use it to show you movies, tv shows, or listen to pod casts or audio books while you're working around the house.
Don't need the video display? No worries, check out this Echo Dot!
Listen, moms have enough on their plates…we don't have time to go around watering all the house plants too!
These Plant Watering Globes are awesome because they provide the perfect amount of water for about 2 weeks! And the slow watering technology release the perfect amount of water for your plants, or herbs, or other flowers, so no risk of you over or under watering! This is such a small thing that will make life easier for any mom!
These are also super ideal for when you're away on vacation or business trips. 
Remember how I was saying getting decluttered and organized is really important for moms and helps make life easier for moms?
That goes for the intangible elements of your life too. Your "to-dos", your goals, your appointments, your scheduled "me time".
(Moms – You BETTER be having scheduled "Me Time"! Check out this article on Self Care For Exhausted Moms to find out how to fit it in your busy schedule, and why it's so important!)
I'm a big believer in using planners. When you have so many things you're trying to juggle, it can feel SO overwhelming, and so impossible. How can you possibly get it all done?! There aren't enough hours in the day! 
Well, when you use a planner like this one, and you actually block time, and schedule out your days , weeks and months, you find out that you actually DO have time for it all. INCLUDING self care.
I love this planner because first of all, it's cute, and comes with fun stickers to mark day and appointments. 
But this brand in general is typically my go to for planners and calendars. It's good quality material, and it includes things like life coaching worksheets, inspirational features to help you set and achieve your goals, habit tracking, vision board, monthly spending log, to go lists, monthly challenges and more!
I also like that this brand is a small business that generously gives back to the community.