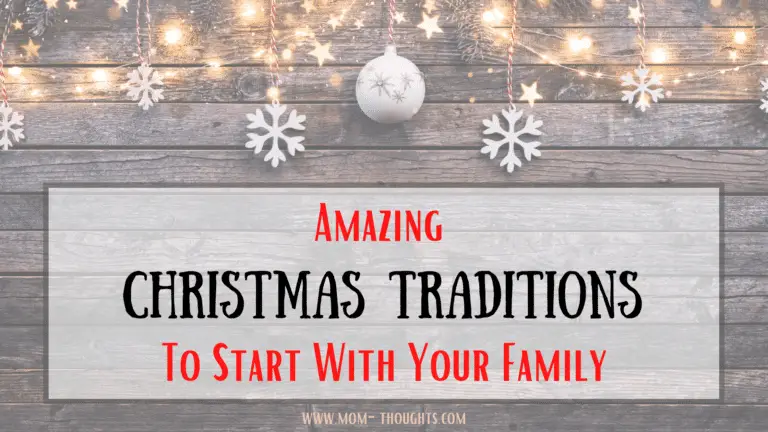 Christmas Traditions are some of the most special and lasting memories for ourselves and our children. 
With each passing year it seems that this world gets more and more busy. We're all working longer hours, our work loads are getting heavier and heavier, and we're constantly juggling what feels like thousands of things at once.
When Christmas time rolls around each year, a lot of people are finding themselves saying "Ugh! It's been such a crazy year, and there's a million things going on right now…we're just going to have to skip a lot of the Christmas traditions and go more low key this year." Then, the following year comes, and it's the same story. This time of year that used to be so special and magical, is all of a sudden just an added stress on our To-Do List. 
I have to admit, I've been guilty of that myself. I think it's time that we get that magic back! Our children deserve it, and WE deserve it. 

I may earn commissions if you shop through the links on this page at no additional cost to you.
Here's a list of totally awesome and special Christmas Traditions to start with your family!
1) Christmas Eve Gift Box
Every Christmas Eve, give your child a Christmas Eve Box to open that includes a new set of comfy Christmas PJs, a movie snack (such as a bag of popcorn, candy, etc.), hot chocolate set (make it cute!), a new cute mug for their hot chocolate, and a new Christmas book! Mom and Dad get new PJs too!
This is SUCH a fun and special Christmas tradition, and your child will always have warm and cozy memories of family time on the night before Christmas. Everyone will be snuggled up in their new PJs, set up with a yummy snack, and delicious hot chocolate, while you watch a new or family favorite Christmas movie!
End the night with a reading of the new Christmas book before tucking into bed for the night to await Santa's arrival!
2. Drive Around Looking At Christmas Lights
This has always been a special memory of my childhood. I feel like people don't do this enough anymore! Pile in the car, play some Christmas music, and drive around local streets and neighborhoods checking out all of the Christmas lights! Everyone could even wear their comfy jammies! 
3. Make Blessing Bags For The Homeless
It's so easy to get lost in the presents, bows, Santa, cookies, and pretty lights…and those things are important, especially as a child! But it's also equally important to teach your children that Christmas is a time of love and kindness. And it's so important to give back to your community, and help those less fortunate than you.
It's important for your child to know that while they may have the latest toys and gadgets, not everyone does. And we need to reach out a helping hand whenever we can.
Christmas is a perfect time to teach your children about giving back, and lead by example. Put together some nice blessing bags, filled with essentials such as hygiene products, gloves, snacks, water bottles, etc. Then hand them out to those homeless people in need. This will be a powerful experience for both your child, and yourself! 
Be sure to add this to your family's list of Christmas Traditions!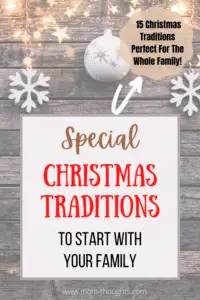 The whole month of December is for Christmas movies!
Here are some of my favorites you can watch on Amazon Prime Video!
5. Make a Family Gingerbread House!
Gingerbread House Night!
Grab this awesome kit and have a fun filled evening making the best Gingerbread house on the block!
As a bonus, this fun Christmas Tradition is great for teaching teamwork and collaboration!
6. Go to your local Christmas Parade
Our town has an awesome Christmas Parade every year! It's so much fun, and an awesome Christmas Tradition to do with your family every year. Santa and Mrs. Claus are there, and there's even a Christmas Tree Lighting Ceremony! 
Your town likely has something similar, but if not, then you'll definitely be able to find something in a surrounding town! Hop on google and figure out what's going on near you!
7. Make Christmas Cards for Soldiers, nursing homes and hospitals

Soldiers that are deployed away from their family for the holidays, elderly people in nursing homes that don't have family to spend the season with, and people that are hospitalized struggling with illness or recovery really need love and support during this time of year especially. 
It's another great lesson and character trait to instill in your child. Compassion. Empathy. Love. 
Teach them that they can change someone's world, and make someone happy, simply by showing them kindness. 
You can't go wrong with Christmas traditions that teach the power of kindness!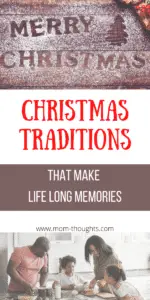 8. Make Homemade Chocolates
9. Visit Santa for pictures!
I love looking back each year at my child's pictures with Santa! It's so fun (and mildly heartbreaking) to see how much she's grown each year!
We have to do things a little different in the year 2020…so here's my idea. Santa Suit for Dad! Come on dads…here's your shot to make it in Hollywood! Suit up, practice your acting skills, and give your kiddos a true Santa experience!
10. Make a Christmas list and write a letter to Santa
Well, duh! Obviously you need to make your Christmas List for Santa!
But don't forget to also write a LETTER to Santa! Check out these super cute Letter to Santa Kits!
11. Read A Christmas Bedtime Story Every Night Of December
12. Make Christmas Cookies
Is it even Christmas Season if you don't bake Christmas Cookies?! Pretty sure that's a solid no. This is an absolute must when it comes to Christmas traditions! 
Smell and taste have such a magical power of transporting you back to childhood, or different times of your life. Every Christmas Cookie is jammed packed with that magic. It's even more special when you make it into a family fun activity! Your kiddos will love helping you in the kitchen, and those are life long memories that they will always look back at fondly!
For the younger kids, get this Kitchen Helper Stool so they can safely reach the counter and help you bake!
13. Make Salt Dough Ornaments
All you need to make the dough is:
2 Cups of All Purpose Flour
1 Cup Of Salt
About 1 Cup Of Water
Then you just mix the flour and salt together, and slowly add the water until you have a good consistency. 
Then shape it depending on what you want to do with it. I like to roll it out, have my child press their hand print into the dough, then cut around the hand print to neaten up the circular shape! (Don't forget to poke a hole at the top to put the ribbon through so you can hang it on the Christmas Tree. An ice pick works great for this part!)
Then let it dry completely! I've found that the best way to do this is to put it in the oven for a couple hours, at about 212 degrees Fahrenheit. (Gently flip it a few times throughout)
Once it's completely dry and cooled off, seal it with Mod Podge!

14. Put Reindeer Feed In The Yard 
Don't forget to throw Reindeer Feed in your yard for all of Santa's Reindeer!
Check out this cute bag your children could carry around the yard to spread the Reindeer food!
You can make the food super simple, and safe for wildlife to enjoy! From what I have seen, I would not recommend putting glitter in it like a lot of other recipes call for. That could be harmful to wildlife. 
Just keep it simple and mix together 
15. Leave Out Milk and Cookies For Santa and Carrots For The Reindeer! 
This is such a classic and special activity on the list of Christmas Traditions. Be sure to incorporate it into your Christmas Eve! (Plus it gives you and dad a little night time snack!)
I still remember running down the stairs Christmas morning to see if Santa ate the cookies I left him! And I LOVE the idea of leaving carrots for the Reindeer! They work hard on Christmas Eve too!
I am OBSESSED with this set! It makes this Christmas Tradition even more special!
It comes with a plate for Santa's cookies, a jar for his milk, and a bowl for the reindeer's carrots!
It's made of Stoneware and your child can even write a chalk message on the plate for Santa to see! (Bonus – It's microwave and dishwasher safe!) This will be handed down from generation to generation for sure!