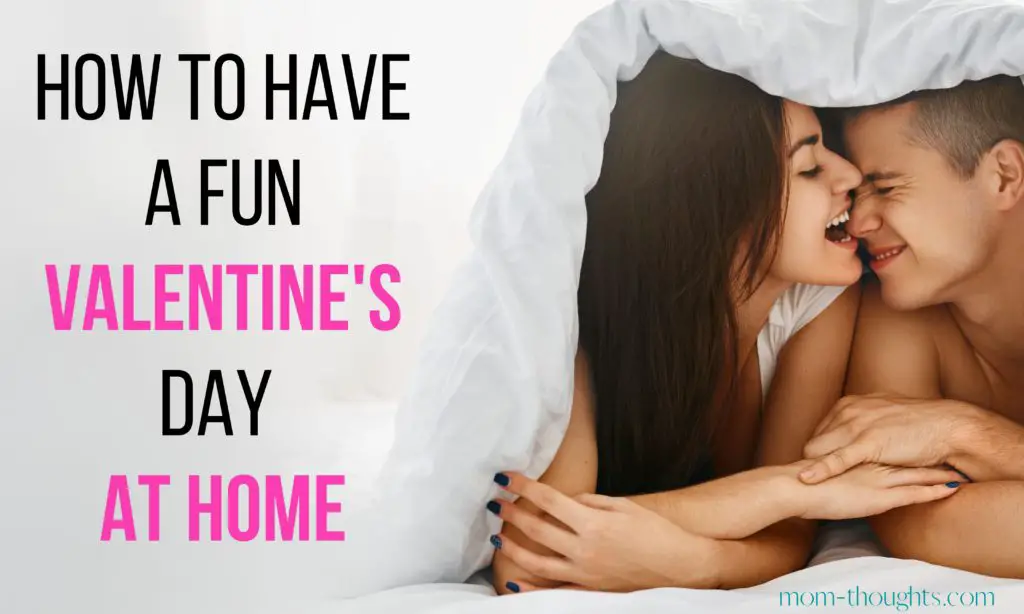 Getting a night out for parents can be really difficult! Especially on Valentine's Day when all of your normal sitters are busy with their own Valentine's Day plans. So how do you have a fun Valentine's Day at home? Believe it or not there are SO many options!

As a means for providing for my family, I may earn commissions if you shop through the links on this page at no additional cost to you. Thank you!
Check Out These Awesome Ideas On How To Have A Fun Valentine's Day At Home!
Recreate Your First Date
This would be such a special surprise for your spouse! Here's some quick ideas for common first dates!
Was your first date at a restaurant? Print out the menus from the website, and find a "copycat" recipe online!
Perhaps your first date was at the movies. Find the same movie that you saw (you'll likely find it on Prime Video), get these popcorn buckets to really make it feel like you're at the movie theater! If you got a particular snack that night, get it again. Turn off the lights, and enjoy!
Picnic At The Park? Recreate it in your own backyard! Fill a picnic basket with all of the same food and goodies that you had on your first date!
Write Bucket Lists together
Grab a pen and paper, an adult beverage, cuddle up on the couch, and come up with Bucket Lists together! It can be really fun and therapeutic to allow yourself to dream. Then, in the passing weeks, months, and years…start chipping away at those bucket lists!
Chocolate Fondue Night
Cut up some strawberries, bananas, and pound cake (store bought is fine!), and get a chocolate fondue going! Satisfy your sweet tooth this Valentines Day!
This fondue set from MasterChef is super affordable and works great!
Date Night In A Box
There's this really cool subscription box company called CrateJoy. They have subscription boxes for basically anything you could ever want! You can also make a one time purchase for a box if you don't actually want the monthly subscription box.
They have GREAT ones for date nights, perfect for Valentines Day!
Some of my favorites are the Escape the Crate box which is like an "Escape Room" type activity, Date Night In Box, the DateBox Club, The Adults & Crafts Crate and the American Cocktail Club!
There's tons of options! Check them out for yourself!
Cook Together
Try out one of those fancy Pinterest recipes that you pinned and never got around to making! Cooking together is such a fun bonding experience. Plus it helps to freshen up your teamwork skills!
Try out this really fun Sushi Making Kit for beginners! My husband and I made some really yummy sushi at home with this kit!
Order In From Your Favorite Restaurant
You can always keep it simple and easy and just order in from your favorite restaurant. This way there's no cooking or dirty dishes to take care of! Splurge on the surf and turf or fancy pasta dishes!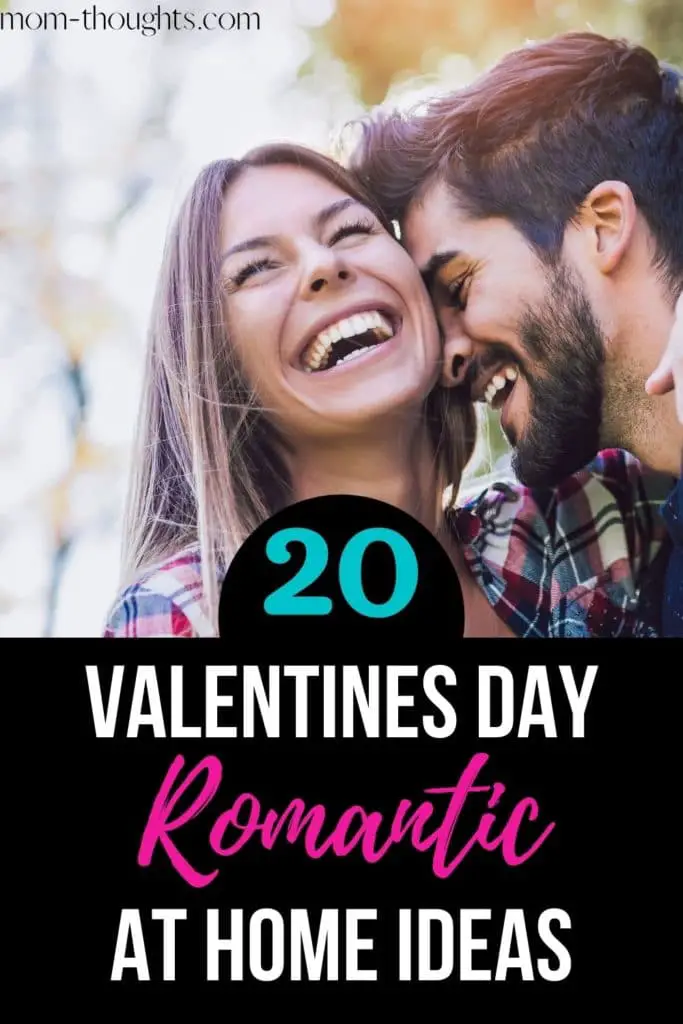 Living Room Movie Night
As a young kid we used to have fun movie nights where we'd blow up an air mattress in the living room, pop some popcorn, and have a totally epic movie night! It was so much fun! Kids aren't the only ones that get to have fun! This would be so much fun with your spouse!
So you can do it as a family affair, or better yet, wait until the kiddos go to bed, then get the party started! Don't forget the wine! (Or if you're like me, the ice cold beer!)
I really like this air mattress from Amazon because it's super affordable, yet comfortable!
Get the true movie theater experience and spice up your popcorn with these delicious popcorn seasonings!
Sign Up For an Amazon Prime Video 30 Day Free Trial HERE to get all of the best movies!
Turn Your Kitchen or Living Room Into a Dance Floor
Slide your furniture out of the way, turn down the lights, and blast your favorite dance songs! Throw in some romantic slow jams too! (How about your first dance song from your wedding!)
Conversation Starter Games
When you live with someone day in and day out, you kind of run out of things to talk about sometimes. Especially if you have kids! All your conversations end up being about the kids! Spice things up and make it more interesting with this fun Table Topics For Couples game!
It comes with 135 question/topic cards!
Play Video Games Together
My husband and I love playing Mario Party on the Nintendo Switch! Your husband would probably really love it if you surprised him with a gaming night!
Fire Up The Grill
Can't go wrong will grill food! Throw some steak and veggies on the grill and enjoy a scrumptious dinner!
Mad Libs With A Twist
One of the YouTubers that I watch posted a video of her and her friend doing Mad Libs with a twist and it had me CRACKING UP! I'm embarrassed to even admit how many times I watched it, haha.
So here's what you do…fill out the Mad Lib as normal. (have your spouse provide the nouns, adjectives, etc.) Then, before you read it, your spouse fills their mouth with water. It is freaking hilarious (and sometimes messy) watching them struggle not to laugh and keep the water in their mouth!
If you're drinkers, make it even more fun by getting tipsy first!
Board Game Night
Who doesn't love a good board game night?! I think this is one of those activities that everyone enjoys, but we tend to forget about it. It's not until we dive in and start playing that we remember how fun these games are! 
Some really fun options outside of the classics are Pandemic (how fitting…), Sequence, and Off Topic.
Give Each Other Massages
Set up a massage table, like this one from EarthLite, grab your massage oils, and give each other some awesome massages! This will leave you both feeling great!
Backyard Bonfire
This is one of my husband and I's favorite things to do! Bring out a bottle of wine, some light blankets, and maybe even some marshmallows to roast! 
Don't have a fire pit? No problem! Check out this super affordable one that is available on Amazon Prime Delivery! (Don't forget your roasting sticks!)
Star Gazing
Take your air mattress outside with some pillows and blankets and just lay down, cuddle up, and enjoy nature's beautiful night lights in the sky!
Nerf Gun War
Remind your spouse that you have a fun side! Surprise them with an ultimate nerf gun battle! No mercy!
Grab this 2 pack so you're both all set for battle!
Charcuterie Board And Wine Night
Just because you're having Valentine's Day at home doesn't mean you can't get fancy with it! Charcuterie boards are all the rage right now! I guess growing up on Lunchables instilled a love of crackers, meat and cheese!
Go all in and get a nice cheese board! (Don't you dare just put it on a regular plate! haha) Some of my all time favorites are, the ones from Royal Craft Wood, CTFT, and SMIRLY.
Make Breakfast In Bed
Start your Valentine's day at home off right by surprising your spouse with breakfast in bed!
I got this breakfast sandwich maker a few years ago and I LOVE it! It makes breakfast at home much more fun! I'm a sucker for fast food breakfast, so this is an awesome way to make it healthier at home.
Create An At Home Spa
Men need skincare too! This could be a beneficial, but also silly Valentine's day at home idea! 
Sit back with Foot Spa Bath Massager, and sip on some champagne! These things are an absolute must have for busy moms and dads that are on their feet all day! 
For an affordable option I really love this highly rated foot spa from MaxKare, but if you want to splurge a little bit more, you've got to check out this one from Misiki with motorized massage rollers!
Don't forget your face masks!
RELATED:
Looking for the perfect Valentines Day Gifts For Him? Check out these gift ideas for men!
You may also like: