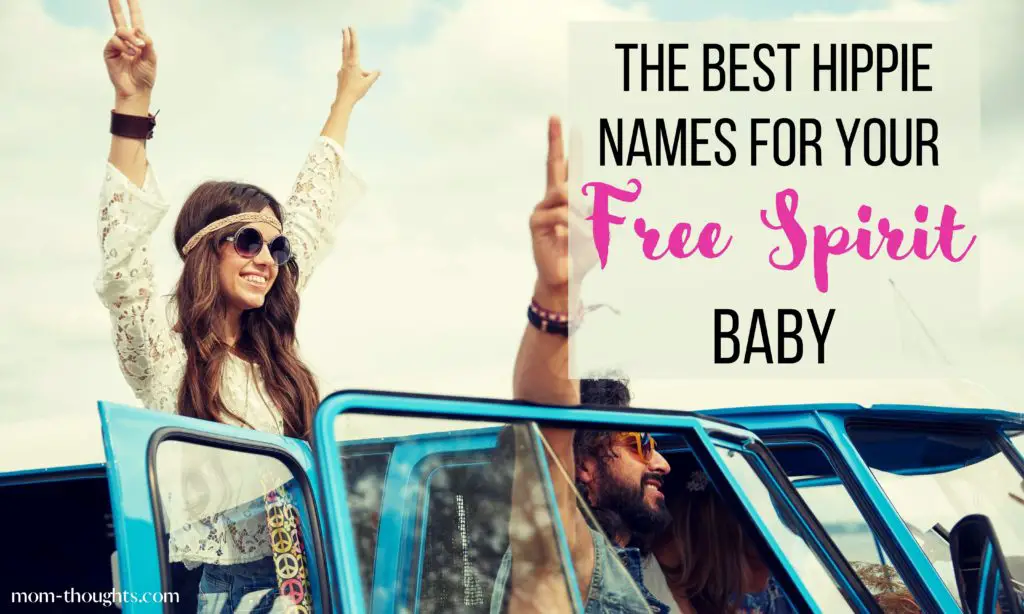 Trying to find some cool nature hippie names?
Hippie names are really cool, and I think every parent-to-be should check out at least one list of hippie baby names during their quest for the perfect name!
Scroll to the bottom of this post

to see some awesome woodland and free spirit baby nursery ideas that would go perfectly with your baby's hippie name!
PLUS a FREE PRINTABLE to help you decide on the perfect name!
(Just scroll to the bottom of this post to download the FREEBIE.)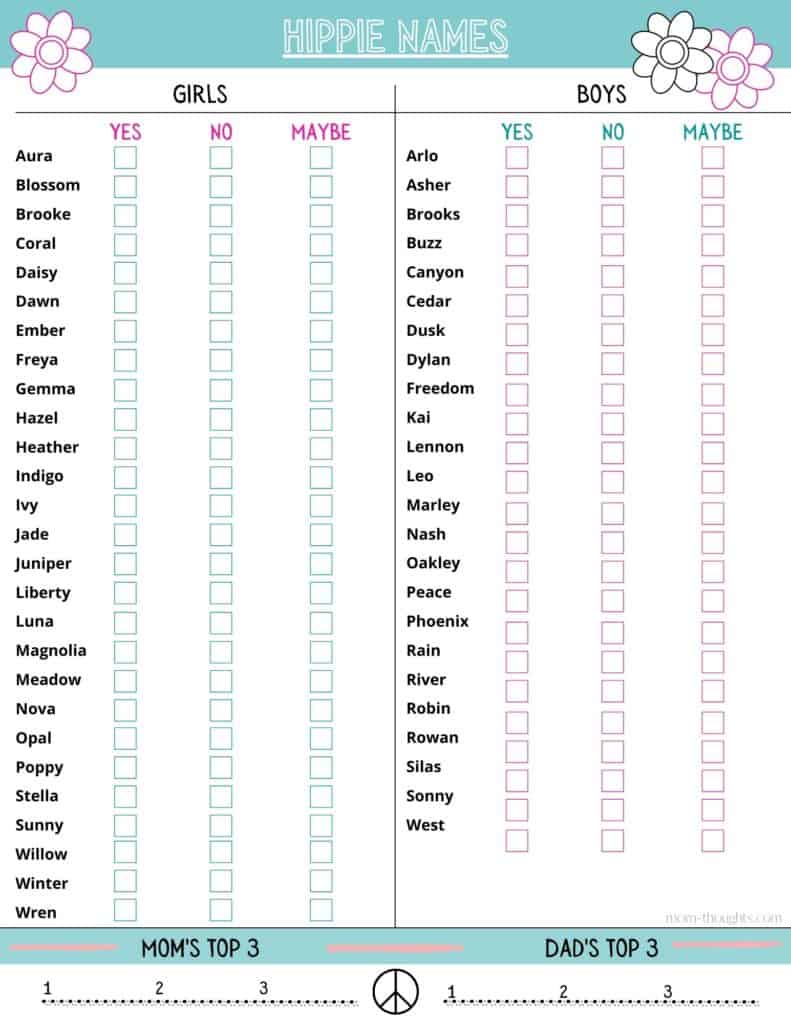 Picking a baby name is one of the first exciting things that you get to do when you find out you're pregnant! Shoot…some of us even have our list of possible baby names before we even meet our partner!
I may or may not have been one of those girls. Lol! Although what's funny is that I ended up not going with ANY of the names I had previously been so set on for years. None of those names felt right when the time came. But that's life I guess.
As a means for providing for my family, I may earn commissions if you shop through the links on this page at no additional cost to you. Thank you!

If you're anything like my husband, you may be thinking:
"What in the world is a hippie name?"
Hippie names for boys and girls are both really earthy, and they tend to have a connection to nature. They have a real "peace sign" and "love everyone and love the earth" vibe. I think this world could really use some love everyone vibes right now, so I'm all for it!
Hippie names started making their mark in the 1960s which was an era full of strong musical and artistic influence as well. So those influences shine through in a lot of these names, which I think is so inspiring!
Enough small talk though, let's get into it!
The Best Hippie Girl Names
A
Aura – ("a(u)-ra") This name means "soft breeze". It has Latin and Greek origin.
B
Blossom – Of English origin, this name means "to bloom". I love that meaning so much! As adults that have presumably all been through our fair share of hardship and growth, I think we can all appreciate the symbolism of finally reaching that point in your life where you truly bloom.
Brooke – This is a nice water name that's not too out there. It's of English origin and means "small stream". This is a great option if you want a nice nature inspired hippie name, but still make sure your kid will be able to find their name on a keychain at the souvenir shop!
C
Coral – This Latin origin name refers to the semiprecious natural sea growth. I still have some awesome coral that we found on the beach in Hawaii. There's something about the complexity and imperfectness of Coral that makes it absolutely beautiful and special.
D
Daisy – English origin meaning "day's eye". The daisy flower is such a bright and happy looking flower. At the end of the day, we all just want our babies to grow up to be happy. So what a great nature inspired hippie name for your little girl!
Dawn – Another hippie name of English origin. It means the "first appearance of light". This would be such a meaningful name for a baby that was conceived/born after you have gone through hardship. Your little precious baby is your day break. They're the light at the end of the tunnel. They're the dawn in your life.
E
Ember – English Origin meaning "remnants of a dying fire".
F
Freya – Switching things up, and this hippie name is of Scandinavian origin. It means "noble lady". Freya was also the goddess of love and fertility.
G
Gemma – Latin origin meaning "gem stone". You could incorporate some gemstone décor in to your baby nursery and that would actually look really pretty!
H
Hazel – English Origin. It means "The Hazel Tree". It also derives from a Hebrew biblical word meaning "God sees".

Heather – I may be biased, but I think Heather is a pretty sweet name, lol. I never thought of it as a hippie name, but I guess when you consider it's a type of flower it makes total sense that hippies would love this nature name. 
There's two types of Heather flowers; a white one and a purple one. 
The white symbolizes protection, good luck, or wishes coming true. In Scotland it's actually common to include a sprig of white Heather in the bride's bouquet! The purple Heather symbolizes admiration and solitude.
I
Indigo – Green origin. Meaning: "Indian Dye". This is a really cool color inspired hippie name. It also has some cute nick names such as Indy, Diggo, and DeeDee.
Ivy – This English origin name is named after the Ivy plant and symbolizes faithfulness.
J
Jade – Spanish origin name that means "stone of the side". Another great gemstone inspired hippie name to add to your list.
Juniper – This name is of Latin origin and means "young". June and Juni would be really cute hippie nicknames.
L
Liberty – This is an awesome name meaning "the state of being free". Any name symbolizing freedom is a-okay in my book! 

Luna – This hippie name is of Latin origin and means "the moon". This is another hippie name that I think you could really have some fun with centering the nursery theme around their name. When I think of the moon, I think of endless possibilities and dreams!
M
Magnolia – Latin origin meaning "Magnol's flower". Such a beautiful nature/flower name for girls. And if they want to go more "mainstream" with their nicknames, Maggie would make perfect sense!

Meadow – This American origin name means "field of vegetation". It's a super peaceful sounding name. Hopefully that means your baby will be peaceful too, lol. (Don't hold your breath!)
N
Nova – Latin origin meaning "new". This is a really astronomical hippie name. From an astrological side of things, Nova is a star that suddenly increases in brightness becoming crazy bright, and then fades. How symbolic of life! Love it.
O
Opal – This gemstone inspired hippie name is of Sanskrit origin and means "gem". 
P
Poppy – This nature name is of Latin origin and means "red flower". A Poppy is such a bright and colorful flower, making it the perfect name for a bright eyed little girl that's ready to take on the world!
S
Stella – This name is of Latin origin and means "star". Just like when I think of the moon, when I think of stars, it makes me think of endless opportunities. The sky's the limit for your little one!

Sunny – This nature name is of English Origin and means "happy and cheerful"!
W
Willow – Another great nature name that is of English origin. Willow means "graceful". I also love willow trees! If you're in your "forever" home, it would be really cool to plant a Willow tree in your yard the year that your little one is born! I'm sure she'll spend many hours out under that tree as she grows up. Playing, having picnics, reading, and so on. (I can be a bit of a sentimental sap at times, lol.)
Winter –  English Origin. The teutonic meaning of this name is "renewal" or the "rebirth of spring". 

Wren – English origin. A wren is a small songbird.
Hippie Names For Boys
A
Arlo – This cool name from Spanish origin is often chosen by parents looking for a hippie boy name based on the famous singer from the 1960s named Arlo Guthrie. He was known for using music to protest social injustices in the world. How relevant to today's world!

Asher – This attractive hippie name is of Hebrew Origin and means "happy and blessed". This name is a personal favorite of mine!
B
Brooks – Of English origin, this name means "small stream". It's the boy version of Brooke. This is another favorite of mine for boys!

Buzz –  This is such a cool hippie name. I can't ever imagine meeting someone named "Buzz" that wasn't a good ol' time!
C
Canyon – Spanish origin meaning "footpath". 

Cedar – This nature name is a type of tree and is of American origin.
D
Dusk –  This nature name meaning the time between day and night would be a great choice for your little boy. After all, dusk is such a beautiful and mesmerizing part of the day!

Dylan – I really like this name. I never thought of it as a hippie name before, but it's meaning of "Great Tide" makes it an awesome nature inspired water name! And after all, hippie names are much inspired by nature.
F
Freedom – This name is of English origin and it means…well…FREEDOM. 
K
Kai – Kai is a super cool Hawaiian name meaning "sea". This is another favorite hippie name of mine and it's also a great unisex name! One Syllable names are also really trendy!
L
Lennon – I really love this hippie name of Irish origin. It means "Dear One". 

Leo – Latin origin meaning "Lion". What a strong boy name!
M
Marley – This one is a no-brainer. Everyone knows Bob Marley! His spiritual, laid back music makes this the perfect hippie inspired name for boys!
N
Nash – I think this hippie name is so cool. It's of English origin and has some serious swag. It means "by the ash tree". I love this one!
O
Oakley – English origin. Meaning a "meadow of Oak Trees". 
P
Peace – This world could use a little more peace am I right? This is the ultimate hippie name for boys. (Or Girls…this could totally work as a unisex name!)

Phoenix – Greek origin. Meaning "Dark Red". It also symbolizes rebirth and immortality. Fun Fact: You remember the Spice Girls? (Come on…where's my 90s kids at?!) Scary Spice named her daughter Phoenix, which is proof that this hippie name totally works as unisex!
R
Rain – This English origin hippie name means "Abundant Blessing from above". It's such a meaningful nature name for both boys and girls. 
River – English origin meaning "flowing body of water". This hippie name is a great choice for a boy. I also really like the nicknames Riv and Rivvy! 
Robin – This nature name is inspired by a type of beautiful song bird. It would be great for girls too, but I wanted to put it under boy names in honor of the late Robin Williams. The laughter and kindness that he brought into this world will not soon be forgotten!
Rowan – I really like this name too. It's of Gaelic origin and it's a tree with red berries. This is a really great nature name in my opinion!
Rain, River and Rowan are all great unisex hippie names!
S
Silas – This name of Latin origin means "man of the forest". A hippie name with power!

Sonny – Another awesome hippie name inspired by a famous singer from the 1960s!
W
West – English origin meaning "western stream"
Nursery Ideas To Match Your Baby's Hippie Name!
When I think of hippie names, I think of carefree, whimsical, boho inspired, free spirit vibes! These nursery ideas totally go with that theme in my opinion.
As we've learned "hippie names" don't necessary scream tie die and VW Bugs in all cases. If that's your prerogative, then do you boo!
Personally though, I relate more to the nature, carefree, boho side of "hippe style".
Check out the nursery ideas below and see where you land!
Keep your little one's nightmares away with these super cool dream catcher!
---
These fun hanging shelves would be a great place to display some flowers, a picture, or even a special keepsake for your little one! Personally I love the idea of using them to add some greenery to the nursery. Whether it be real plants, or artificial.
Check out this unique wooden moon shaped wall shelf! Some crystals, or succulents would look so awesome on this shelf, mixed in with a baby picture or two.
---
Skip the standard picture frames and go for this totally Boho style hanging photo display instead!
---
Check out this cool twist on a changing table topper! It's also portable which is really cool.
---
These super stylish Boho inspired bins would be perfect for storing your easy to grab diapers, wipes, rash cream, lotion, and more!
---
This round foot stool ottoman would be the perfect accent piece in your baby's nursery! It comes in 8 different colors to match your theme.
---
Finally, a baby nursery hamper that isn't tacky!
---
I LOVE this animal toy hammock! Plus it's one less thing on the floors taking up space!
---
Use your baby's hippie name as an excuse to bring back the Lava Lamp! I used to think they were so cool when I was a kid. Your little one will be totally mesmerized!
I hope you found some fun hippie inspired nursery ideas to get your creative juices flowing! After all, designing and decorating your baby's nursery is one of the most fun things you get to do before baby arrives!
Looking For Ways To Make Money From Home? Why Not Start A Blog!? Sign Up For The Best, Most Affordable Host (BlueHost) and Get Started Today! Sign Up HERE!