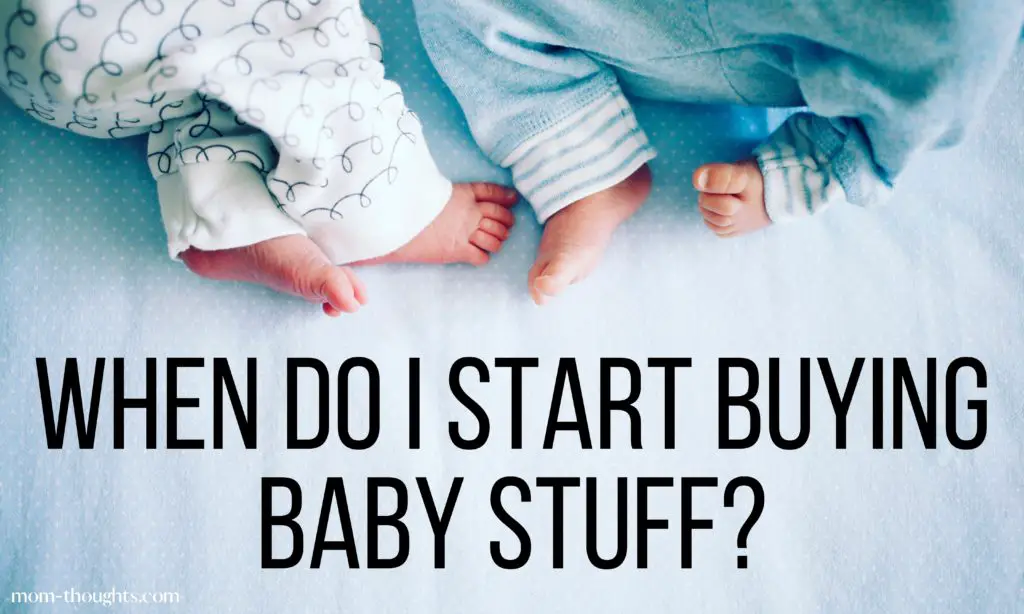 How do you know when to start buying baby stuff?
Reality sets in…YOU'RE HAVING A BABY! So many questions start to run through your mind when you find out you're adding a new little human to your family. What foods should I eat, what maternity products do I need to get through pregnancy, is it going to be a boy or a girl, what baby products do I need? And the list goes on and on. But one of the biggest questions that new moms get really anxious about is when to start buying baby stuff.

As a means for providing for my family, I may earn commissions if you shop through the links on this page at no additional cost to you. Thank you!
After all…you have to wait 9 long months until meeting your little peanut. Buying baby stuff is something fun and exciting that you get to do in the meantime! Baby stuff is so friggin' cute.
But before you hop in the car and speed off to the nearest store to start loading up on all things baby, take a deep breath and think about a few things.
Some Important Things You Should Buy Early On In Pregnancy
Prenatal Vitamins – Ideally, you should start taking these before you even get pregnant. I started taking prenatal vitamins as soon as I knew my husband and I were going to be trying for a baby soon.
Pregnancy Journal – This is such a special time in your life, and your experience is unique to yourself. You'll want to document it!
Pregnancy Milestone Stickers – Don't forget to take those cute bump pictures!
How Far Along You Are In Your Pregnancy
At the end of the day, it is totally up to you when you start buying baby stuff. But as a fellow mom, my advice would be to wait until at least 12 weeks.
According to Healthline the chance of miscarriage drastically drops to 5% by week 12. That's also why many people wait until that 12 week mark to announce their pregnancy to family and friends.
Are You Going To Have A Baby Shower
One of the first things you need to do is create an Amazon Baby Registry. It's quick, easy, and free. And you're baby shower guests will appreciate you picking a registry place that is so quick and convenient to buy from!
You get a "Completion Discount". After your baby shower you'll get a discount on all of the remaining items on your registry that people didn't get for you. The discount is 10% for non-Prime members and 15% for Prime members at the time they redeem their discount. You're eligible for the discount from 14 days after you create your registry until 60 days before the baby arrival date stated in your registry.
Once you sign up for

Amazon Prime

, complete 60% of your registry checklist (so adding items from each category), and then have $10 worth of items purchased from your registry (by your or someone else), you'll get a fun Welcome Box full of surprises for baby and parents! (You can get a Free 30 Day Trial for Amazon Prime

HERE

.)
Access to exclusive Prime offers
You get a "Diaper Fund" to allow friends and family to contribute to the cost of diapers.
Ability to bundle your registry and add items from other stores to your Amazon Registry.
Check it out for yourself and get your registry started HERE.
Do You Know The Gender/Are You Going To Find Out The Gender
This is another thing to consider when deciding when to start buying baby stuff in your particular situation.
If you and your spouse have decided not to find out the gender in advance (kudos to you…I could NEVER be that patient!), then you'll likely get all "gender neutral" stuff anyways, so this wouldn't really affect when you would start stocking up on baby stuff.
If you're going to be finding out the gender in advance, there are certain things that you may want to purchase based on gender. I was so excited to be having a girl, so I admittedly went pretty ham on pink and girly things! So hold off on any of those items until you know the gender.
On that note though, there are a few key things that I would recommend getting gender neutral regardless. They are more expensive, so you'll want to be able to use them for future children that you have.
Not that a boy can't use pink things or girls can't use blue things, but you catch my drift. Just take this advice while keeping in mind whatever "gender neutral" means to you.
Keep These Baby Products Gender Neutral And You'll Be Able To Buy These Items Sooner:
Car Seat – I HIGHLY recommend this

Chicco Travel System

. This is one of the best purchases that we made. It was extremely easy to install. The buckles were easy to work, and the car seat popped on and off of the base with incredible ease. It also easily pops onto the stroller, so you don't have to carry the heavy car seat if you don't want to. I cannot recommend this stroller system enough!
Baby Swing – These are a bit pricey as well. It's not something you're going to want to buy AGAIN if you have a second (or third, or fourth…) baby. If you can swing it, get yourself the

mamaRoo

. Total game changer!
Pack and Play – You'll use this a lot the first year, especially for travel. Keep it gender neutral.
Consider Whether Or Not You Could Save Money By Buying Baby Stuff Early
Take a moment to think about what big sales events are around the corner such as Black Friday, Cyber Monday, Labor Day, Memorial Day, etc. It may be worth making some of the big purchases on those days to save yourself some serious coin!
Another GREAT way to save money on your baby stuff, and any other online purchases is to download the Honey extension.
If you haven't heard of Honey before, then allow me to quickly just say YOU'RE WELCOME for introducing you to it! It's completely genius.
It's a totally FREE browser extension that automatically searches for the best deals online. Honey automatically searches for and tests available coupon codes at checkout ensuring that you get the best deal! And YES, it even works on Amazon! Whoop!
Sign Up For Honey HERE and start saving money on your online purchases!
Don't Wait Until Last Minute To Start Buying Baby Stuff
While you don't want to buy all the baby stuff too soon, you also don't want to wait too long before you at least start buying the stuff you need for your baby!
When your due date is around the corner you're going to have enough on your mind without having to worry about all of the baby things you need to go buy. That stress factor is totally avoidable by just making sure you have all the essentials before you reach that point. 
When making that decision on when to start stocking up on baby things, keep in mind that a due date is just an estimation. Unless you're having a scheduled c section/delivery…you really don't know exactly when your baby will arrive. 
There is always the chance that they will surprise you with an early arrival. Even if you have a scheduled delivery your little one could have a whole different plan in mind. And as you'll soon find out…that will just be the very beginning of them showing you who is boss!
Another thing to remember is that a lot of the baby stuff is going to require assembly. Some more intense than others. So make sure you have all of the furniture that you're going to want ordered earlier on if you're going to want it all set up before the baby arrives. 
As a side tip…your baby likely won't sleep in their crib for at least the first few months. I still wanted it all set up before my little one arrived, but if for whatever reason you can't, don't sweat it. You won't need that right away. 
Some of the most important things that you absolutely need BEFORE your baby arrives are:
Check out this list of 10 Products Every New Mom Needs!
So, when did I start buying baby stuff? 
Personally, I started buying baby stuff when I was around 5-6 months pregnant. I of course got excited and would start buying cute little outfits, or a baby toy here and there before then, just because I was so excited. 
Being my first child, it was my first time getting to buy things for MY child. So it was really exciting to me! If there's some things you just WANT to buy earlier because it's fun…then let yourself do it girl!
I hope this helped you determine when you should start buying baby stuff! Check out more of mom-thoughts.com for more great resources for new moms!
Some Pregnancy and Postpartum Must Reads:
Must Have Maternity Products To Survive Bump Life
Tips For Returning To Work After Baby