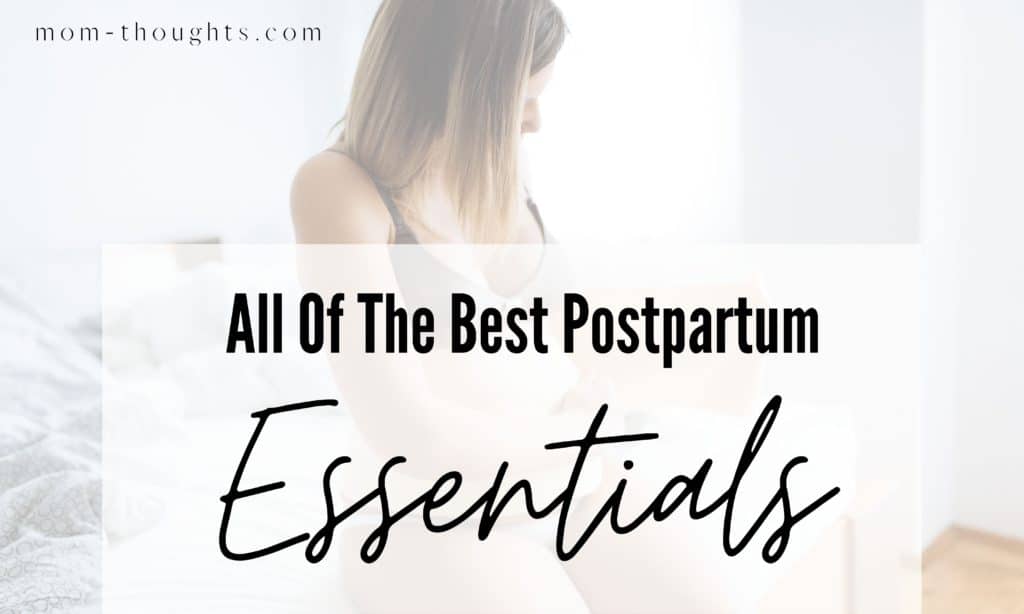 Prepare Your Recovery Kit With These Postpartum Must Haves
During all of the craziness of preparing for the arrival of your baby, don't forget to plan for your postpartum recovery too! Your body is going to be healing from giving birth for a bit after your baby is born. According to familydoctor.org, postpartum recovery takes 6-8 weeks for most women. For some women it could take longer. To help ease the process, you'll want to stock up on these postpartum essentials!
As a means for providing for my family, I may earn commissions if you shop through the links on this page at no additional cost to you. Thank you!
Have you started your Amazon Baby Registry!? CLICK HERE FOR DETAILS
The majority of these postpartum recovery kit items are for vaginal delivery. If you're planning to have a C-Section, be sure to check out this article on C Section Recovery Must Haves. While some of the recovery essentials may overlap, it is definitely a very different recovery between a c section and a vaginal delivery!
Alright, let's dive into everything you need to include in your postpartum recovery kit!
Postpartum Essentials For Moms
You're really going to need to stock up on postpartum pads! The bleeding after birth is very heavy and typically lasts about 4-6 weeks. It's actually called lochia, which looks very similar to menstrual bleeding.
You'll also get some giant ones at the hospital. So if you can, take a stash of those home with you too!
Because of how heavy the bleeding is during postpartum recovery, you're bound to bleed through your underwear at least a couple times. So it's useful to have some disposable underwear on hand, so you don't ruin all of yours.
This pack comes with 56 pairs, so one pack will likely get you through the timeframe of your postpartum care plan.
You're going to be pretty sore *down there* for obvious reasons. So postpartum ice pads are a definite postpartum essential. These from Frida Mom are really great, and highly rated.
They provide instant ice packs built into the pad that delivers the recommended 20-minute therapy window. And there is no freezer necessary! These pads are full coverage and absorb 260g of liquid beyond the cold therapy period.
As an added bonus, they have a nice soft top layer which also makes them ideal for icing a c-section incision.
Hygiene is always important, but it's an especially important part of your postpartum care plan. Whether you've had a vaginal delivery or a c section, it can be really difficult to clean your lady parts. This Peri Bottle is absolutely necessary!
Pack this in your hospital bag too because this one is MUCH better then the lame ketchup bottle looking one that they give you at the hospital.
For vaginal births, this is also critical for cleansing after using the bathroom.
These Tucks Medicated Cooling Pads are an absolute must add to your list of postpartum essentials!
They provide immediate relief from itching, burning and discomfort. The witch hazel in these cleansing pads sooth your irritated feminine area to aide in your post baby recovery.
This Earth Mama Herbal Perineal Spray has organic herbs traditionally used for postpartum relief and which help to soothe perineal discomfort both before and after childbirth.
There's no parabens, butane, propellants, or artificial fragrance. Tip: Store in the refrigerator for extra cooling!
You just give yourself a mist as needed. You'll especially want to use this after taking a bath, or after using the bathroom. This is another postpartum essential that you'll want to pack in your hospital bag!
You're going to be busy taking care of your new baby, but be sure to make time to take care of your body as well. That will help you have a speedy post baby recovery!
This Pure Body Naturals Sitz Bath is a postpartum MUST HAVE for moms. It's packed with soothing herbs that aide in your recovery. You want to make time for a daily sitz bath/soak until you're feeling back to normal.
This is also safe to use on postpartum padsicles!
This Sitz Bath For Toilet Seats is the perfect postpartum must have to go with your sitz bath!
This makes it so much easier and quicker to get your daily sitz soak in. Plus after giving birth, it can be difficult to climb in and out of the tub. This seat is extremely affordable, so it's a no brainer to include in your postpartum recovery kit!
It is extremely important to stay hydrated after having your baby. This is an often forgotten about element in your postpartum recovery. Getting a Hydro Flask like this one can help you to stay on track with your water consumption. After all, water is one of the most important postpartum essentials!
This is great to have because it keeps your drink cold (or hot) for hours and hours, and it holds 32-40oz of water, depending on which one you get. Fill it up in the morning, and keep it nearby all day!
Be sure to include some type of pain reliever on your postpartum essentials list. If you have a C-section, the hospital will likely send you home with some strong prescription painkillers. But you'll need to have some standard pain reliever on hand as well. Especially for vaginal delivery where you probably won't be sent home with the strong stuff.
For my C-Section, I actually didn't like the way the strong painkillers made me feel, so I switched to Advil ASAP.
Whether you had a C-Section or a vaginal delivery, make sure you have a nice stash of comfortable clothing. You're not going to feel comfortable in jeans right away. (Especially C-Section mamas!)
Get some cute options, so you can start feeling like yourself again, while still putting comfort first!
Most people forget about this postpartum essential…high protein snacks! This is important for moms recovery, and it's especially important if you're breastfeeding. Foods that are rich in protein play an imperative role in helping your body recover after giving birth.
Check out these postpartum must haves:
This FridaBaby Perineal Donut Cushion will make postpartum recovery a lot less painful!
It has a "Twist, Fold & Go" design, so no batteries or blowing up is required, which is really convenient. This postpartum essential reduces pressure while sitting, alleviating that pain while you're body is healing from birth.
This FridaBaby one is also particularly helpful because it also has a cold therapy side to help reduce pain and swelling.
YOU MAY ALSO LIKE:
Must Have Maternity Products To Survive Bump Life
How To Know When To Start Buying Baby Stuff
Mom Bod – How To Love Your Body After Kids
Tips For Returning To Work After Maternity Leave
Where To Find Affordable Maternity Clothes