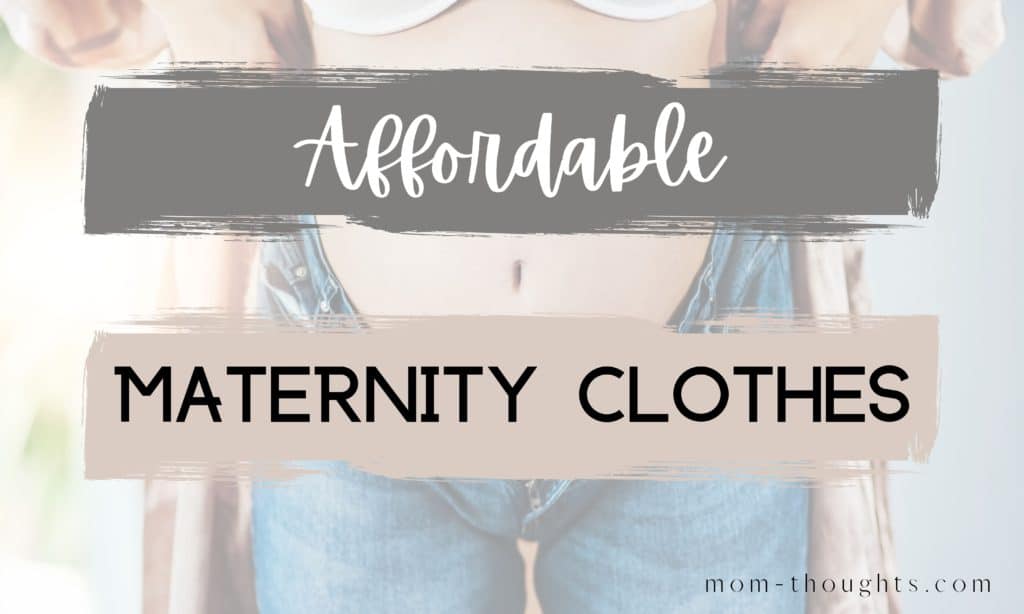 Searching For Affordable Maternity Clothes That Help You Feel Confident And Beautiful?
When your little baby bump turns into a BIG baby bump, those little pregnancy hacks to fit into your pre-pregnancy clothes just don't do the trick anymore! Maternity clothes are so pricey. So I held off on buying any for as long as I could. Luckily though, more and more retailers are coming out with affordable maternity clothes. 
As a means for providing for my family, I may earn commissions if you shop through the links on this page at no additional cost to you. Thank you!
We're about to spend our life savings on a baby for crying out loud! Because of that we don't have money to splurge on expensive maternity clothes! But at the same time we're already feeling frumpy and we don't need tacky maternity clothes making us feel even worse. 
YOU MAY ALSO LIKE: 15 MUST HAVE PREGNANCY PRODUCTS TO SURVIVE BUMP LIFE
I didn't have a lot of extra money to spend on my pregnancy wardrobe, so I needed to be strategic and budget conscious when I was purchasing my clothes during pregnancy. 
In this article you'll find:
4 Tips On Finding Inexpensive Maternity Clothes
Best Places To Get Affordable Maternity Clothes In-Store
Best Places To Find Cheap Maternity Clothes Online
Common Questions About Maternity Clothes
SCROLL TO THE BOTTOM OF THIS ARTICLE TO GET THE FREE C SECTION PLANNER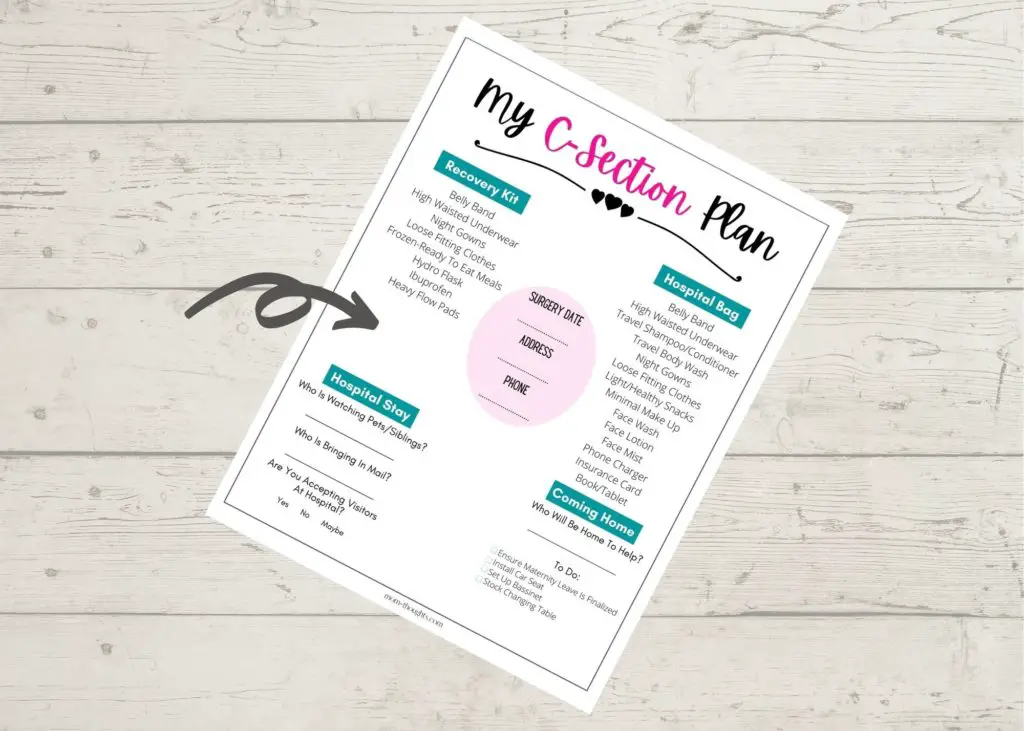 How To Find Inexpensive Maternity Clothes
Here are some tips to help you find the best maternity clothes while sticking to a budget!
Through a LARGE part of your pregnancy, you'll likely be able to get by just fine wearing your pre-pregnancy jeans with a belly band. Just leave them un-buttoned (And un-zipped if needed) and put the belly band over it.
It works like a gem, and is SO much cheaper than pregnancy jeans/pants. I was able to make this work much longer than I expected.
I used my belly band postpartum for a while too until I was able to lose some of the leftover baby weight. 
This set is great because it comes with 3 in a pack, and is cheaper than buying 3 individual ones. Plus it gives you 3 different colors. 
You can wear it differently as your belly continues to grow so it lasts through your pregnancy. As a result, this is another great way to stay on budget with your maternity clothes. 
Tip #2: Stretchy/Flowy Dresses
If you're having a summer pregnancy comfortable dresses are the PERFECT option for affordable maternity clothes. Therefore, they are going to be your new best friend!
For instance, you don't ACTUALLY need to buy a maternity version. I have regular summer dresses that I was able to wear throughout my entire pregnancy. And ya'll…my belly got  BIG! I'm talking BIG BIG.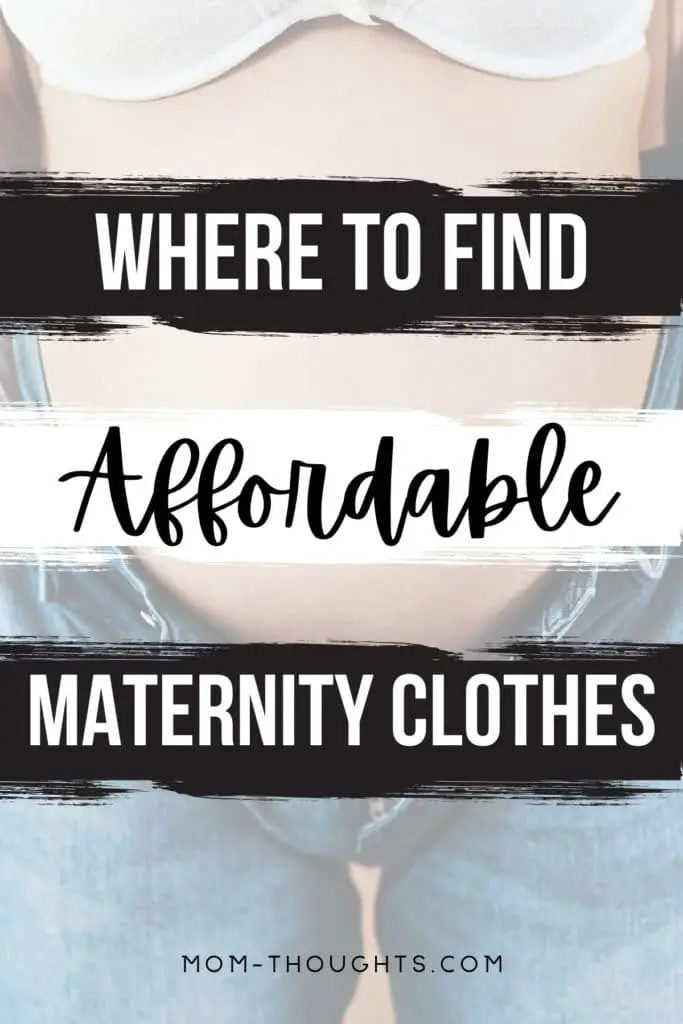 The best part is, I can still wear them post baby. I didn't have to size up by a lot. (One size at most) It's more so about the style of the dress and how it fits in the stomach area. So you can find a lot of inexpensive, comfortable and stylish dresses that will fit you both during pregnancy and after!
Here are some of my favorite affordable maternity dresses, that aren't ACTUALLY maternity:
Tip #3: Focus On The Key Items
Think about your daily life, and what inexpensive maternity clothes you'll actually NEED. 
Casual Pants (Maternity Jeans, leggings, etc.)
Work Pants/Dresses (Maternity clothes for the office)
Work Blouses (Maternity Blouses for the office)
Casual Shirts
Around The House and Sleeping (Sweats, night gowns, t-shirts, etc.)
Tip # 4: INSTALL THE HONEY EXTENSION For Buying Inexpensive Maternity Clothes Online
Another GREAT way to save money on affordable maternity clothes, and any other online purchases is to download the Honey extension.
If you haven't heard of Honey before, then allow me to quickly just say YOU'RE WELCOME for introducing you to it! It's completely genius.
It's a totally free browser extension that automatically searches for the best deals online. It automatically searches for and tests available coupon codes at checkout to ensure that you get the best deal. And YES, it even works on Amazon! Whoop!
Sign Up For Honey HERE and start saving money on your online purchases!
Common Questions About Inexpensive Maternity Clothes
Best Place To Buy Affordable Maternity Clothes
Luckily, a lot of the stores that we regularly shop at have started introducing maternity clothes. So that opens up so many possibilities for finding cute options.
The best places to find stylish maternity close in-store are:
Target – Target has a whole Maternity Wear section with tons of options. I've scored great deals on maternity cloths for work, and just casual clothes to wear on the weekends. The prices are really affordable compared to other stores. Plus, if you have the Target Red Card, you get 5% off your purchase!
Kohls – Kohls also has tons of really great options for inexpensive maternity clothes. Target is typically a little bit cheaper, but if you're familiar with Kohls, then you're familiar with Kohls Cash! So that can come in handy.
H&M – H&M actually has really nice and trendy maternity clothes as well! Definitely worth checking out. I would recommend calling your local store to confirm they sell maternity clothes in-store before making the trip.
Best Place To Find Cheap Maternity Clothes Online is:
Amazon: The winner for best place for affordable maternity clothes ONLINE is a no brainer. AMAZON. I bought the majority of my maternity clothes on Amazon. The quick shipping and affordable prices can't be beat. Amazon's Maternity Shop offers a lot of the brands that you already know and love, such as Motherhood Maternity.
BooHoo: BooHoo Maternity shop is another one you'll want to check out! Their maternity clothes are really cute, affordable and trendy. There are tons of style options available to choose from.
Are Maternity Clothes A Waste Of Money
No. Maternity clothes are not a waste of money. There are tons of places that have inexpensive maternity clothes, so you don't need to spend an arm and a leg. And you also don't need to buy an entire wardrobe.
But maternity clothes are certainly not a waste of money. Just use the tips in this article to ensure you're not over spending, or buying too much. A couple pairs of jeans, dresses (remember…you don't always need to buy actual maternity dresses), several shirts (casual and more dressed up), and then some leggings/oversized sweat pants would be perfect.
When selecting the sizes for your maternity clothes, always give yourself some "growing room" to accommodate your ever-growing belly.
MORE PREGNANCY RESOURCES:
GET YOUR FREE C SECTION PLANNER PRINTABLE