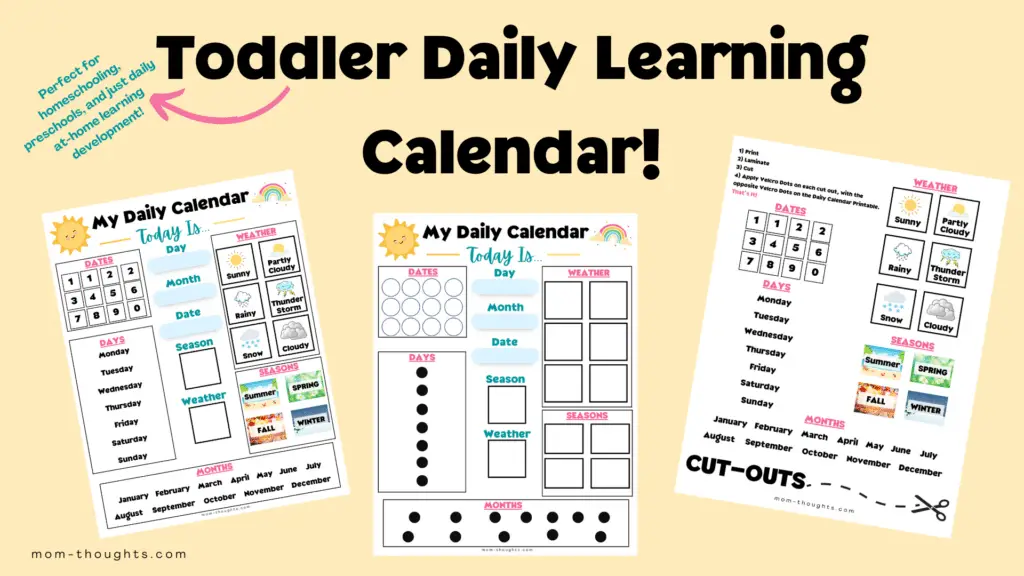 DAILY TODDLER CALENDAR
Daily Toddler Calendars are a GREAT thing to add to your little one's daily routine. I was inspired to create this calendar printable by my toddler's preschool curriculum. Often times in preschool, this is how the teacher starts each day, so I wanted to incorporate it in our home routine as well!
RELATED: BEST PRACTICAL GETS FOR TODDLERS THAT AREN'T JUNK!
This toddler calendar helps to teach the days of the week, months, dates, seasons and recognizing the weather outside! It also helps them to develop an understanding of before and after, and what comes next. (i.e. Today is Friday, so tomorrow is Saturday!, etc.)
As a means for providing for my family I may earn a small commission if you purchase through the links on this page, at no additional cost to you.
What You'll Need:
STEP #1
Print it! (Obviously…)
STEP #2
Laminate it. *NO LAMINATING MACHINE REQUIRED*
I swear by these Peel & Stick Laminating Sheets. It comes with 100 in the pack, and they are crazy easy to use. It takes literally seconds to laminate something.
Laminate the Daily Toddler Calendar and the Cut Outs page.
Step #3
Grab your scissors and cut out the pieces. Be sure to do this step after laminating.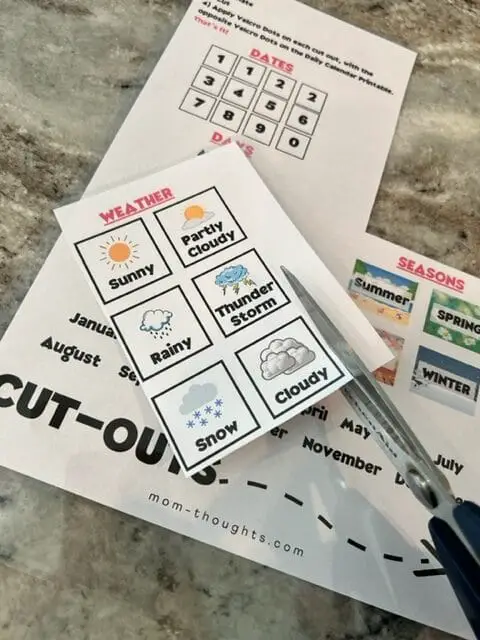 Step #4
Apply the Velcro Dots on the Daily Toddler Calendar and on the backs of all the cut outs.
I got this pack of 1000 (500 pair) Velcro Dots on Amazon for super cheap, and it's lasted me through MANY projects, and I still have plenty left.
Put 2 Velcro Dots on the "Date" section of the Toddler Calendar since some dates of the month will have 2 digits.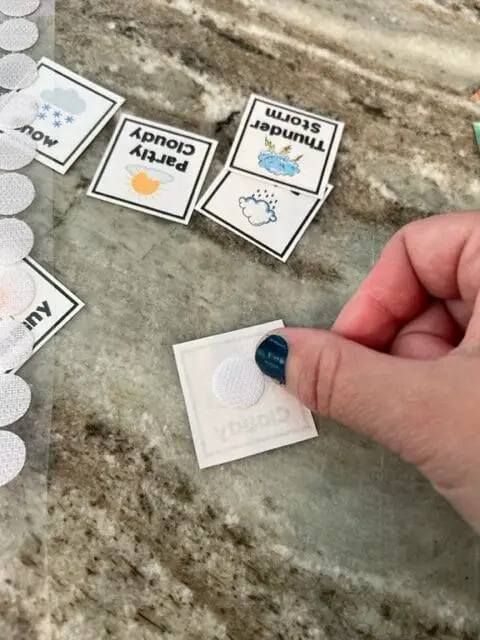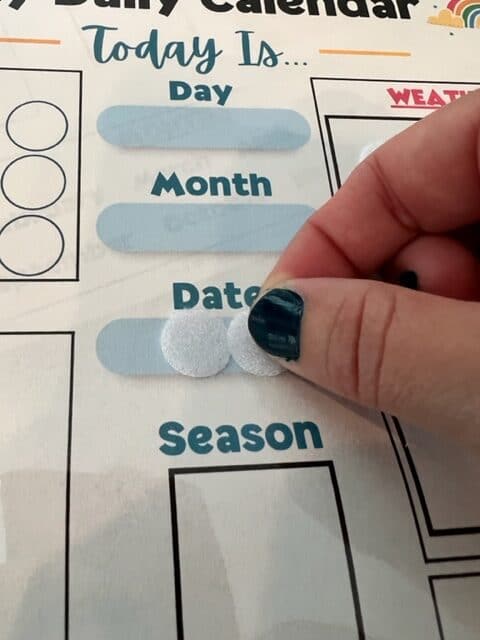 Step #5
Start learning!
Buy my product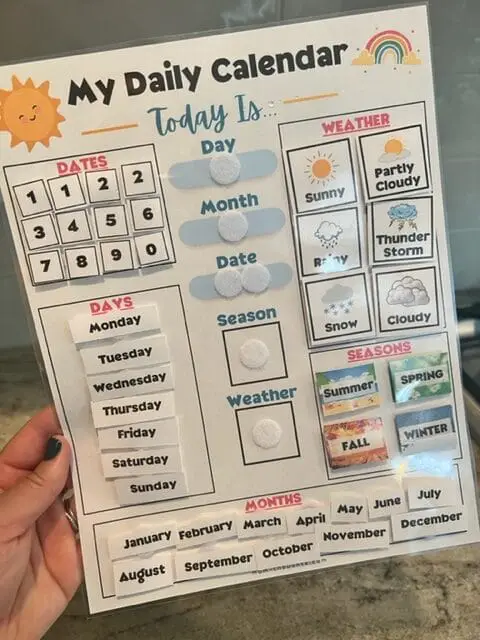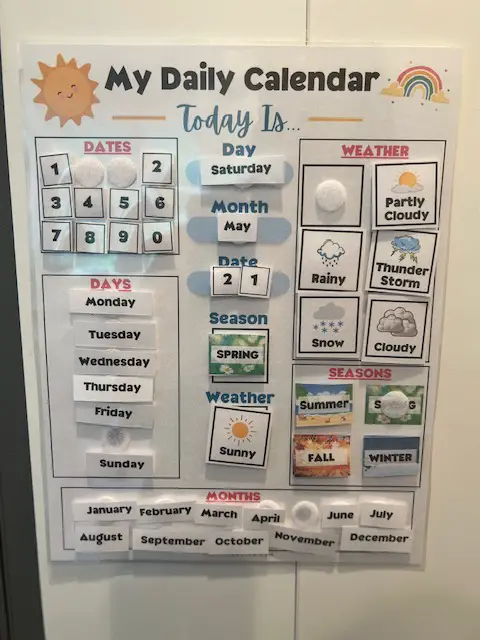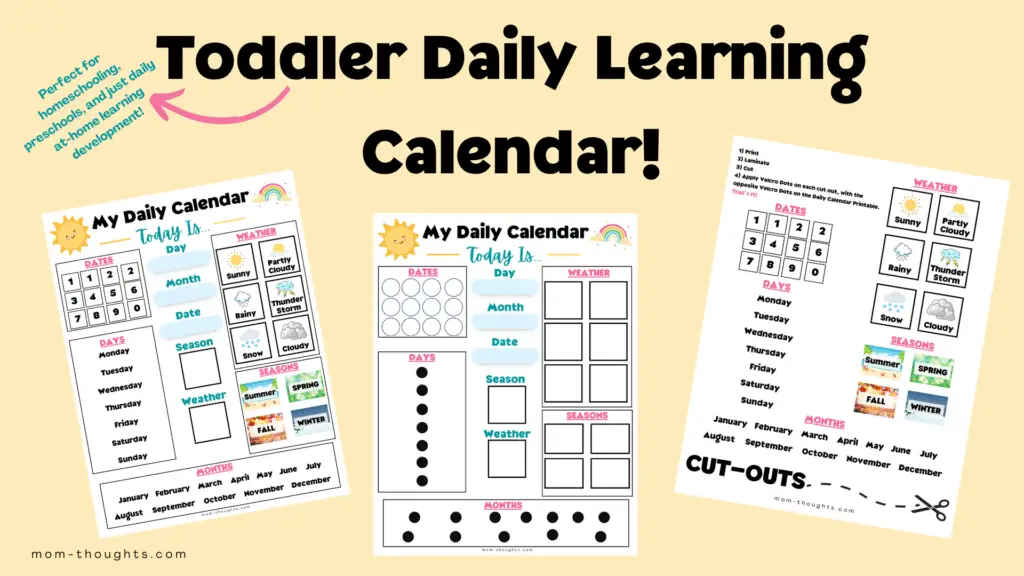 MORE TODDLER RESOURCES:
28+ Best Outdoor Toys For Toddlers This Summer
Top 5 Best Play Kitchens To Inspire Imagination
30 Working Mom Quotes For When You're Feeling Overwhelmed