This post is all about the best outdoor toys for toddlers!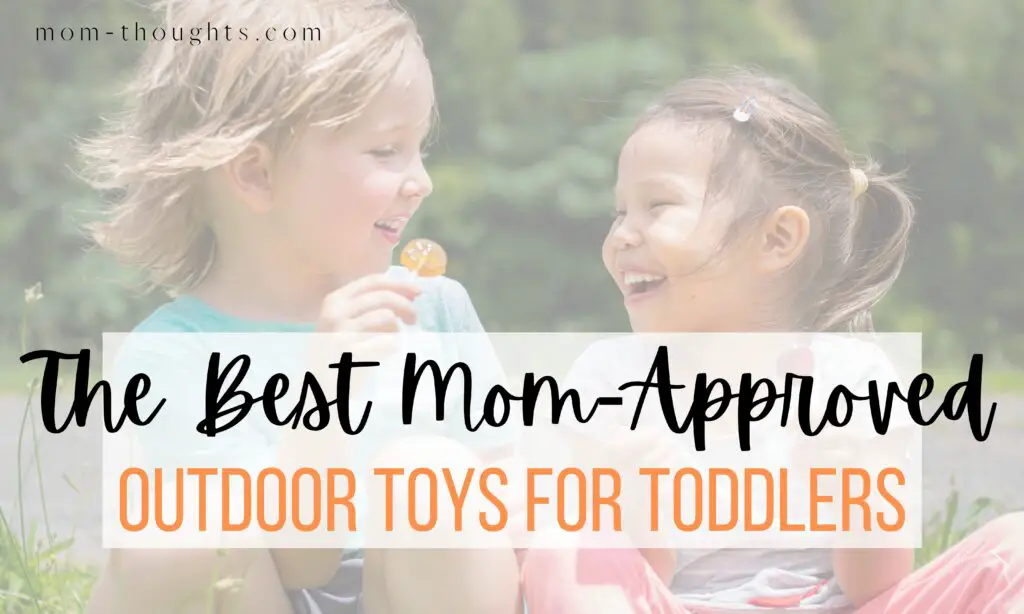 what are the best outdoor toys for toddlers in 2022?
When the weather finally starts showing signs of sunshine and warmth it gets me so excited for summer time fun! It's time for the kids to put down their tablets and out there and burn off some serious energy!
I'm obsessed with outdoor toddler toys because let's face it…they are so much more fun than any indoor toys! I tend to go a little overboard, but that's given me the opportunity to test out TONS of outdoor toys and find the best of the best!
As a means for providing for my family I may earn a small commission if you purchase through the links on this page.
These best outdoor toys for toddlers do wonders for encouraging physical activity, creativity and coordination. They also help kids develop the ability to play independently! Independent play for toddlers is a big struggle for a lot of parents. So having toys like these (Both indoor toys and outdoor toys) are actually more than just fun…they're important!
RELATED: BEST PRACTICAL GIFTS FOR TODDLERS THAT AREN'T JUNK!
Here at Mom-Thoughts we like to make things simple and convenient for our fellow busy moms! So in this post you'll see the TOP PICKS LIST BY CATEGORY below, followed by the full list of BEST outdoor toys for toddlers broken down by price range.
Top Picks For Best Outdoor Toddler Toys: Main Categories
See the full list of best outdoor Toddler Toys Below!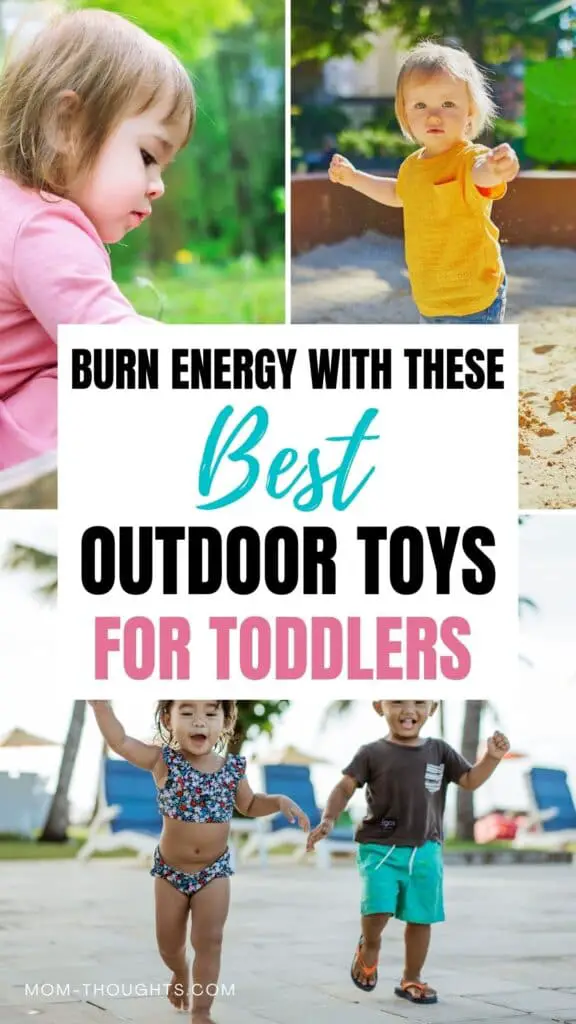 BEST OUTDOOR TODDLER TOYS UNDER $25
Sidewalk chalk is a total no-brainer! It's one of those timeless outdoor toys for toddlers and kids that will just never go out of style! This Crayola Set is great because it comes with 72 bright and vibrant colors. Let your little one's imagination run wild and see what masterpieces they come up with! Washes right off with a hose, or when the next rainy day comes along.
Like all toddlers and young kids, my child is OBSESSED with bubbles. And who can blame them? There's something so magical about filling the air with bubbles and watching them float up to the sky. This Jumbo Fubbles No-Spill Bubble Container makes an awesome addition to your toddler's outdoor toy collection! The "No-Spill" design makes it totally MOM-APPROVED too!
My child absolutely lost their mind when we got this Giant Bubble Maker! Not going to lie, my husband and I have a great time playing with this one too! It's so fun to see who can make the biggest bubble! We've used regular bubble solution with this and it worked, but not as good. So you'll definitely want to grab this Giant Bubble Solution to get the best effect!
Currently on sale for $19.99! This Toy Rocket Launcher Set includes eight full foam rockets in three fun colors plus a folding yellow stand. Your child will love watching the rockets soar up to an incredible 100 feet in the air with the perfect stomp! They're super backyard-friendly and won't shoot so far that kids lose track of them.
The days of losing circulation in your fingertips trying to tie hundreds of water balloons are over! I couldn't believe how perfectly these Bunch O Balloons worked! You can literally make 100 water balloons in a matter of seconds, and they automatically tie shut! You just hook it up to your hose, then when they are full, you yank the hose upward and all 100 perfectly filled and tied balloons come lose. Totally genius!
This awesome Hapines Find and Seek Scavenger Hunt Activity Game is fun for the whole family! (Indoor or Outdoor!) This set includes 35 Find and Seek cards, 2 instruction cards, and 1 drawstring bag making it great for travel. It's a perfect outdoor activity for ages 3 years and up. Even non readers can play by picture recognition!
These Educational Insights Kid-Sized Binoculars are focus-free and feature large comfy eyepieces—more than 3 times the size of ordinary eyepieces. Built kid tough and designed to last for years. It's a great way to introduce toddlers and preschoolers to a scientific tool to view and help them explore their environment! Plus they just think it's cool!
I'm a big fan of anything that will help my toddler burn energy! The Flybar My First Foam Pogo Jumper is a great way to develop hand eye coordination, balance, and gross motor skills. It's a #1 best seller and comes in several different color options!
BEST OUTDOOR TODDLER TOYS $25-$50
Any fellow Blippi fans out there? My child knew what an "Excavator" was before I did thanks to our friend Blippi, haha. This Excavator Sand Digger really takes your sandbox to another level! (As an added bonus, this is really great for developing motor skills) Definitely up there on the list of best outdoor toys for toddlers.
This Inflatable Pool is WAY Better then the little plastic ones. Not only is it less slippery, but it's big enough for the whole family AND it's one that will last you years because it's not something that your child is going to outgrow.
RELATED: HOW TO ACTUALLY ENJOY A BEACH VACATION WITH TODDLERS
My toddler LOVES this Octopus Sprinkler Splash Pad! She things the octopus is so funny. Toddlers have so much fun jumping around and splashing. (Dogs love it too!) This is great for days where you don't feel like setting up the pool and doing something a little more low key. We set my child's slide up going into it, which made for A LOT Of laughs! (I wouldn't recommend doing that until they're at least 3.)
Sometimes you need to stick to the classics! This Little Tikes Basket Ball Hoop is a simple but fun outdoor toy for toddlers 1-5 years old. It's adjustable height goes from 2.5-4 ft. It's great for developing social, motor and coordination skills!
Hapinest Turtle Steps Balance Stepping Stones Obstacle Course is a game of balance, coordination, and concentration for kids ages 3 years and up! This set includes 3 large turtle shell stepping stones, 3 medium turtle shell stepping stones, 24 activity cards with turtle facts, colorful spinner, instructions, and additional game suggestions. It's super fun, and gets their minds and bodies working!
BEST OUTDOOR TODDLER TOYS $50-$100
This Radio Flyer 3-in-1 is a great wagon for toddlers and young kids! It is a collapsible wagon that has 3 riding features including: hauling, 2 rider seating and bench seating. It easily transforms to bench seating with the zippers on the side of the wagon. (Perfect if you have any older kids in sports where you have to lug your little ones along!) I also love the "one hand fold" feature that allows to easy and convenient storage.
If you're looking for a lower cost scooter for you toddler, I highly recommend This Skidee Adjustable Seat Scooter. The adjustable seat that's included makes it great for younger toddlers, while also lasting them through their older years. (Recommended age range for this is 2-12!) They can scoot sitting, or standing up, depending where their skill and mobility level is. It comes in multiple colors, and the light up LED wheels are an added bonus! (No batteries required)
If you don't have a Water Table yet…it's time to get one! Toddlers and young kids have SO much fun with water tables during the warmer months. This Top Rated Step2 Water Table is by far my favorite choice!
It's great for kids 18 months-10 years old! I especially like it for the 18 month-6 year old range. You can just let them play on their own, adding some bath bubbles for added fun. But you can also turn it into a summer learning activities. I'll put a little bath bubbles in it, and a Colorful Bath Tablet, and drop some Bath Letters in there, and send her on a "hunt" for certain letters. She has a blast playing this game with me, and it helps her really strengthen her letter recognition!
Check out this Cute Stone Gardening Set for your little one this summer! It includes Child Sized Wheelbarrow, Watering Can, Gloves, Hand Rake, Shovel, Double Hoe, Cultivator, Hedge Clippers and Washable Apron. Your toddler/young child will love being "just like mommy/daddy" while helping you in the garden! I love this set for teaching responsibility and hard work, while also having fun!
My kid LOVES painting, but the downside is always how messy it can be. But when it's outdoors…who cares! My daughter loves having this GIANT Easel to paint on! Then, just hose off the design and start all over again!
BEST OUTDOOR TODDLER TOYS OVER $100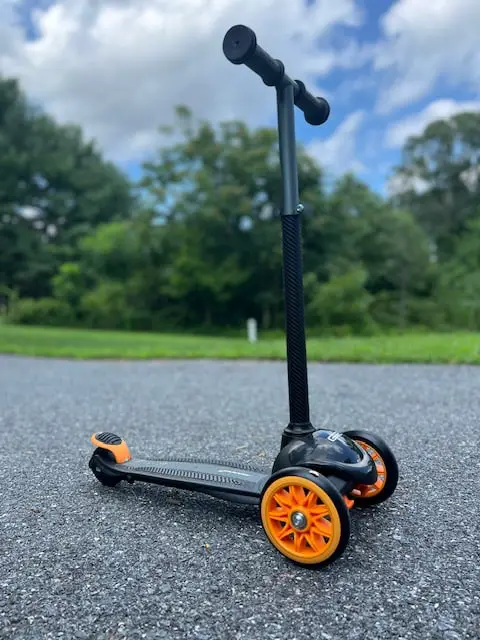 The McLaren Scooter is among the best children's scooters that I've used. It arrives in two pieces that you can click together in a matter of seconds and your little one all set to cruise! The 3 wheel system makes it easy for younger toddlers to learn and practice their balance. This particular scooter is perfect for age 3-6, but they have options for older kids as well, and all the way up to bikes.
My favorite things about this particular scooter are: Easy assembly, the break system and the secure grip material on the base of the scooter so you don't have to worry about slipping. I've noticed that the grip gives my little one a boost of confidence while riding.
I have to also shout out the durability of this thing. I wish I was kidding about this, but I'm not. Just a few weeks after the scooter arrived at our house, I literally ran over it with our SUV by accident. (*face palm*) I thought for sure I just ruined my kid's brand new scooter. I was SHOCKED to see that it wasn't even slightly damaged and still looked good as new. So, it's built for rough and clumsy kids (And moms).
If you purchase through the links on this page, you'll receive a special 10% discount through my affiliate code.
This Step2 Roller Coaster Rapid Ride is so cool! Your toddler will enjoy hours of fun on this bad boy. If you have the space, you can also bring it inside during the colder months. It does easily break apart for convenient storage as well though. It's perfect for 2-5 year old kids that like a little excitement! Climbing in and out of the riding car is also great for their physical and motor skills. Being a single-rider toy, it's also a great tool for working on toddler's sharing skills.
If you plan on spending a lot of time playing outside this summer, This Inflatable Slide With Pool is a crazy cool outdoor toddler toy! Recommended for kids 5-10 years old. You'll of course want to supervise this activity, but your kids will have SO much fun. This would also be great to set up for any summer birthday parties!
Bike Trailer
This is a great outdoor toy for toddlers AND parents! Aside from chasing after them, it can get really hard to stay active after you have kids. And lets face it, chasing after toddlers is (1) not enjoyable and (2) not even a great form of exercise! If you enjoy going on bike rides, check out This Highly Rated Bike Trailer. You'll get to go on an ACTUAL bike ride, and your toddler will have a blast riding along! (Maximum weight recommendation is 40 lbs.)
This Strider Balance Bike is one of the best outdoor toys for toddlers! It's a great way to work on balance and coordination before they're ready for a traditional bike. The seat and handlebar easily adjust to accommodate ages 18 months to 5 years! (No tools required!) Starting with a bike like this for the first few years will help tremendously will the transition to a "big kid" bike.
Sand play isn't just for the beach! Our sandbox keeps my toddler entertained for hours on end! It gives my husband and I a chance to kick back and soak in the sun. This Octagon Cedar Sand Box is a really great option for kids! It's a good size, and has seating around the edge. I like the "Slot System" design that helps for easy assembly. The only tool you need is a screw driver. I recommend getting a cover for it, so the sand area stays clean. I also really like THIS ONE with foldable bench seats.
You can't have a list of best outdoor toys for toddlers without including an outdoor play house! Outdoor play houses scream childhood! And they have gotten so much cooler then when I was a kid! I LOVE this highly rated Step2 Cottage Homestyle Play House! It's really sleek looking, which is an added bonus. It looks great in the backyard. It's got a doorbell, outdoor grill, sink, mailbox, and more. I also LOVE the planter box. You can put fake plants in there, or you could even plant real flowers there for your little one to care for.
This Little Tikes Jump N' Slide Bouncer is super fun! It's so much fun to put on in the yard for play dates or birthday parties…or just a random day when you want to watch your little one have fun while burning a bunch of energy!
If you've been thinking about getting a motorized Ride On Car for your toddler this Best Choice Products Ride On Truck is a great choice! It comes with a Parent Remote Control which makes it fun for the younger toddlers that aren't quite ready to drive it themselves. It's got an adjustable seatbelt, bright LED headlights, lockable doors, and grid windshield for off-road style, with a 12V motor and traction tires to ride on different terrains. It even has a built-in AUX outlet so kids can plug in media devices to drive while jamming to their own selection of music!
If you're like me and have been waiting for the Ikea Play Table to come back in stock for literally MONTHS…you'll definitely want to check out this Costzon Sand And Water Picnic Table. I think it's actually better then the idea one! It's the perfect outdoor activity table and seamlessly transforms into a picnic table, perfect for cook outs! It even comes with an umbrella to offer sun protection.
Bring the playground to your own backyard with this Slidewhizzer Kids Teeter Totter! It's a combination of a seesaw with a rocking chair. It's great for promoting balance and coordination skills. Perfect for ages 3-5!
RELATED TODDLER STUFF:
The Best FREE Toddler Chore Chart – FREE PRINTABLE
Everything You Need For A Road Trip With Toddlers
15 Best Potty Training Books for Toddlers and Parents
5 Best Play Kitchens To Spark Imagination
Get Our Free Toddler Chore Chart!