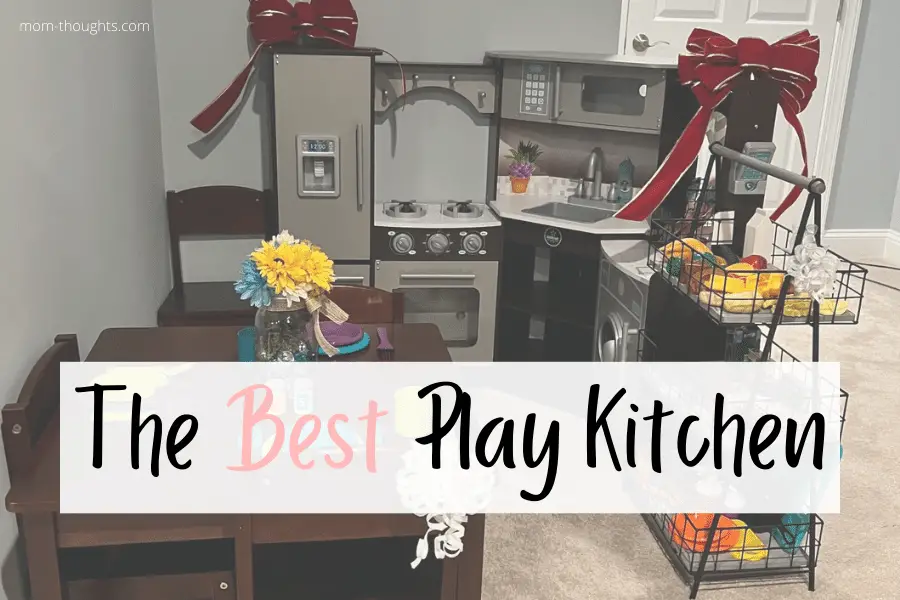 Best Play Kitchen Sets – 2022 list
Searching for the best play kitchen in 2022? 
Play kitchen sets are a great gift for any toddler or older child. While it's a more common gift for young girls, it also honestly makes a great gift for little boys as well! After all, both boys and girls love mimicking their mom and dad! Plus, our boys need to get in the habit of cooking and cleaning the house as well! 
Not only are play kitchens super fun, but they are all great for encouraging young kids to play together and boosting fine motor skills.
It can also be used to teach toddlers and young kids responsibility. Make it a rule that they need to clean up their kitchen area when they're done playing.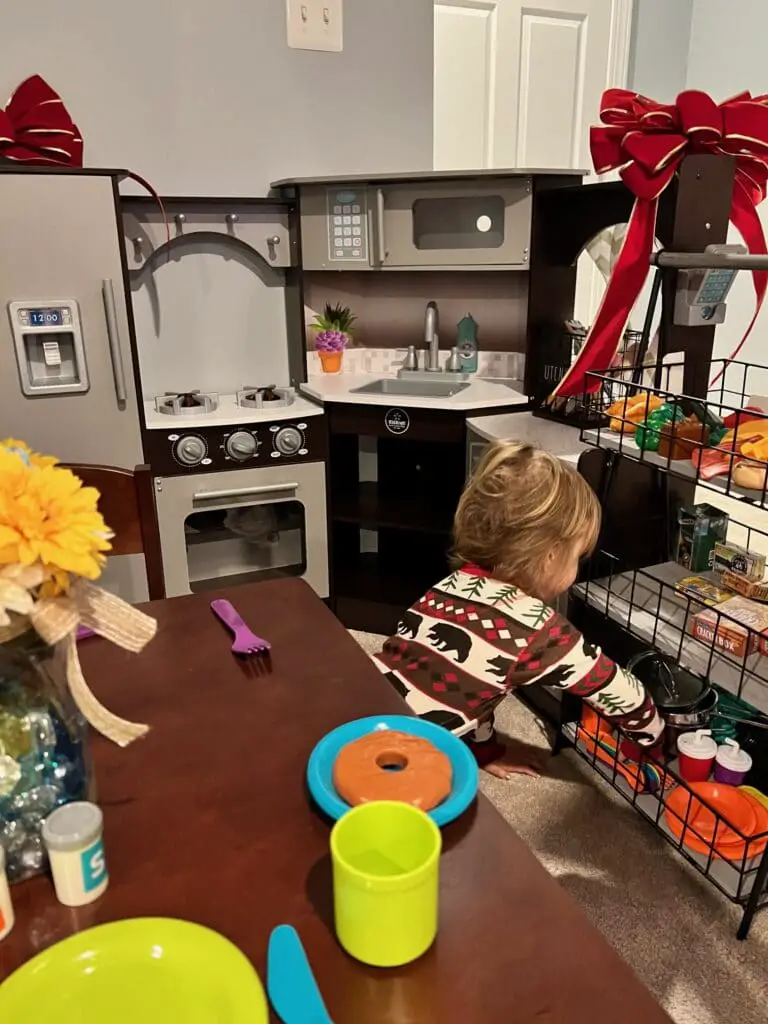 There are tons of options out there for play kitchens, but which is best?
There are multiple factors to consider when searching for the perfect toy kitchen. Things such as durability, assembly difficulty, available features, size, material, cost, and so on. 
Take a look below for help on picking the absolute BEST play kitchen for your toddler or young kid. 
As a means for providing for my family I may earn a small commission if you purchase through the links on this page.
MOM-THOUGHTS QUICK LIST
This KidKraft Corner Kitchen is the overall winner! This is seriously the best play kitchen for toddlers, and young kids. It looks so nice and "upscale" for a toy kitchen.
It includes: A refrigerator with an icemaker, freezer, sink, oven, microwave, close washer and stove. All of the doors are functioning with space inside to put food/pots/pans. The stove top and ice maker light up and make noise. There's also a phone that is mounted by the clothes washer, curtains, and hooks to hang things such as kitchen towel, pots/pans.
It's honestly really impressive looking! This is ultimately the play kitchen that we ended up getting our three year old. We did the whole set up, and even got this dining table that matches perfectly with the play kitchen.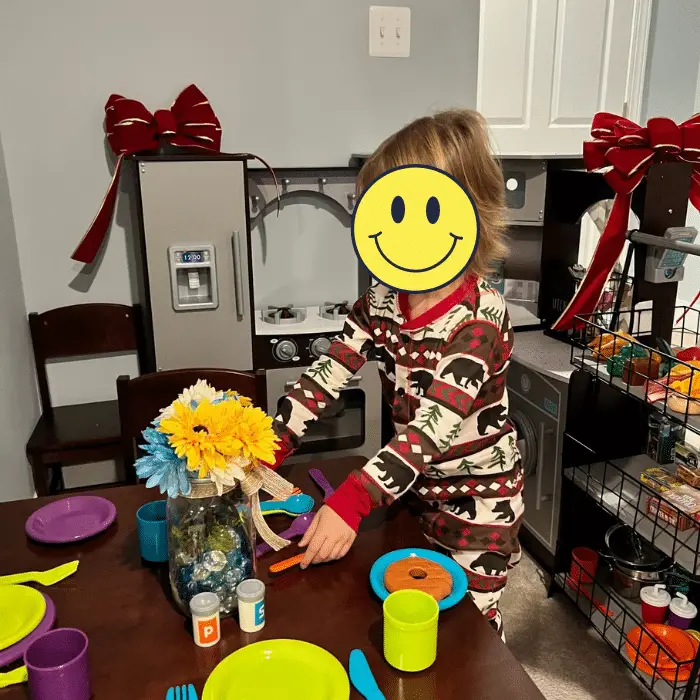 BREAK DOWN:
PROS:
High-End Design/Beautifully Detailed
Looks just like a real grown-up's kitchen
Tons of play space
Ice Maker and Stove Top include lights and sound
Includes all of the appliances your little one would ever need
CONS:
Assembly takes quite a while (It took my husband and I about 2.5 hours. Tip: Lay out all of the pieces in order by number so they're easy to find and grab while assembling. It took a long time, but we didn't find it DIFFICULT. Just time consuming.)
If you only have a small amount of space available, this play kitchen may be a bit too big.
RELATED: The Ultimate Toddler Gift Guide
If wooden play kitchens aren't your thing, this Step2 Elegant Edge Kitchen is a great choice!
It comes with tons of accessories and the detail in this kitchen is really impressive! There is tons of built-in storage options including upper storage bins, windowed cabinets, spice rack, single-serve coffee maker, under-sink storage area, hanging hooks, and shelving! Not only does the storage space give your toddler or young child lots of play options, but it's also a "win" for mom and dad because it ensures there is a place to store all of the accessories when it's time for clean up.
Speaking of accessories, another reason why this makes the list for best play kitchens is because it comes with an accessory pack! The kitchen accessories include: dishes, utensils, play food, coffee pot with single-serve pods, pretend cutting board, realistic copper serving utensils and cookware, and realistic blender and popcorn maker stovetop attachments too! What more could you want?
BREAK DOWN
PROS:
Strong plastic material makes it indestructible and totally toddler proof
Tons of accessories
All of the "appliances" your little one needs for hours of play
Detailed design
Lots of storage space
CONS:
It is not a very sleek design (won't blend into home décor)
Higher price
Not a compact size, so you'll want to sure you have space for it before purchasing
Getting your child a play kitchen doesn't mean you have to totally break the bank. While the big "fancy" kitchens are awesome, there are also some REALLY cool affordable play kitchens as well! This Temi Play Kitchen is a perfect example!
For under $100 ($67.99), it includes an oven, dishwasher, stove top, sink and plenty of storage. It comes with an accessory pack, and some of the foods even change color in ice water! The stove makes sounds and lights up.
This toy kitchen also has two additional functions that I haven't seen elsewhere. It has a "Steam Cooker", and you can actually have water come out of the sink faucet!
BREAK DOWN:
PROS:
Affordable
Compact Size
"Functioning" Sink
Steam Cooker
Easy Assembly
CONS:
Not as detailed as the other kitchens
Pink color makes it less gender neutral
Kids will outgrow this quicker due to it's small size
Less sturdy than the more pricey kitchens
Similar to the KidKraft Corner Kitchen, this Melissa & Doug Wooden Toy Kitchen has a super sleek and modern look. The nice thing about this one though is it doesn't take up as much space, so it will fit nicely into most spaces.
It features an oven, stove, microwave, sink, refrigerator with working "ice" dispenser, and freezer. It also has a cute little "Grocery list" that hangs by the refrigerator.
The dark cabinets, "stainless steel" look appliances and backsplash give this kitchen a nice high-end look.
BREAK DOWN:
PROS:
Sleek and Modern Design
"Functioning" Ice Dispenser
Fairly Easy Assembly (Still allow yourself a couple hours)
3 Color Options (Charcoal, White and Pink)
Resembles a real grown up kitchen
CONS:
Some reviewers felt that it isn't as sturdy as other play kitchens
Not a lot of counter space
No accessory pack included
Not a lot of storage space
If you're looking for a simple play kitchen, this is about as simple as it gets! It doesn't take up a lot of space, but it's still equipped with a sink, stove, oven with window, cabinet, spice shelf, and turn-able clicking knobs.
It's not as "modern" and realistic looking as some of the other play kitchen options, but it totally gets the job done and your child will love it!
It's made of wood and is built to last a while, so it should last for future siblings.
This is a great space saving play kitchen, which is part of why it makes the list for "best play kitchen" for toddlers and young kids, but keep in mind that this kitchen is on the smaller side. If your child is very tall, you may want to go with one of the other play kitchens mentioned earlier.
BREAK DOWN:
PROS:
Compact space saver
Affordable
Durable
Good storage space
Easy assembly
CONS:
Small size makes it less ideal for tall or older kids
Not as modern or realistic looking
Not as many features as some other kitchens
No accessory pack included
This post was all about the best play kitchens for your toddler or young child!
YOU MAY ALSO LIKE:
30 Working Mom Quotes For When You're Totally Overwhelmed
Young Wild and Three Birthday Party Ideas – FREE Printables
11 Magical Tooth Fairy Ideas Kids Will Love
What Is Gentle Parenting and How Does It Work?
How To Master Summer Screen Time Rules – FREE PRINTABLE
15 BEST Potty Training Books For Toddlers AND Parents!