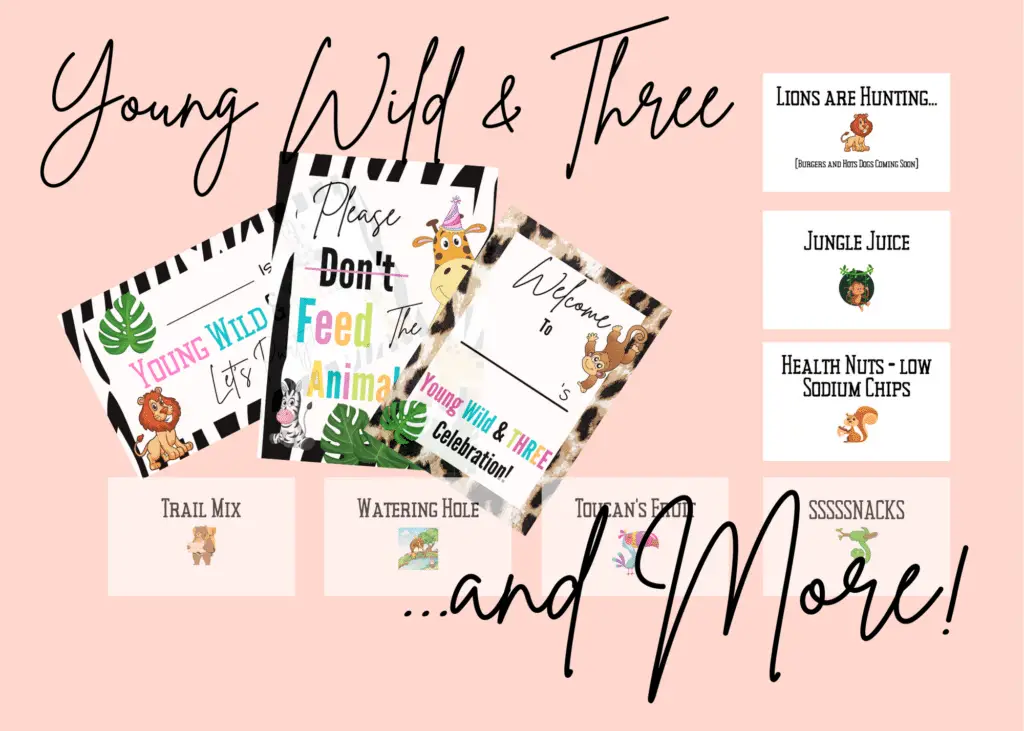 YOUNG WILD AND THREE – THIRD BIRTHDAY PARTY IDEAS!
Planning kids birthday parties can be both fun and stressful at the same time! With all these Pinterest Level moms throwing extravagant parties, it can feel hard to keep up! But it's actually a lot easier then you think to throw a fun and creative party for your little one. When I was planning my daughter's 3rd birthday party it didn't take me long to realize that the perfect theme was Young, Wild and THREE.
It's a fun twist on the phrase "Young Wild and Free", and my 3 year old is freaking WILD. I'm sure I'm not alone there!
RELATED: Toddler Gift Guide – The Gifts They'll Actually Use!
Once I settled on that theme, I was surprised to find that there actually wasn't a lot of decorations for this theme at my local Party City.
As a means for providing for my family, I may earn commissions if you shop through the links on this page at no additional cost to you.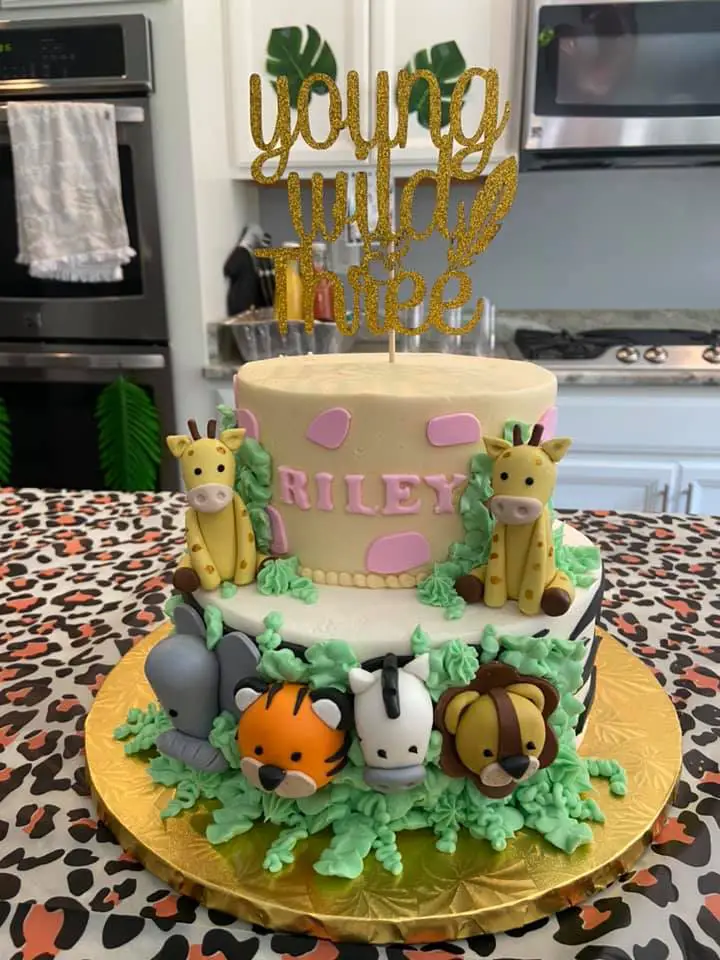 Lucky for you, I already scoured the web AND designed my own, and I'll lay it all out for you here! I'll even give you my designs for FREE. (I got you, mama.)
Don't forget to scroll to the bottom of this post to get the FREE PRINTABLES but let's start with the quick stuff that you can get on Amazon Prime.
Young Wild and Three Party Ideas
---
This was one of my FAVORITE party decorations I purchased for my daughter's 3rd birthday party! We set it up outside using this stand, and then we laid a blanket in front of it, and had the gift table by it. When it came time to open gifts, she opened them on the blanket in front of the back drop. It made for good pictures, and just a fun theme!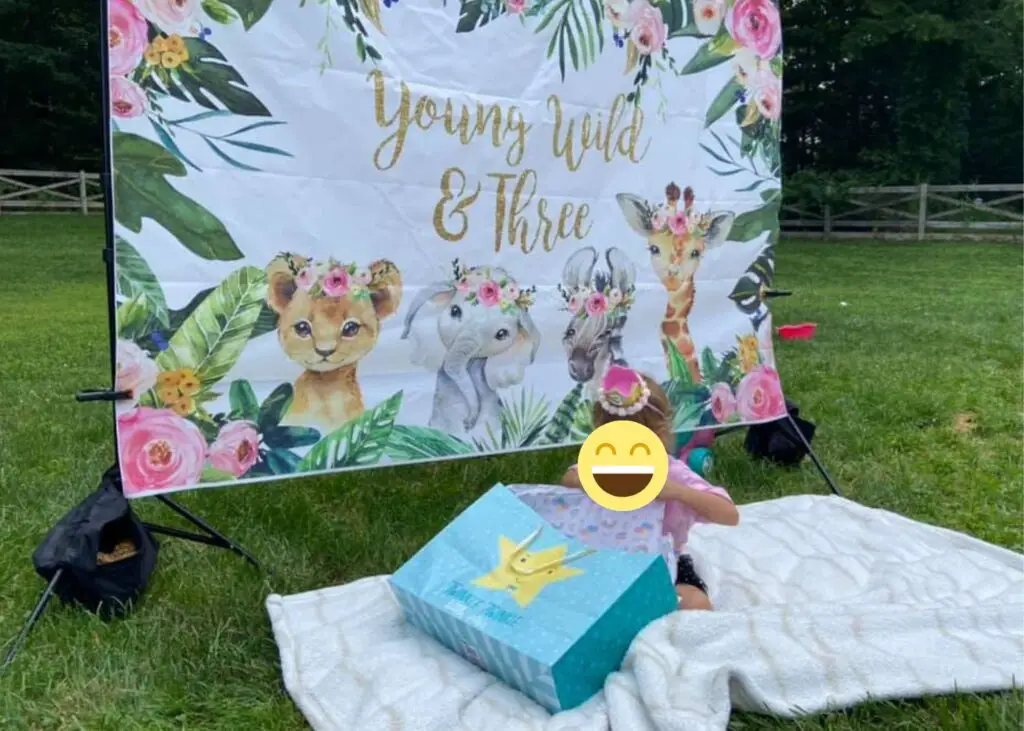 The quality was awesome, but I do suggest taking it out earlier so the wrinkles have time to fall out. (This Downy Wrinkle Release Spray works amazing, but we didn't have any at the time. And we made the mistake of taking it out of the box RIGHT before the party. Super last minute. So we had to leave the wrinkles, but it was still adorable! We got so many compliments on this.
These were a great touch to our Young Wild and Three party decorations! They were simple and quick to put up, and made a big difference. My daughter LOVED them. She though they were so cool.
---
Don't forget the plastic table cloths! Not only do they add to the festive look, but they also help protect your table top surfaces! Things get pretty wild at a third birthday party! (This is a young WILD and three party after all…)
I loved the special touch that these jungle leaves added to the decorations! The wired stems allow you to twist them around certain things to hang them, and there's some thin leaves that I was able to just tape onto my kitchen cabinets.
These "Stay Wild My Child" balloons are a fun touch for your little wild three year old. I mixed these in with some balloons I got from our local Party City.
(Tip – If you want to skip the trip to your local party shop, you can use this At Home Helium Tank and quickly and easily do it all at home for yourself.)
These Jungle Animal Center Pieces are super cute to put on the food tables. It's especially cute paired with the food labels that you can get in the YOUNG WILD AND FREE – FREE PRINTABLES set.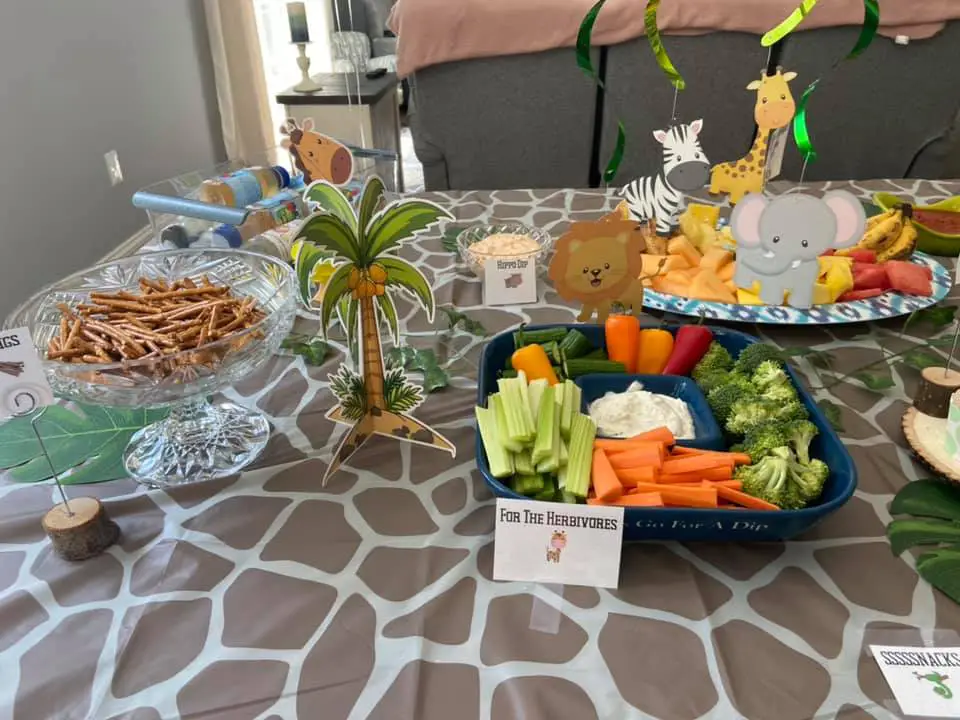 Hang this rose gold glitter "Young Wild and Three" birthday banner across a window, or open wall space.
Get yourself this adorable "Mom of The Wild and THREE" t shirt. It comes in several color options, and as an added bonus…now you don't have to worry about figuring out what to wear!
Don't forget dad!
My daughter loved her special birthday t-shirt! She wore it with a little black tutu and it was too cute! We got tons of compliments on her outfit.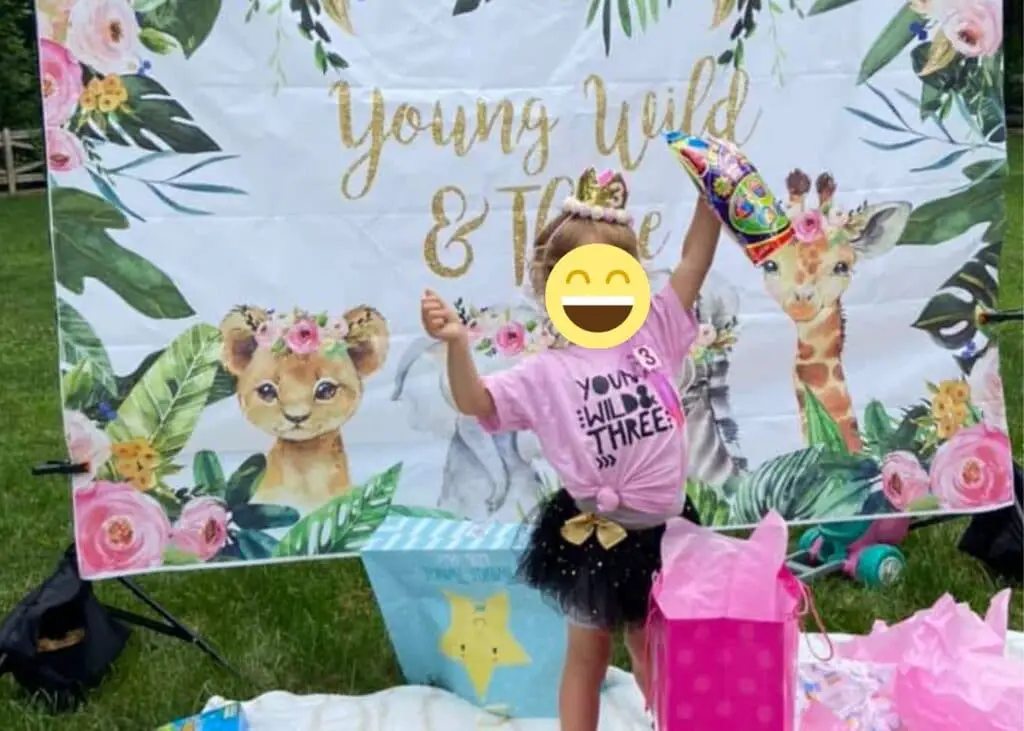 Every birthday girl needs a crown! You can get this for any age. We've gotten this tiara for my daughters first 3 birthdays in a row! It stays on nice, and looks oh so cute!
Whether you're baking the cake yourself, or having one made, this cake topper will at the perfect touch to any birthday cake!
Need some quick Young Wild and Three Goody Bag Ideas?
These sticker art sheets were a big hit with the kiddos. They can choose from different eyes, mouths, accessories, etc. It comes with 24 sheets and is the PERFECT goody bag filler for a third birthday party.
The kids at the party will get a kick out of these animal fake tattoos. We even had some of the adults rocking some fake tattoos at the party! It's a fun and easy way to get festive!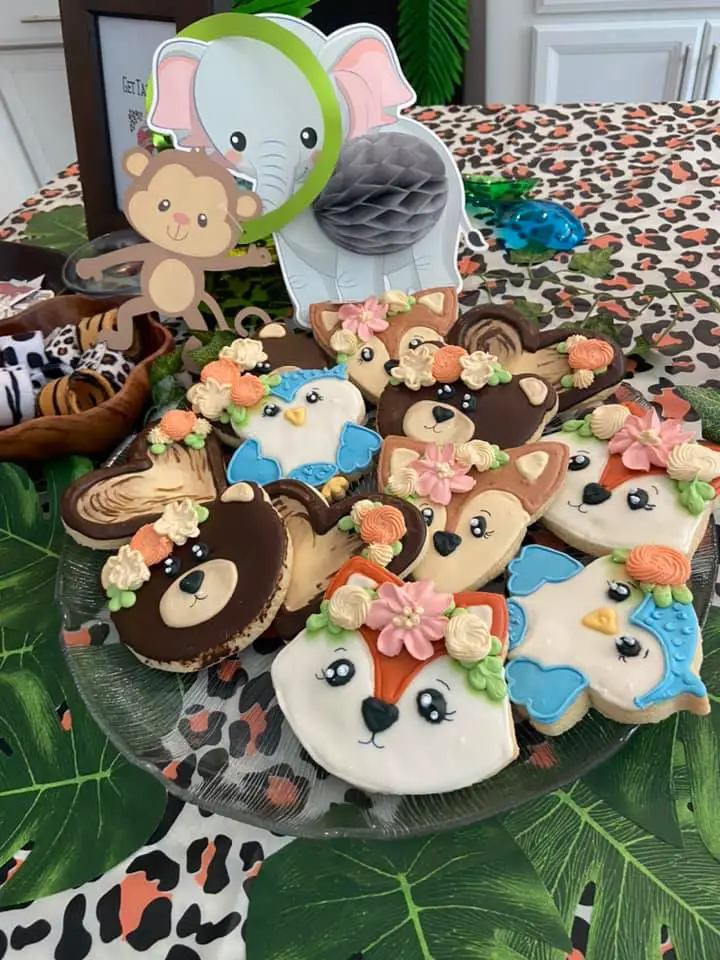 ---
CHECK OUT THE FREE PRINTABLES
Young Wild and Three Signs – Food Labels