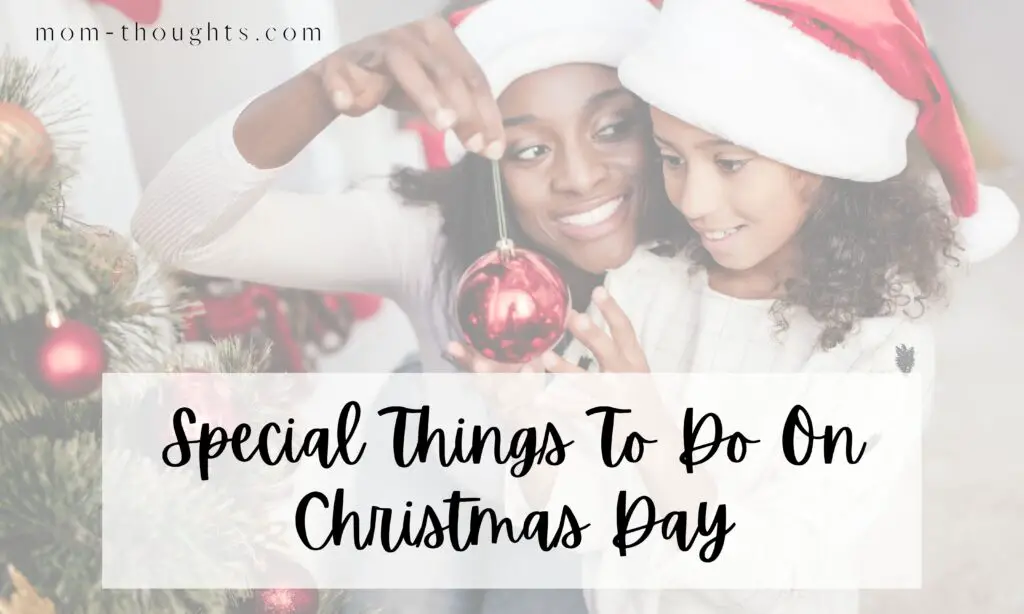 Holidays With Families – What To Do On Christmas Day
Christmas is around the corner yet again! It's so important to me that Christmas Day is always a special and memorable day for my child. When I growing up, my parents always made the day so amazing, so when it comes to figuring out what to do on Christmas Day with my own family, all I need to do is look back at my childhood!
As a means for providing for my family, I may earn commissions if you shop through the links on this page at no additional cost to you. Thank you!
Every family has different approaches and ideas of what Christmas day and even Christmas season should be about. And that totally fine. I think we can all agree though that we want the day to be about love, joy and family.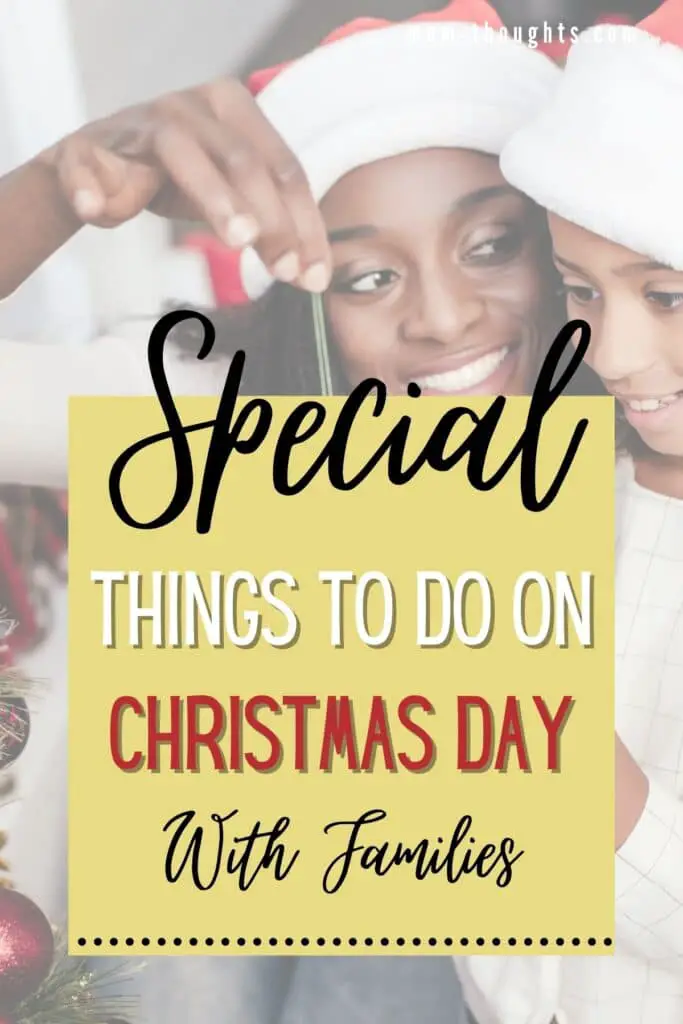 My parents made it all seem so natural and seamless. I never knew that it actually took planning and effort to make Christmas Day so fun and special and the kids! Now that I'm a mom, that responsibility falls on me, and to be honest, I couldn't be happier about it. I LOVE planning a fun-filled Christmas Day for my little family!
So, as your resident Christmas OBSSESSED mama, let me help you out by giving you some awesome ideas for fun things to do on Christmas Day with your family! These are great if you have young kids, or older kids.
Things to Do On Christmas Day At Home
Make A Family Gingerbread House OR Have A Competition!
This is such a fun thing to do on Christmas Day or even on Christmas Eve if you're going to be to busy on Christmas Day.
You can either team up as a family and make one totally awesome Gingerbread house, or get a few kits and break up into teams (or one-on-one), and see who can build the BEST Gingerbread house! You can take pictures of them, and post them on Social Media for your friends to be the judges. The Gingerbread House with the most "likes" wins!
If you need help finding some good kits, here are some of my "go to" kits.
If you want to be an over achiever, HERE is one where you bake the ginger bread pieces yourself using the molds. (But like, who has time for that?!)
Cook A BIG Dinner
This one goes without saying for most families. My mom always made the BEST and BIGGEST Christmas Dinners. She'd have appetizers out all day, such as crab dip, veggies with ranch dip, chips, my dad's homemade salsa, cheese and crackers, and so on.
Then for dinner, make all the classics! Turkey and/or Ham, mashed potatoes, gravy, corn, stuffing, deviled eggs, sweet potato casserole, green bean casserole, etc.
Everyone will be so sleepy and ready to rest off the busy day after a yummy dinner like this. (Tip: Do as much "pre" work as you can the day before, and use aluminum trays for cooking, and paper plates for serving. Minimize those dishes!)
Watch Christmas Movies
Keep those Christmas movies on loop!
You can get a FREE 30 Day Trial for Amazon Video Here, where you can stream thousands of movies, and even songs. I have really loved Amazon Video ever since we got rid of our DVD Player. It took me a while to give in and get ride of the DVD player…but we're in the world of streaming now! Finally had to give in…
If you haven't taken that plunge yet though, check out this Christmas Classics DVD, with all the best Christmas Movies from your childhood!
Candy Cane Hunt
Who says the "hunts" have to be reserved for Easter?!
Hide Candy Canes all around the house and see who can find the most! A fun twist would be to make a "Map" for the kids to use in their search for the candy canes!
Host A White Elephant Exchange
Have some friends and family over for a White Elephant Gift Exchange. Everyone brings a gift (usually a low ticket item, or even a gag gift to make things more fun), and then you take turns opening a gift. Draw numbers to determine the order in which people chose and open gifts. The following people can pick to either chose an unwrapped gift from the pile or they can steal a previous person's gift. Anyone who gets their gift stolen can also then choose a new gift or steal from someone else.
Bake Cookies
Fill the house with the warm cozy smell of fresh baked cookies! Break out grandma's famous recipes, or keep it simple and the the "break and bake" cookies from the grocery store. Either way, everyone will have lots of fun in the kitchen. Don't forget to blast the Christmas tunes while you bake!
Decorate Ugly Christmas Sweaters
Get everyone laughing with Ugly Christmas Sweaters!
Get some fabric glue, and spread out all the ugly sweat decorations, and see just how ugly you can make them! Then everyone can rock their sweaters for Christmas Dinner!
Wear Matching Christmas Pajamas
Christmas Day is the perfect day to stay in pajamas all day! So why not take it a step further and have matching family pajamas! This will make for some super cute pictures every year!
Make Crafty Christmas Decorations For Next Year
Making Christmas Crafts if one of my all time favorite things to do on Christmas Day! Not only is it fun, but it also creates something that can last a lifetime, and be passed down from generation to generation. (Especially the ones that turn out really good!)
When your kids are still really young, you'll want to keep it pretty simple. This ornament set is perfect for painting new Christmas Ornaments every year! Don't forget to mark the year.
Sing Christmas Songs
If you're looking for fun things to do on Christmas Day at home, break out the karaoke machine and sing some Christmas Songs! Don't forget to take some videos! You're going to want to look back at this for a good laugh!
Christmas Scavenger Hunt
Turn Christmas Day into an adventure with this fun Christmas Scavenger hunt! It's perfect for kids 3+ (even though the box says 6+, my 3 year old can totally participate with this!).
It includes 2 card decks, one for indoor, and one for outdoor. Both filled with common items that would be around during Christmas Season.
Make A Special Christmas Morning Breakfast
Make a nice pot of hot coffee and start the day with a scrumptious Christmas breakfast! You can make it extra special by using Cookie Cutters like these to make Christmas Themed pancakes! My mom used to do this for every holiday, and I LOVED it as a kid.
Family Game Night
A family game night is one of the best things to do on Christmas day to wrap up the fun-filled day! This highly rated Christmas Board Game "The Santa Clause Game" is perfect for ages 3 and up! It has an emphasis on GIVING gifts, rather than receiving.
Christmas BINGO and Christmas TRIVIA are both also really fun options that the whole family will love!
Read Christmas Stories
Reading together is one of the best things that you can do with your children. We live in a world today where both parents and kids have their faces buried in a screen the majority of the day.
Make some yummy hot chocolate and bring out those delicious Christmas cookies that you made earlier. Turn off the TV, and put down the phones. Then gather around the fireplace, or on the couch and enjoy some family reading time!
Here are some of the best Mom & Kid approved Christmas books:
Reindeer Antler Ring Toss
This game is a total riot. Get everyone laughing on Christmas day with this fun Reindeer Antler Ring Toss Game!
Put the inflatable antlers on your head and see who can toss the rings on successfully. It's the perfect way to fill your home with laughter on Christmas day.
Make Thank You Cards
Forget about the boring store bought thank you cards! Get a fun Greeting Card Making Kit and teach your kids about the importance of giving thanks and showing appreciation. They probably received a boat load of gifts earlier in the day, so spend some time crafting awesome thank you cards.
It'll make the process more fun for the family AND it will make the "Thank You" card much more special for the recipient.
Make Cards For Your Local Nursing Home
Christmas Day is a great time to reinforce the lessons of compassion for your fellow man. Sadly, there are so many elderly people in nursing homes that have no family or friends around to spend the holidays with.
Use the Greeting Card Making Kit to make special cards to drop off at your local nursing home. Be sure to include a nice note in the card wishing them happy holidays and a happy new year.
Pin The Nose On The Reindeer
Pin The Nose On The Reindeer is a super fun thing to do on Christmas day if you have younger children! (Not going to lie though…I could see this being really funny for the adults too after having a couple cocktails!)
Special Things To Do On Christmas Day Away From Home
If you're wanting to get out of the house on Christmas Day, there's plenty of fun and meaningful things you can do that will create lasting memories for your family!
Volunteer
Volunteering to help those less fortunate on Christmas Day is an amazing way to teach your kids valuable lessons about the world around them. It's very easy to get stuck in your "bubble" and be unaware of other's around you.
You can volunteer at placing such as your local soup kitchen, homeless shelter, nursing home, animal shelter, etc.
Take Toy Donations To A Local Shelter
What better day that Christmas to unload some toys? Involve your children in the process of going through their GENTLY used toys and picking ones that they want to give to those less fortunate. Then you can take them to your local shelter or Goodwill.
I also really like the idea of taking your children shopping for some NEW toys to donate. So many of our kids gets pretty spoiled on Christmas morning with fun new toys and gadgets. So it's also really important to incorporate giving and generosity!
Go Look At Christmas Lights
Going to look at Christmas Lights is the perfect thing to do on Christmas Day! You can drive around to different neighborhoods and streets to admire everyone's lights, or you can bundle up and go for a family walk around your own neighborhood!
Attend a Tree Lighting Ceremony
Check to see if your town (or neighboring town) has a Tree Lighting Ceremony. Most areas have something like this where they light up a big beautiful tree, and Santa and Mrs. Claus are usually in attendance!
Just google "Tree Lighting Ceremony near me" and I'm sure you'll find something!
Get Pictures With Santa
If you attend a Tree Lighting Ceremony, you'll likely be able to get pictures with Santa there. Otherwise, check out your local mall or fire station!
Attend A Church Service
Even if you don't regularly attend Church, Christmas Day is a great time to go. Most churches have lovely Christmas Eve and Christmas Day services, and it's a great way to be reminded of "the reason for the season".
Go Ice Skating
Hit up a nearby ice skating rink for some family fun!
YOU MAY ALSO LIKE: