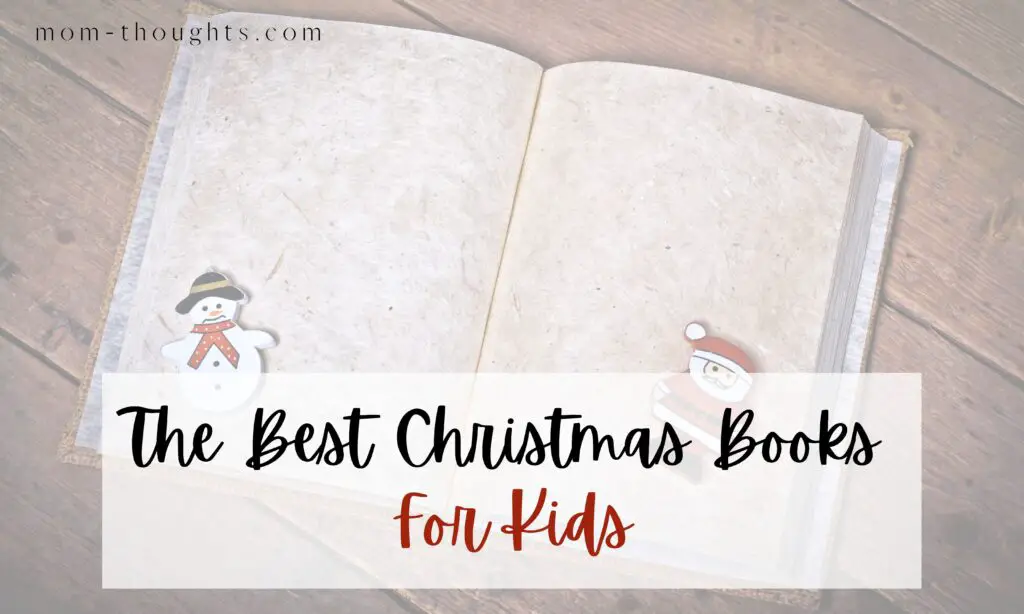 The Best Christmas Books For Kids and Toddlers!
One of the most special Christmas Traditions is snuggling up with your little ones and reading magical Christmas stories. I love seeing their eyes light up with hope and inspiration during the holidays. But what are the BEST Christmas Books for Kids and toddlers?
I've compiled a list of Christmas books that my child LOVES to read every Christmas Season.
As a means for providing for my family, I may earn commissions if you shop through the links on this page at no additional cost to you. Thank you!
This is a GREAT Christmas book for kids that teaches them about how Christmas is celebrated in other countries around the world. It's so interesting to see how people spend this special day in other cultures. Even parents will find this one interesting and educational!
The Night Before Christmas is a total classic that needs to be in every Christmas Book collection! For less than $2 more you can get a nice Hardcover version that will last for generations to come!
This is a perfect Christmas book for kids 8 and up. It's a new book that was released in October 2021 by the one and only J.K. Rowling! It's a great book for the whole family to read and follow along with the adventure of a young boy who will defy all odds to find and save his lost childhood toy!
The Little Red Sleigh reminds me of Rudolph The Red Nose Reindeer with a twist. This is an inspiring Christmas book for kids that teaches them that no dream is out of reach! This book follows the journey of The Little Red Sleigh who has always dreamt of being Santa's sleigh, but is always told it's too small and can't fly. Will she achieve her dream?
This best selling Children's Christmas Book by Jimmy Fallon is such a fun and silly book for the family to read together. Follow along with the character as he eagerly prepares for Santa's arrival. With each passing day his anticipation grows making it more difficult to sleep…but when he does finally go to sleep, amazing adventures ensue!
This Christmas book is just plain silly! Your kiddos will be cracking up while reading this North Pole adventure with a funny twist. Which reindeer will Santa choose to guide his sleigh? Will Fritz the gassy reindeer make the cut?
This is such a heartwarming Christmas book, perfect for the holiday season. When Cami and Wyatt's new neighbors move in, they notice that they seem sad and lonely. Read along as they spread their Christmas joy and kindness to their new friends.
This funny Christmas book for kids has great illustrations and will get the whole family chuckling. Watch a totally frazzled Santa try to find his lost reindeer!
This book is a wonderfully illustrated and written version of the holiday class "It's A Wonderful Life". It teaches compassion and kindness, and is a book that will be passed down from generation to generation.
Ever since 2020 things have been…well…weird. It's been a challenging adjustment for adults, so I can only imagine how complicated it has felt for our little ones. Many of us are experiencing smaller holidays, or maybe we aren't getting to see our extended families at all. Wearing masks out in public, and other changes we've had to make can be really confusing for young children. This is a great book to learn how to feel the Christmas spirit and joy, even when things feel so different.
This is the PERFECT Christmas book for toddlers and kids because it's a total classic, but it has the added fun of hidden pictures! My 3 year old loves searching for the hidden images on each page.
This is a great Christian Christmas book for kids. It's comprised of 25 different stories to read each day of December leading up to Christmas. Each highlight story features a different person, place or object from the Christmas Story.
Do you remember Fiona the hippo? The internet sensation who was born six weeks prematurely at the Cincinnati Zoo in 2017? Follow her and her zoo animal friends as they search the zoo in a search to find Christmas! The illustrations are amazing.
This could be fun for all ages, but it's an especially great Christmas Book for kids ages 5 and up. (It's recommended for 8 and up) It's filled with 300 weird but true facts about CHRISTMAS. Like did you know that Santa's reindeer are probably all female? Or that artificial snow can be made from seaweed? Or that "Jingle Bells" was the first Christmas carol sung in space? The whole family will learn some fun Christmas facts with this one!
This book is filled with 25 awesome Christmas stories involving our favorite Disney characters! Read one story a day in December leading up to Christmas! The stories are the perfect length, fun, and the illustrations are top notch. This is definitely one of my favorites to break out each year!
16) Our Family's Night Before Christmas – Personalized Book
Looking for personalized Christmas books for kids? This classic book can be personalized with the family's last name, up to two guardians' nicknames (mommy, daddy, etc.), up to 6 children's names, and the Santa's skin tone!
This is a fun Christian Christmas book for kids. It's about a boy named Benjamin whose job is to watch for the sign that all of God's promises are coming true. This touching story teaches kids about the meaning of Christmas.
This is another great option for a "story a day" leading up to Christmas! It's the perfect way to count down to Christmas as a family. Each story celebrates something fun about Christmas time. Writing Christmas Cards, going sledding, baking cookies for Santa, holiday parties, and more!
The Lonely Little Christmas Tree is a heartwarming story about kindness and hope. It teaches children the valuable lesson that dreams really can come true, but that it might not always be exactly as you expected!
This beautiful Christmas Book will stay in your family's collection for generations to come! It includes 18 amazingly illustrated Christmas stories that the whole family will love. It even has festive silver gilded pages to add a special touch.
Another heart-warming Disney Christmas classic! As with all of the books in this series, it is so beautifully illustrated. The vibrant images on each page really catch the interest of my toddler as I read the story of Ebenezer Scrooge.
This is a must-read if you're looking for Christian Christmas books for kids. It is comprised of a beautiful, chronological journey of ancient stories of God's faithful promise to send a Rescuer—Jesus. Each of the 25 Bible stories begins with a key verse and ends with a thought provoking question, helping you and your children think and talk about the reason we celebrate Jesus' birth.
North's Pole is a lovely story about the head Elf in charge and how she help's the newest addition to the team discover the type of Elf she's truly meant to be. It's a heartwarming journey of finding yourself and discovering your talents that lie beneath the surface.
This lovely Christmas Book helps teach your kids about the true joy of giving by introducing them to "Secret Santas". They're an elite team of extra-good children who help Santa spread holiday cheer. Helping our children to understand that the holiday season is about sharing and giving (rather than receiving) helps them to learn about gratitude, empathy, and generosity.
This is another must-have Christmas Classic. This super high quality book takes you on an adventure with Anja as she chases after her dream of being one of Santa's elves. The quality and breathtaking images in this book will make it the perfect addition to your Christmas book collection!
Now that you're stocked up with all of the BEST Christmas Books for Kids, check out these meaningful Christmas traditions to start with your family this year!
YOU MAY ALSO LIKE:
Fun Things To Do On Christmas Day With Kids
The Ultimate List of Practical, No Junk Gifts For Toddlers
The Best Potty Training Books For Toddlers and Parents (FREE Potty Training Chart)
Download the FREE Christmas Tree Letter Matching Game For Toddlers!