By: Heather Little
What To Put In A Toddlers Stocking
Once you've finally finished doing all of the shopping for the big gifts for kids and gifts for toddlers, you can pat yourself on the back and move on to the stocking stuffers! But what are some good ideas for stocking stuffers?
Stocking stuffers for kids and toddlers don't have to be boring!
There's fun, educational, practical, and even wearable stocking stuffers!
And maybe the best part…ALL of these stocking stuffers for toddlers are totally affordable!
Ok mamas, let's dive in!
As a means for providing for my family, I may earn commissions if you shop through the links on this page at no additional cost to you.
Practical Stocking Stuffers For Toddlers
Practical stocking stuffers doesn't have to mean boring! Especially at this age, toddlers get excited over new things that as adults we may just see as normal every day items. Take advantage of this stage and enjoy being a super mom just for getting things that they need anyways!
These fabric band aids are stinking adorable! Our crazy little ball of energy toddlers are always getting into mischief so these are the perfect stocking stuffers for toddlers! They come in a nice tin case, and they seal on all four sides which makes them stay on better and seals out the germs protecting their little booboo.
A fun new toothbrush is another really practical stocking stuffer idea for toddlers. Tooth brushing time in our house is quite the battle! Finding ways to make it seem fun makes things SO much easier. This adorable electric toothbrush set comes in several options, and includes the electric toothbrush (Soft bristle), an extra brush head, rinse cup and a timer so your little one knows how long to brush!
These stainless steel sippy bottles are great for taking with you on the go. It comes in several design options and it's spill proof design makes it the perfect gift for toddlers! It also keeps drinks colder longer which will be especially handy when the warmer months come around. You'll definitely want to add this to your list of stocking stuffers for your toddler!
Grab this 2 pack of reusable sandwich and snack bags! Every mom needs these and every toddler will LOVE the fun designs, making them the perfect stocking stuffer for toddlers! There's tons of design options perfect for boys and girls!
Grab an exciting new dinnerware set for your toddler's stocking stuffer this Christmas! This set comes in 15 different character options! This will be a super fun way to spice up meal time making it one of the best practical stocking stuffers for toddlers!
Educational Stocking Stuffers For Toddlers
When you find gifts for toddlers that are both fun AND educational it's a double win! These educational stocking stuffers for toddlers will be perfect for your little munchkin!
These awesome water activity pads are a fun and mess-free way to help your toddler learn early reading and writing skills! This bundle includes alphabet, numbers and animals!
This Montessori Lacing Apple is a GREAT educational stocking stuffer for toddlers! It helps improve skills such as concentration, hand-eye combination, thinking IQ level, cognitive skills, and color perception. This is a great screen free activity for toddlers!
Expand and deepen your toddler's vocabulary with these fun flashcards! Help your toddler learn letters, shapes, numbers and colors with these 58 toddler flash cards!
This set of 15 Match It Puzzles is a great stocking stuffer idea for toddlers! Help your toddler with their problem solving skills with this awesome stocking stuffer!
These fun percussion plastic eggs are actual instruments that help your toddler learn about rhythm while they tune up their motor skills and auditory and hand-eye senses! This is such a fun yet educational stocking stuffer for toddlers!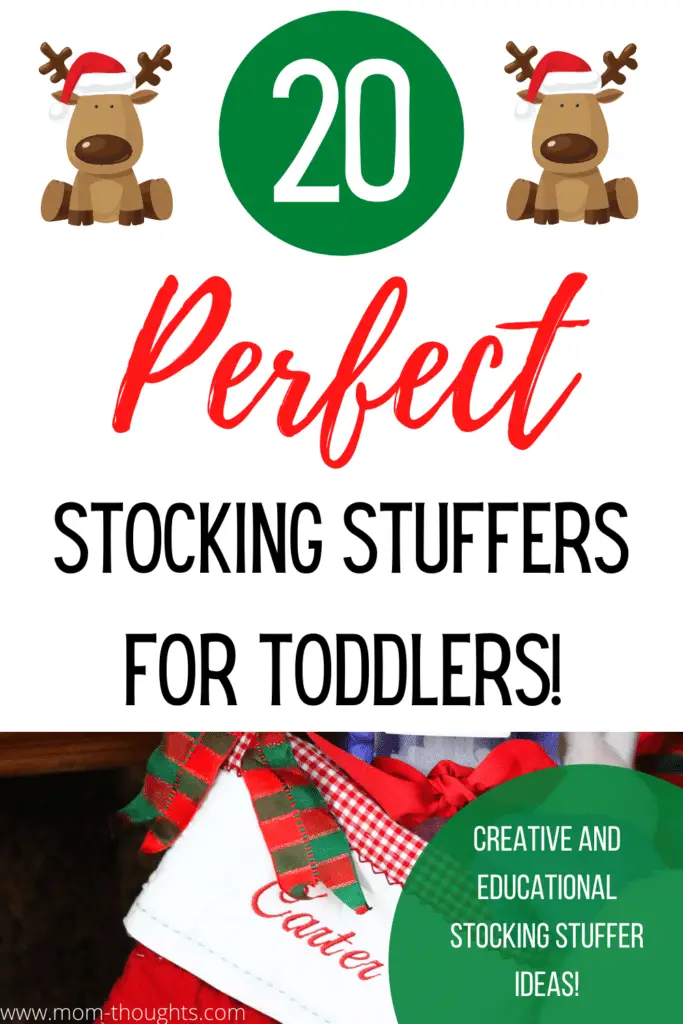 Wearable Stocking Stuffer Ideas For Toddlers
My toddler LOVES getting fun new things to wear! It's like playing dress up! These super fun wearable stocking stuffer ideas for toddlers are sure to excite your little one!
Grab your toddler some fun new socks with their favorite characters on them! My daughter LOVES Minnie Mouse so these Minnie Mouse Socks are making the PERFECT wearable stocking stuffer for my toddler this Christmas!
These fake tattoos are such a fun wearable stocking stuffer idea for toddlers! They will get a total kick out of sporting their favorite Disney characters!
Your little girl (or boy, no judging here mama!), will go nuts over this little nail polish set! It's water based, quick drying, and non-toxic!
Don't forget the hat and gloves! This adorable hat and glove set comes in a variety of colors and designs. With the cold weather upon us, this makes the perfect stocking stuffer for toddlers! Fingers crossed for a white Christmas this year!
These cozy toddler slippers come in 10 different color and animal options and they are SO CUTE! Your little one will look absolutely precious walking around the house in these perfect stocking stuffers!
Just Plain FUN Toddler Stocking Stuffer Ideas
Like I said before, stocking stuffers don't need to be boring! Have fun with it! These fun stocking stuffers for toddlers will be sure to make your little one light up with joy on Christmas morning!
These Toddler Scavenger Hunt Cards are perfect for your toddler's stocking! There's 20 durable cards (Printed front and back!) with fun prompts for any toddler age 2+.
This Kids Digital Camera is perfect for kids 3 and up. It will fit perfectly in your little one's Christmas Stocking! Your child can have hours of fun taking pictures (including selfie-mode!), videos, and there is even a couple games. My little one LOVES her camera. It's especially cute watching her run around taking pictures during family gatherings.
These bath color drops from Honeysticks will make bath time so much fun for you and your toddler! Honeysticks is a great brand and uses natural, food grade, non toxic ingredients, so parents don't need to worry and can just have fun with their toddler! It also leaves no mess behind in the tub! These are an absolute MUST in your toddler's stocking this year!
These Non-Toxic, made from natural bees wax crayons are another fun stocking stuffer for your toddler. The jumbo size makes it perfect for toddler's little clumsy hands!
My toddler LOVES play-doh! This play-doh set will be a great addition to your toddler's stocking this year! I love that this set comes with so many colors, including 6 sparkle colors!
Listen mamas…we're raising kids in the era of slime, and there is nothing we can do about it, so we might as well embrace it! This Galaxy Marbled Unicorn Slime is really cool and way more fun then the typical solid colors!
These No-Spill Bubbles are something I WISH I had known about sooner! Toddlers LOVE playing with bubbles but it gets so darn messy! With these bubbles, your toddler is able to practice independence without causing a giant mess! When you consider the hassle you're saving yourself, this is kind of a stocking stuffer for toddlers AND moms!
Stocking Stuffers For Kids
These awesome stocking stuffer ideas for toddlers also make great stocking stuffers for kids that are a little older! Which is extra good news because it means they will last your toddler for quite a while! No matter what you get, or don't get for your toddler this year, just make sure you have FUN and soak in every moment of Christmas morning with your little one. Do your best not to let the holiday stress overwhelm you and cause you to miss out on the joy and happiness that this time of year brings!
It's so important that we keep the magic of Christmas alive in our homes, both for our children AND for us! Don't get so caught up in your everyday To-Do list that you lose the passion and love for Christmas Traditions and fun. After all, this is the most magical time of year!
OUR MOST POPULAR PRINTABLES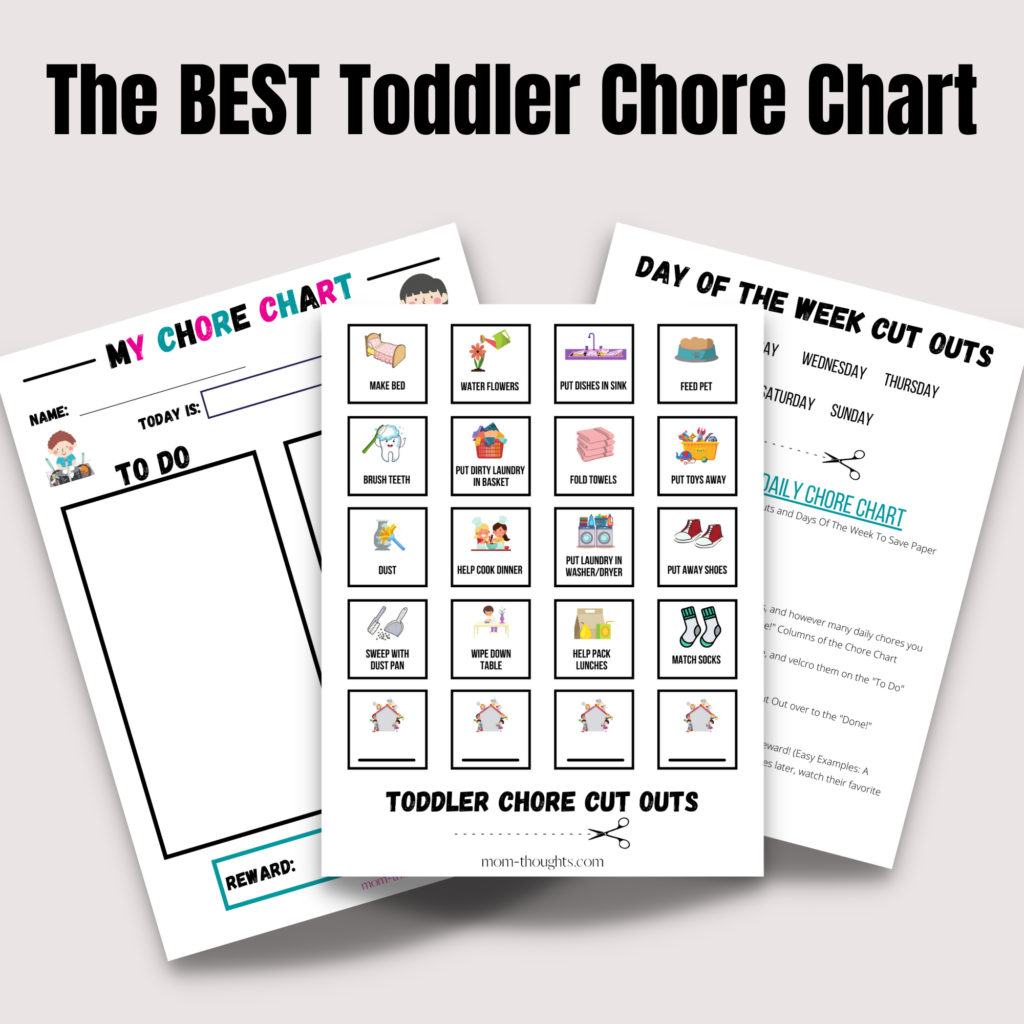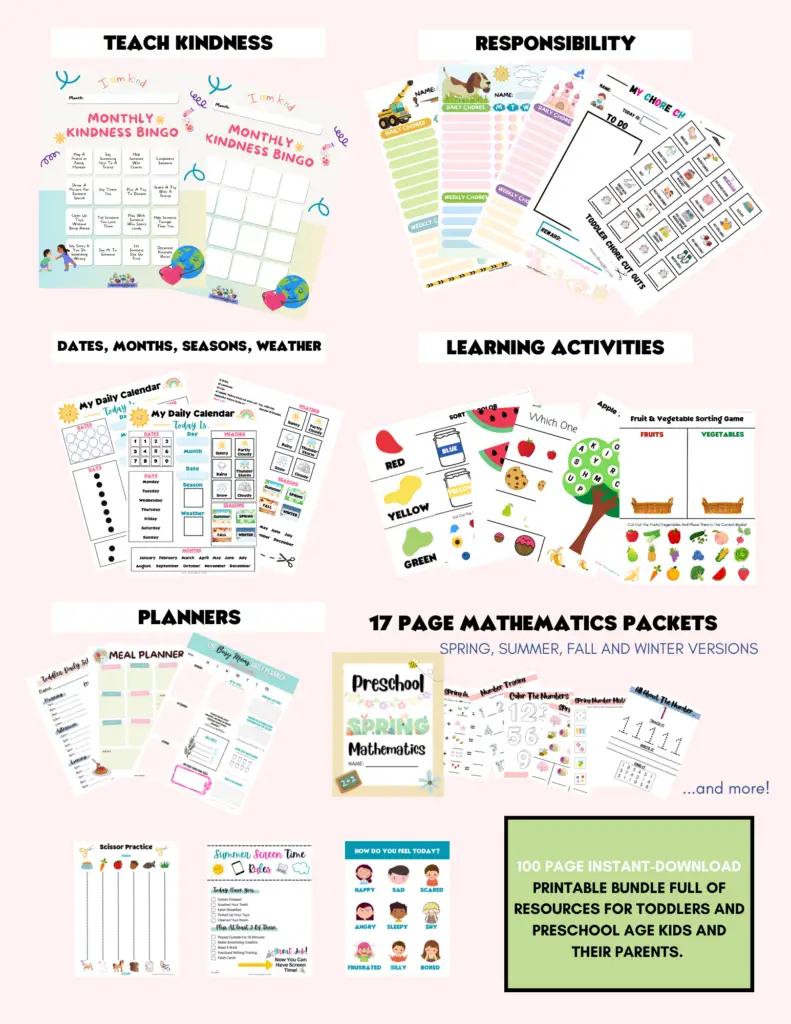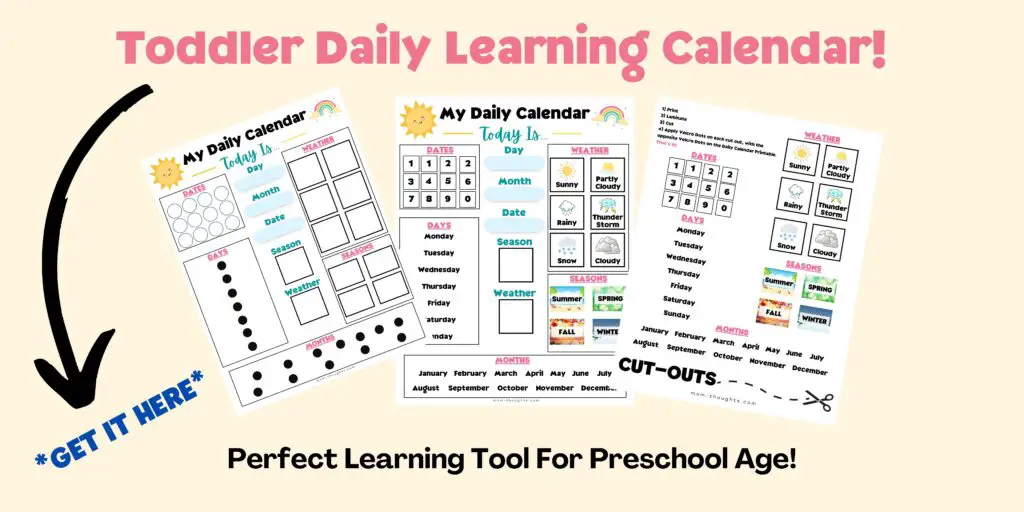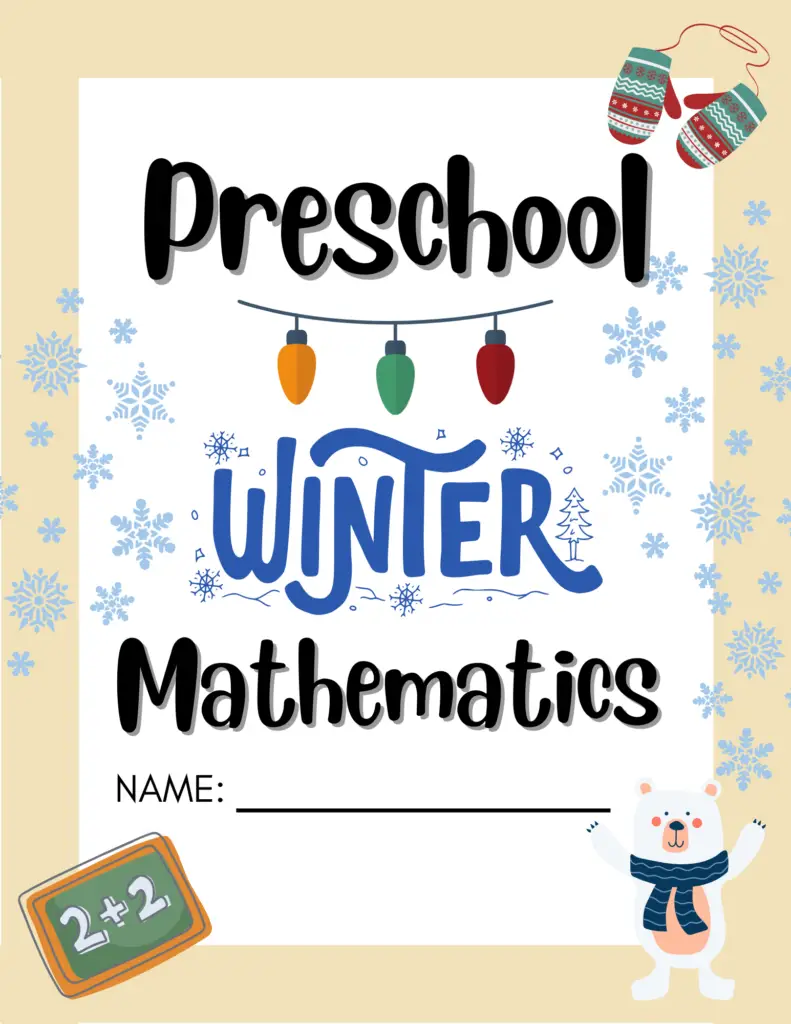 More Toddler Tips: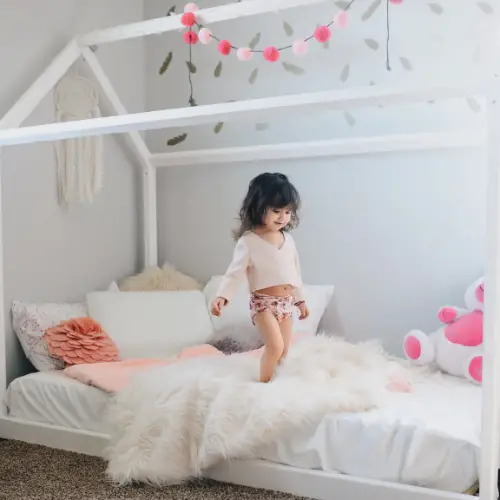 This post is all about the best toddler beds. Best Toddler Beds To Help With…