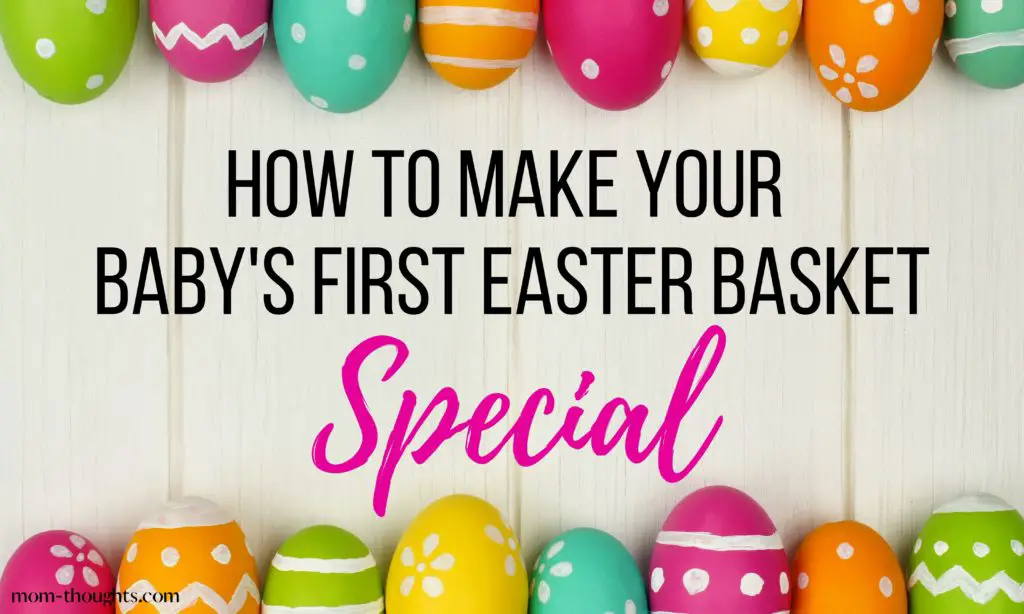 Can't decide what to include in your baby's first Easter Basket?
You're not alone! Trying to figure out what to put in your baby's first Easter Basket is a struggle because you typically can't go with the "classics". They likely aren't eating candy yet, and they can't truly participate in an Easter Egg hunt. But you can still make Easter fun and special both for you and your new little bundle of joy!
What Do You Put In Baby's First Easter Basket?
For my baby's first Easter Basket, I wanted to include several different types of fillers. I broke it down into these categories: Feedings, Bath Time, Playtime and Teething, Reading, and Sentimental.
Before we get into the Easter Basket fillers, let's talk about the actual Easter BASKET and some really fun Easter Basket Alternatives!
It's super trendy right now to use things other than an actual Easter Basket. Instead, you use something that your baby, toddler, or older child could actually use, and put the gifts in that. The "Easter Basket" is actually a gift too!
---
As a means for providing for my family, I may earn commissions if you shop through the links on this page at no additional cost to you. Thank you!
---
Here's some fun Easter Basket Alternatives For Your Baby's First Easter!
Planning any beach trips this summer? Get them ready by using these fun jumbo castle beach buckets as their Easter Basket!
---
This Dump Truck is a great Easter Basket alternative for boys or girls! This will be a toy that your baby will play with for years to come!
---
Fill this adorably well made baby doll cradle with all of the Easter goodies! This cradle will be used for many years of baby doll play!
---
Outdoor Baby Swing
This Outdoor Baby Swing is one of my favorite Easter Basket Alternatives! Fill it with goodies, then hang it outside for hours of fun through Spring, Summer and Fall!
---
This Woven Storage Basket would look awesome in your living room, or even in your baby's nursery! It makes an awesome Easter Basket Alternative because not only is it cute, but it's practical. You can use it to easily and neatly store your baby's toys!
---
Ok, now it's time to fill your baby's first Easter Basket with fun goodies!
---
FEEDING
This Transition Sippy Cup is ADORABLE and it's perfect for ages 6 months and up! It comes in 6 super cute design styles to chose from and it transitions to different methods to grow with your baby!
You start out with Stage 1 which has the BPA silicone straw and grip handles.
For stage 2, you remove the straw and replace it with the rim spout.
Then for the final stage 3, you remove the handles. It does wonders for teaching your little one to drink from a "real" cup! (All pieces for the 3 stages are included.)
---
These Baby Led Weening Spoons are THE BEST Stage 1 baby spoons!
When your baby first starts eating solids, it's tricky for them to get the hang of scooping and balancing the food in a traditional baby spoon. The result? First…a big giant mess. Second…you just getting frustrated and feeding them, rather than giving them the opportunity to master the skill.
This genius design allows them to practice the movements of feeding themselves, while actually still having food in the spoon by the time it reaches their mouth! Freakin' genius!
---
I love these Bamboo Bowls! This would be perfect for your baby's first Easter Basket.
It's cute, it's practical, and it will be used for several years. Even longer if you have multiple babies! Enjoy this time where your baby gets excited over gifts that they actually need!
The quality of these bowls are amazing, and the suction cup bottom helps to prevent giant messes.
---
These Silicone Bibs are great to have on hand! Personally I prefer these bibs that I can just rinse off in the sink with soap and water, rather than the cloth ones that need to be washed. Look, I have ENOUGH laundry to do already! LOL
The little pouch catches all of the food and crumbs that are inevitably getting dropped while your little one is navigating through the self-feeding journey. Unlike other brands I've tried, these pouches ACTUALLY stay open on their own. Whoop!
---
Get ready for a super fun summer with these Fruitsicle Frozen Pop Molds!
You'll have so much fun making tasty treats for your little one, and your baby will enjoy gobbling them down in the heat of the summer!
These are also really beneficial during teething time to sooth their sore little gums. Definitely add these to your baby's first Easter Basket!
---
BATH TIME
Add a fun twist to bath time with this cool Musical Bath Toy Set!
The set includes 1 stingray xylophone, 1 octopus drum rhythm toy and 2 starfish shakers!
As they get older and grow into toddlerhood, you can even teach them actual songs! The company has song instructions that your little one could easily learn!
---
These Bath Time Stacking Cups have been some of my daughter's favorite bath toys for over a year now!
They are easy to keep clean, don't get moldy, AND it improves baby's fine motor skills! Not only do baby's have fun stacking them, but my baby gets an absolute kick out of "making it rain" with the different openings on each cup!
This is perfect for a baby's first Easter Basket, but if you have toddlers as well, get some for their basket as well!
---
Konjac sponges are actually my favorite way to wash my face. They are super gentle and amazing for cleaning out your pores and providing a gentle exfoliation.
So, I was pretty psyched when I saw they make them for babies and kids too! It's such a great tool to get your skin clean without being too harsh. And how cute are these little shapes?! (They also come in a blue/green set with bear, star and elephant shapes.)
These sponges are all natural and plant based and will look so freakin' adorable in your baby's Easter Basket!
---
Cozy Fleece Booties
It's cold getting out of the bath! Warm up their little tootsies with these super cute Chick Fleece Booties!
The sizes range from Newborn to 24 months.
---
This Bamboo Hooded Towel is adorable, and it's SO SOFT!
It has a nice thick material and holds up great in the wash. A lot of our other towels get really pilly, or just less soft with each wash.
It comes in 10 fun different animal options, so chose the perfect one of your Baby's first Easter Basket!
---
PLAY TIME AND TEETHING
This super cute soft textured Carrot Teether is perfect for a baby's first Easter Basket! Even if you're baby isn't teething quite yet…they will be soon! These silicone type teethers were the only ones that really helped my baby with teething.
---
Tummy time is so important for our little babies, but if your baby is anything like mine, it can be a really struggle! This Inflatable Tummy Time Water Mat makes it so much more fun and interesting for our little ones!
The water and aquatic toy fillers create such an engaging experience for babies while they learn about cause and effect, develop their motor skills and more, all while they are strengthening their neck muscles!
Definite must have for your baby's first Easter Basket!
---
These fun Hide and Squeak Eggs will make a great Easter Basket filler for your baby! The cute little carton that it comes with makes for super easing storing, and it teaches your little one all about shape sorting, color matching, and works on their fine motor skills!
No batteries required! Yes!
---
These fun percussion plastic eggs are actual instruments that help your baby learn about rhythm while they tune up their motor skills and auditory and hand-eye senses!
---
Your baby will LOVE this Sea Dreams Musical Crib Toy and Soother!
It's great to help them drift to sleep during nap time or bed time. It's also great to help them self sooth back to sleep! Or if you need to set them in their crib for a little bit during the day while you get some cleaning done, this helps to keep them entertained and happy.
Trust me, you want to include this in your baby's first Easter basket!
---
This Little Chick Action Toy will be the star of the show in your baby's basket on Easter morning!
It has fun vivid movements, walks, plays melodies, songs, and makes noises. Babies get an absolute kick of out this guy!
---
Just about every baby has Flappy The Elephant! If your baby doesn't have him yet, then it would make the PERFECT Easter Basket stuffer!
He has a "Play Mode" where he plays Peek-A-Boo and a "Musical Mode" where he sings "Do Your Ears Hang Low". And his ears flap back and forth. It's SO cute! My little one thought it was so funny!
---
READING
You can't have a baby's first Easter Basket without some awesome books! These are some of my all time favorite Easter Books for babies!
They're super cute, and 3 of them are interactive which is really fun! (Baby Animals, Hippity Hoppity Bunny, and Happy & Hoppy) Then, I just really like God Gave Us Easter to start teaching a bit about the "reason for the season". (Plus it's just a really nice book!)
---
SENTIMENTAL
This set of Baby's First Bible Stories is such a special gift to include in their first Easter basket! It's something they can hold onto for years and years, and even pass down to their own child one day!
---
This Precious Moments Snow Globe would make such a lasting and special keepsake for a baby's first Easter.
Something that we started when my daughter was just a wee little thing was snow globes. There's something so magical and whimsical about them! Her first beach trip, we have a Snow Globe from the local surf shop. When my husband goes on a business trip, he brings her back a snow globe from that location.
A Baby's First Easter Basket is such a fun "first"! So get a special keepsake to remember it.
---
Easter is the perfect time to gift your little one with their very first bible! This Baby's First Bible is a nice hardcover bible that your baby will be able to hold on to for their whole lives.
It also has a place in the front to put your baby's birth weight, height and foot print, which I think is a really sweet touch!
---
I hope this list of fun Easter Basket Stuffers for your baby's first Easter was helpful! Now you can sit back and relax (hopefully!) knowing you're all set for Easter morning!
---
MORE BABY AND TODDLER RESOURCES:
The Best Non-Candy Easter Basket Ideas For Toddlers
The Best Brain Boosting Wooden Puzzles For Toddlers
Lollipop Baby Monitor Review (Plus Amazon Best Seller List)
Mom's Complete Guide To Formula Feeding
Meaningful Daddy Daughter Date Ideas For Toddlers
Free Potty Training Chart System – MUST HAVE For Potty Training Mamas!