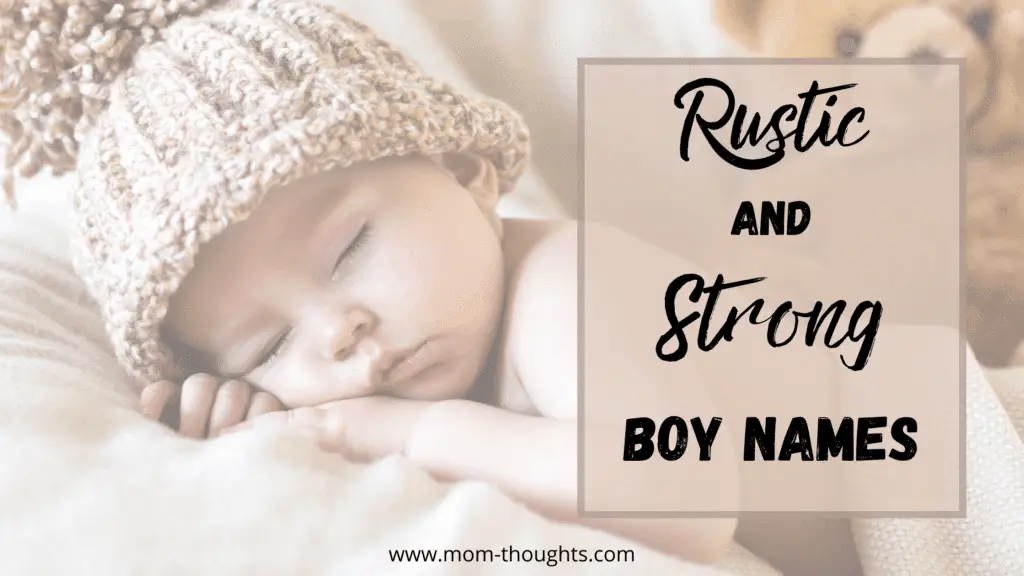 Check Out This List Of Southern Boy Names And You'll Surely Find The Perfect Fit!
Deciding on a baby name is not an easy task. I'm sure you've looked at list after list of baby names to find the best southern boy names, and just can't seem to find one that truly feels right. I've been there too!
I remember at times feeling like we would never find the perfect name, and that we'd just end up settling. But don't give up hope! There are so many names to chose from, I guarantee there is one (or more than one) that you will absolutely fall in love with.

When it comes to country boy names, there's all sorts of variations. There's old school, common, rustic, unique, and tons of modern strong southern boy names to fit your specific family unit!
Don't forget to check out the adorable Rustic Country Nursery Decorations at the end of this article!
As a means for providing for my family, I may earn commissions if you shop through the links on this page at no additional cost to you.
Let's Dive Into These Southern Boy Names!
A
Ash
Asher
Ashton
Austin
Avery
B
Beau
Bentley 
Bo
Brady 
Brantley
Brody
Brooks
Blake
Bryce
Byron
C
Cal
Camden
Cameron
Carter
Cash
Cody
Colt
Colton
Conner
Cooper
D
Dakota
Dawson
Dylan
E
Easton
F
Finn
G
Gavin
Grayson
Granger
Gunnar
Check out more Southern Boy Names Below (H-Z)
H
Hank
Hunter
J
Jackson
Jake
Jax
Johnny
K
Kane
Kip
L
Landon
Lee
Levi
Luke
M
Mason
N
Nash
O
Oakley
R
Reed
Rhett
T
Tucker
W
Wade
Weston
Wyatt
–MustMat Cute Cow Print Rug Fun–
Z
Zane
Happy Naming! I hope this list of southern boy names helped you nail down the perfect fitting name for your little baby boy! I personally love the country boy name vibe of these baby names.
But wait…There's More Than Just Southern Boy Names Here!
If you're into strong country boy names, chances are you'll love this nursery décor and baby products! Decorating your baby's nursey is such an exciting time and a totally crucial part of nesting. It's such an awesome experience to give your baby's space a personal, unique and special vibe!
Totally Adorable Rustic and Country Nursery Décor and Baby Products! 
This is such a unique accent piece to hang on the wall! I love how this isn't a super typical baby nursery item. It's such a nice piece to mix in with your other décor to add a touch of elegance, and it fits perfectly with a strong and rustic vibe! 
And move mountains he shall! Wooden décor is an absolute must when going for a rustic look. I love the sentiment behind the message on this wall art. If there's one things all moms have in common, it's that we all want our children to grow up strong, and brave enough to chase after their dreams. And we are always, and will always be there #1 Cheerleader as we watch them succeed and move the mountains in their lives! 
These curtains will go hand in hand with your other country nursery décor. They come in Gray, Wheat, Blue, and Navy. They're made for room darkening (perfect for daytime napping, and early mornings), and they are super affordable and come as a PAIR!
Does it annoy anyone else when companies sell curtains panels separately, or is that just me? Like who needs to buy one single curtain panel! You think you're looking at an affordable curtain option, then find out that you'd need to buy two…thus double the cost. -sigh- Anyways…I digress. 
It's no surprise that this is an Amazon Best Seller, and rated 5 Stars (out of almost 4,000 reviews)! 
Not only does it look cute, but you can write a custom message or phrase on the board, and even change it up whenever you want!
You could also use this for their monthly milestone pictures that you are surely going to be taking and posting on social media every month!
It comes in several different color and frame options. Check them out!
There's several different options, but the deer and moose are my favorite. Especially for the rustic vibe. There's actually several different deer options specifically. Pick your favorite! 
You can't have a baby with a southern boy name and NOT have this in your nursery.
Wooden accents make a room feel cozy and rustic. These hooks are so cool, and the adhesive makes them easy to put up. 
You could use them for hanging wall art, bath robe, hats, and a number of other things! These would really add a unique touch to your baby's nursery.
You're going to need a car seat canopy for a couple reasons.
One…to shield your baby from the rain, snow, and cold wind.
Two…to block the bright lights and sun.
You'll definitely find yourself in situations where your baby is in their carrier sleeping while you're out and about grabbing lunch with a friend, or perhaps running errands. 
Any little boy with a cute southern name needs this car seat canopy.
This southern/country vibe baby crib set is so cute. It's reversible and super soft. The crib sheet fits snug on your baby's mattress which is really important for newborns.
There's a TON of different pattern options to chose from!
My favorites are the deer, and all of the arrow options. Check them out for yourself!
I hope you Found The Perfect Southern Boy Name For Your Future Little Country Boy!
Check out more new mom resources below.
YOU MAY ALSO LIKE:
How To Set Up The Best Diaper Changing Station
How To Help When Your Baby Hates Tummy Time
5 Survival Tips For Long Road Trips With A Baby
20 Important Questions To Ask Daycare Providers – BEFORE You Pick Your Daycare