This post is all about Christmas Eve Box ideas.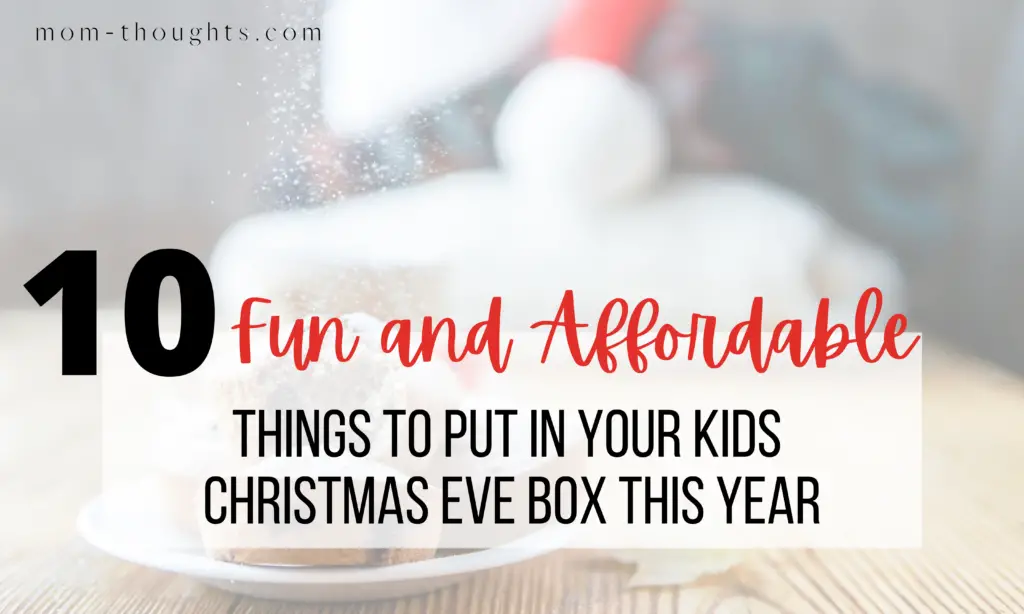 Christmas Eve Box Ideas: Everything You need
Christmas is my absolute favorite time of year. Growing up, my mom always went above and beyond to make the season enchantingly magical. So when I became a mother, I knew I needed to do the same for my child. (Check out this post on Christmas Traditions To Start With Your Family This Year!) When it comes to Christmas Eve Box ideas, it's really quite simple. Nothing extravagant…just some small things designed to make Christmas Eve a warm and cozy core memory for your littles.
If you're looking for actual Christmas gift ideas for your littles, check out these gift guides:
What Is A Christmas Eve Box?
A Christmas Eve Box is a box filled with small gifts that you give your child on Christmas Eve each year. But the type of gifts that you put in this box are very specific and intentional! You can also exchange Christmas Eve Boxes with your spouse if you'd like!
What to put in a Christmas Eve Box?
The Christmas Eve Box should specifically include small gifts to be used, worn, or enjoyed on Christmas Eve as part of a family tradition. This isn't the time to give random toys or other gifts. (Save those for Christmas Day!)
CHRISTMAS EVE BOX IDEAS FOR TODDLERS AND KIDS
(1) Christmas Pajamas
A pair of new Christmas themed pajamas to where that night through Christmas morning!
(2) New Slippers
Christmas is all about warm and fuzzy feelings, so I love including a new pair of slippers. They can be Christmas themed, but they don't need to be. I love these slippers because they don't make it hard for little ones to walk, so they are truly comfortable.
(3) Christmas Book
Always include a new Christmas book to read before bedtime. These are books that will hold special meaning, so they can hold onto them for a lifetime! For this reason, I always get a hardcover book. Last year we got Cami and Wyatt Share The Christmas Spirit, and the whole family loved it. It really showcases what Christmas time is all about by teaching kids about kindness and the joy of uplifting others.
(4) A Letter/Note From Santa
Add the special touch of a letter/note from Santa. If you need some help making one, check out our Printable Letter From Santa. (Follow THIS LINK to automatically apply the Discount Code "SANTA50" for 50% off, and get it for only $2.50)
(5) A Christmas Movie
In today's world, you're probably not going to put a DVD in the box, but if you want to…include it in the box! Or, if you still want a physical representation, you can just put a note in the box with the movie title of the Christmas movie that you're going to watch that night! You can get a FREE TRIAL FOR AMAZON PRIME VIDEO HERE.
Netflix also has some cute Christmas movie options for families!
(6) Movie Snack
Whether it's a bag of popcorn, small bag of chips, or a box of candy…include a movie snack to enjoy while watching your Christmas movie that night! (I like to include one of these fun popcorn flavor shakers, with a bag of un-popped popcorn)
(7) Hot Chocolate Set
This gourmet Christmas themed hot chocolate set with marshmallows is perfect for Christmas Eve boxes! (Don't forget the Candy Cane spoons!)
(8) Hot Chocolate Mug
I am OBSESSED with these adorable Marshmallow Hot Chocolate Mugs! But if you need one with lids, these are also super cute.
(9) Reindeer Food
Put some "reindeer food" in a baggy, with one of these cute tags and sprinkle it in your yard on Christmas Eve for Santa's reindeer! (For the "reindeer food" you can use: carrots, oats, or even bird feed.)
(10) Christmas Ornament
Lastly, include a new Christmas Ornament to hang on the tree! This is another extra special thing that your little one can hold onto for a lifetime. If you want to turn it into an "activity" you could get one of these cool "paint your own" Christmas Ornament sets!
---
Have You Seen The Daily Learning Calendar For Toddlers & Preschoolers?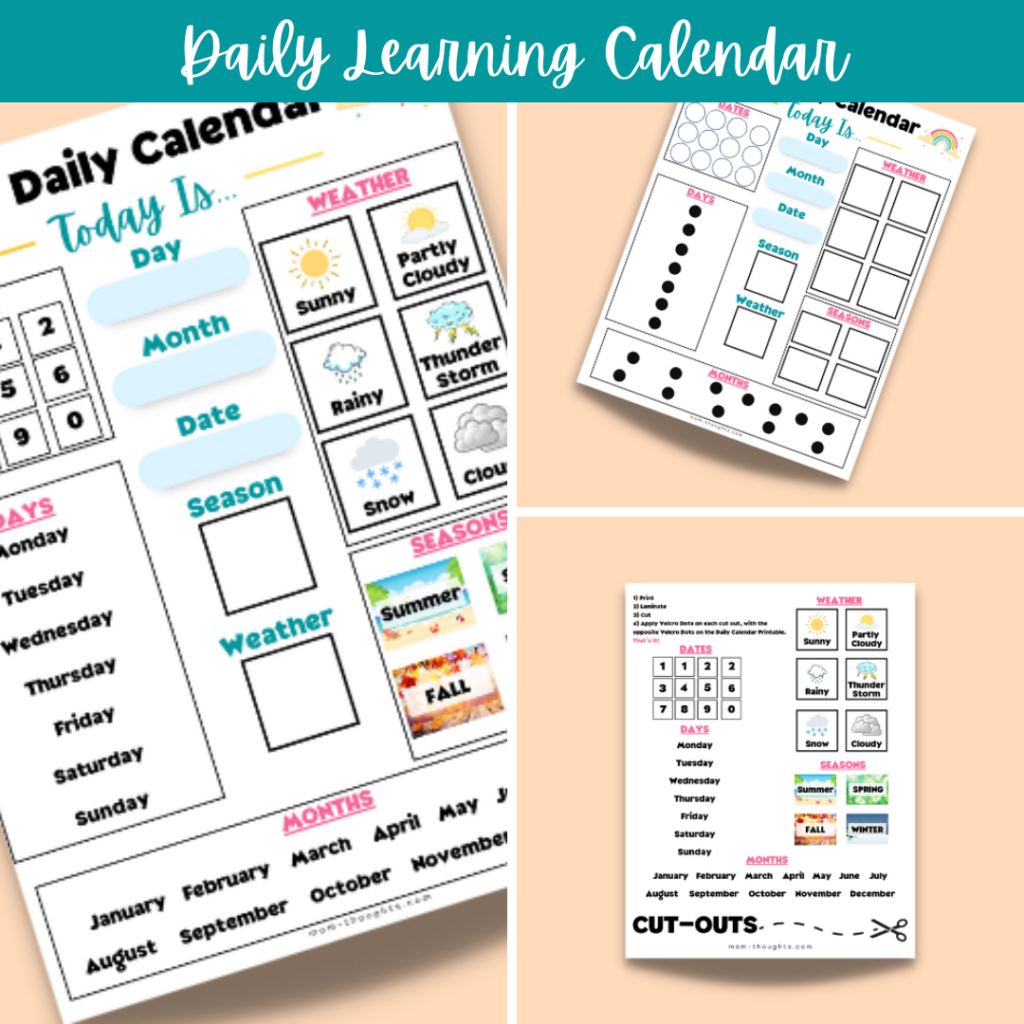 (Original Price: $12)
Learn More About It Here
Daily Toddler Calendars are a GREAT thing to add to your little one's daily routine. I was inspired to create this calendar printable by my toddler's preschool curriculum. Often times in preschool, this is how the teacher starts each day, so I wanted to incorporate it in our home routine as well!
This toddler calendar helps to teach the days of the week, months, dates, seasons and recognizing the weather outside! It also helps them to develop an understanding of before and after, and what comes next. (i.e. Today is Friday, so tomorrow is Saturday!, etc.)
---
Check Out The Latest Posts: