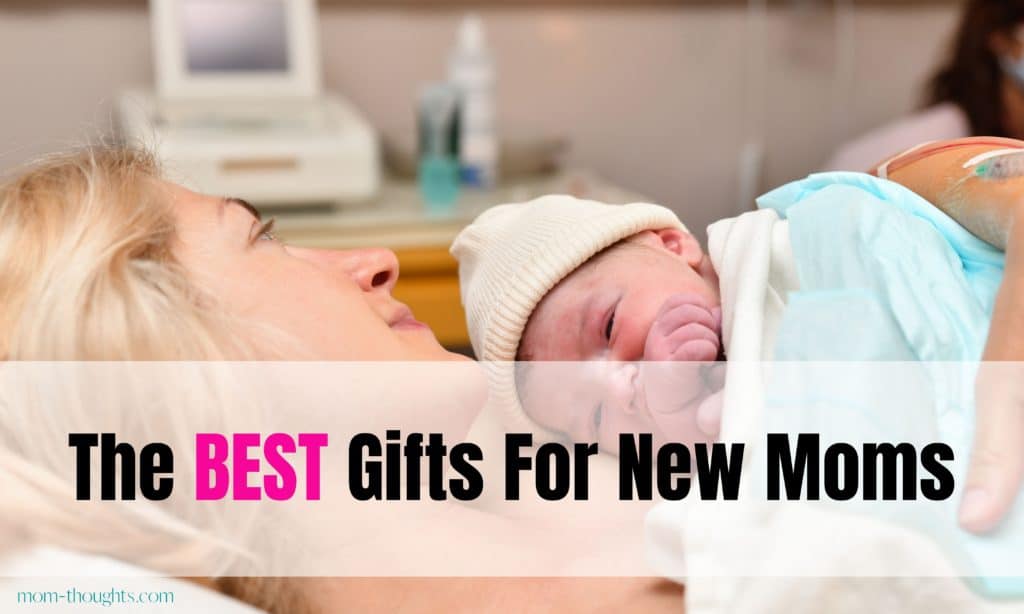 Trying to find the best gifts for a new mom in the hospital?
You've come to the right place! It's totally true that having a baby is one of the absolute best days of your life. But it's also stressful, exhausting, and overwhelming! Especially for a new mom. Luckily there are tons of great gifts for new moms in the hospital that will make her feel special and really help her out while she dives head first into this new journey of life!
So, what do you bring to the hospital for a new mom?
As someone who had a high risk pregnancy where there were health complications with the baby, I can tell you that even before the baby is born…it is all about the baby. It's not uncommon for MOM to get thrown to the back burner. After all, babies are so exciting!
However, the mom just spent the last 9 months growing a baby, and putting her body through the absolute ringer. Then going through labor and delivery, some more traumatic than others. And it's not like she then gets to kick her feet up and relax while her body recovers from everything it just went through. NOPE. It's GO time.
No sleep, a new found level of anxiety and fear, and a type of exhaustion that she never knew existed until now!
So these gifts are for THE NEW MOM in the hospital. Not the baby. (If you're looking for great baby gifts to help your new mom friend survive the newborn phase, check out these 10 Best Baby Products That All Moms Need!)
COMMON QUESTION: Do You Bring A Gift When Visiting A New Mom In The Hospital?
My answer is YES. You absolutely should bring a gift to the hospital when visiting a new mom! In my opinion this is the BIGGEST moment in a person's life. Yes…even bigger than the wedding day!
As a means for providing for my family, I may earn commissions if you shop through the links on this page at no additional cost to you. Thank you!
Here are some of the BEST gifts for new moms in the hospital!
There's a really cool small business company called CrateJoy that has HUNDREDS of cool subscription box options for women, men, kids, and anyone else you could possibly imagine.
They have really cool options for new moms! For gifts for new moms in the hospital, my top pick would be one of these many Self Care Subscription Boxes! One of the biggest issues that new moms face is forgetting to take care of themselves. That SO often contributes to postpartum depression, and mom burn out!
Help the new mom in your life, by gifting them with a self care subscription box. This will ensure that they get a reminder to take care of themselves too! You can purchase a one-time box too if you want. You do not need to commit to any level of on-going subscription if you don't want to.
Just an idea though…you could get them a subscription for a set number of months. Maybe gift them with 3-6 months of the subscription, then cancel it. That way you provided them with a monthly reminder and tool kit for selfcare during those critical first few months!
---
This is such a perfect gift for new moms! This New Mom Gift Set includes a cute wine tumbler, all natural soaps, a bath bomb and a cute card for you to write a special and encouraging note!
This is a great gift to bring to the hospital for a new mom to show them that they deserve to be pampered and cared for! She will SO be looking forward to taking a nice bath while sipping on some wine in her new "Mom" tumbler!
---
This yummy Strawberry Passion Fruit Postpartum Recovery Tea is a great addition to any gift basket for new moms. It's 100% organic and packed full of vitamins that are essential for postpartum healing!
You could put this tea along with a few other items from this list in a cute Fabric Basket like this one. Then the basket can be used in the baby's nursery!
---
I LOVE this Mommy's Sippy Cup Wine Tumbler. It's so cute, and will get a lot of good use! Baby's aren't the only ones that need sippy cups! *wink wink*
It also comes in handy for that morning coffee or tea. As a new mom she's going to need something to keep her morning drink warm while she continues to get distracted by her motherly duties.
---
This beautiful Sterling Silver Necklace would be such a meaningful gift for new moms!
The box includes a sweet Winnie The Pooh quote that reads "Something So Small. Sometimes the littlest things take up the most room in your heart. – Winnie The Pooh" I absolutely love it!
---
If you're a mom…you'll definitely get the reference here! #MomLife. You could fill this fun Mom Tote Bag with several new mom gifts and goodies! This bag will totally come in handy, basically immediately! It's the PERFECT thing to fill with gifts for new moms in the hospital because they could even use it to bring home stuff from the hospital when they're released!
---
I would have LOVED these "Mommy's First" Milestone Wine Label Stickers when I had my baby! It's such a fun and creative gift, that will also come in REALLY handy!
If the new mom in your life is a wine drinker, then this is definitely one of the best gifts for new moms in the hospital that I have seen. Really it'd be great for any mom with a newborn at home!
The labels include things such as "First Public Temper Tantrum", "First Date Night With Daddy", "Mom Fits In Her Favorite Pants" and "First Sleep Through The Night". Check them out!
---
This is another great gift for new moms in the hospital. Not only will this Essential Oil Diffuser Bracelet help her smell good, but you can include some calming essential oils! These will help her to keep her cool, even when the baby is being anything BUT cooperative!
Plus it's just a really cute accessory that will help her to start feeling like her old self again!
---
This super unique gift for new moms in the hospital come with 10 Postpartum must haves!
It includes a nursing cover, mommy and baby matching socks, lactation tea, breastfeeding recipe card, a sleep mask, candle with quote, bath salt, sugar scrub, and more!
---
Motherhood is hard. And the adjustment period for a new mom is really scary and overwhelming. It's not unusual for new moms to have a crippling feeling of "OMG I'm not cut out for this!", multiple times a day.
This cute little bracelet can serve as a constant reminder that they ARE in fact cut out for this, and they CAN do this!
---
As a new mom, she's probably not going to have much time to sit back and actually READ books anymore.
Luckily we live in a time where there are audible books and podcasts! You can gift them with 1, 3, 6 or 12 months worth of credits for Amazon Audible Membership. I would recommend getting at least 3 months. (6-12 if you really want to be a bada** friend.)
---
Hydration is critical for everyone, but especially new moms! When you're taking care of a new baby you tend to forget about yourself and your general needs.
This 32 oz. Insulated Tumbler is super cute, and it will help your new mom friend stay hydrated throughout the day! What new mom has time to get herself 8 glasses of water throughout the day? (None. The answer is none.)
---
Gifts For New Moms That Don't Cost Any Money
In addition to one of the sweet gifts above, there are also some amazing "gifts" you can give a new mom that doesn't cost a thing.
Dropping some dollars on a special gift is very appreciated! But it's also an amazing act of kindness to gift your TIME to help a new mom who is adjusting to her new role.
Here are some great ideas for how you can help a new mom:
Provide The Meals
Send over some pre-cooked meals that she can just pop in the oven or microwave! Make it yummy, but try to ensure it's got some nutrition to it as well! Her body will need some nutritious yumminess after all it's been through. (Especially if she's breastfeeding)
Not a good cook? Order some food to be delivered to their house! (Ok, so this one still cost a little bit of money…)
---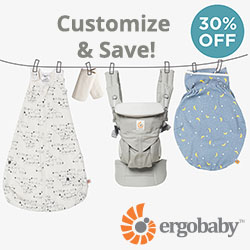 Laundry Service/House Cleaning
If the new mom is comfortable with it, offer to go to their house and take care of washing and folding their laundry a few times! That laundry pile quickly turns into a MOUNTAIN when you bring that new baby home.
While you're there, do the dishes, wipe down the counters and appliances and pick up the clutter. (There is going to be a lot of clutter!)
When you're trying to take care of a new baby, it gets really stressful. When the house is also super cluttered and dirty, it adds to that stress level. While you're juggling all of the tasks that go along with taking care of a newborn, the household "To Do List" is always in the back of your mind.
So helping out with that list is very helpful to a new mom!
---
Babysitter Duty
This is more help than you could even imagine! Insist on coming over and watching the baby for a few hours so the new mom can take a much needed nap and shower! Or maybe she can even utilize some of those nice bath supplies you got her and take a relaxing bath.
Added bonus: You get some quality time with the baby!
---
I hope this list of gifts for new moms in the hospital helps you find the perfect gift for the new mom in your life!
MORE RESOURCES:
10 Baby Products Every Mom Needs
The Best Wooden Puzzles For Toddlers
Things That Make Mom Life Easier
Time Saving Kitchen Gadgets For Moms