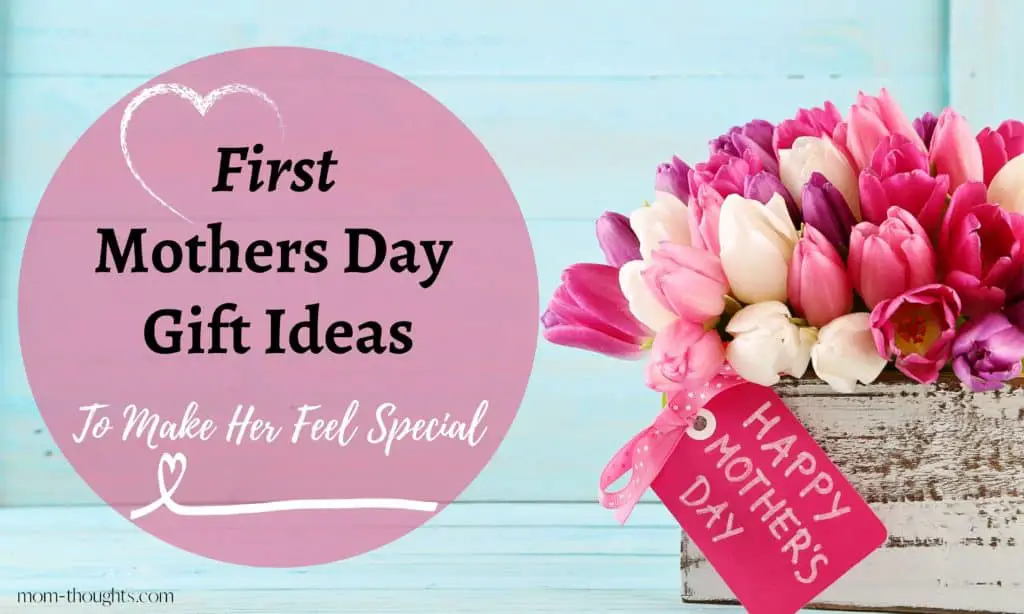 Searching for the BEST First Mothers Day Gift Ideas?
When I first joined the official "Mom Club", I was SO excited when my first Mothers Day came around! It feels like it's an elite celebration and you finally made the guest list! So whether you're trying to decide what to get your wife for her first Mothers Day, or if it's a friend or family member, help make her day special with these awesome first Mother's Day gift ideas! 
As a means for providing for my family, I may earn commissions if you shop through the links on this page at no additional cost to you. Thank you!
She'll be so grateful that you thought of her! The first year of motherhood is a complete whirlwind of sleepless emotions. In a single day you have intense feelings of joy, excitement, anxiety, sadness, self doubt, and more. Total roller coaster emotions!
So while EVERY Mother's Day is equally important, that FIRST Mothers Day comes with an additional level of anticipation and excitement.  
So what gifts do moms REALLY want for Mothers Day?
Being a mom is one of the most "thankless" jobs in the world. It's 24/7 and you pour your complete heart and soul into it day in and day out. When you have nothing left to give…you somehow give more anyway. 
So when buying a Mothers Day gift, your goal should always be to make her feel:
Loved
Appreciated
Special 
Let's dive into these thoughtful First Mothers Day Gift ideas to make mom feel special! 
Cricut Machines are all the rage right now. Perfect for any Crafty mom out there! This is one of those things that she's probably been wanting, but hasn't wanted to spend the money on herself. So get it for her! 
This machine allows you to personalize t-shirts, tote bags, pillows, aprons, baby onesies, and so much more! She can have as much customized "Mommy Swag" as her big warm heart desires!
(Warning for the husbands – be ready for a cute but possibly cheesy "Daddy" t-shirt when Father's Day rolls around!) 
Complete her set with the Cricut Mini! Perfect for customizing smaller items such as hats, shoes, or stuffed animals.
Also, don't forget to hook her up with this starter pack bundle with all the basic tools she'll need for her cricut adventures!
---
This beautiful Tree Of Life Necklace is absolutely stunning and the meaning behind it is just as beautiful!
A mother truly is the "Tree Of Life". The box has a saying that reads "To the world you are a mother, to us you are the world." This is a really special First Mothers Day gift idea that she could hold onto forever!
---
Every new mom would LOVE this adorable Mom & Baby outfit set for her First Mothers Day!
Tip For Husbands: Surprise her in the morning by getting up with the baby and getting them dressed in this cute little First Mothers Day onesie! Then show her that she has a matching T-Shirt to wear!
---
Help the new mom in your life stay hydrated! It's so important, but so easy to lose track of when you're adjusting to motherhood that first year! I LOVE these Hydro Flask bottles! People rave about them for a reason.
They come in multiple color options, fits 40 oz of water which helps you to stay hydrated throughout the day without having to fill a cup up 8 times, and it keeps your drink nice and cold!
Do your part to make sure mom is being taken care of too with this practical First Mothers Day gift ideas!
---
After having a child, moms tend to have an increased interest in their ancestry history as well as their genetic health history. This is a really cool Mothers Day gift for new moms that will allow her to learn SO much about herself and her history. 
My husband got this as a Mother's Day gift for me and I LOVED it. It was such a cool experience, and continues to be exciting to this day as new information is uncovered and updated on my APP Profile! 
With this 23 & Me Kit she can find out about: 
HEALTH FEATURES: Learn how genetics can influence chances of developing certain health conditions, so you can be prepared and take any necessary steps early on. Find out if you're a carrier for certain inherited conditions. (This information is all optional…if there's certain things you don't want to find out, then you don't need to.)
ANCESTRY AND TRAITS FEATURES: Discover your ancestry composition and where in the world your DNA is from across 2000+ regions. You can even automatically start your Family Tree using your DNA! See what your DNA has to say about your taste and smell preferences. And learn how DNA can affect your ability to match a musical pitch or whether you hate the sound of chewing, etc. So cool!
---
Mommy & Me Wooden Picture Frame
OMG I WISH I had received this Mommy & Me Picture Frame as a First Mothers Day gift! This is such a sweet gift.
Choose a really sweet picture of mommy and baby and put it in the frame. I think it would be really special to use a picture from the hospital from the day the baby was born.
---
As a new mom, she is probably spending ALOT of time around the house. (Especially if you're reading this in 2021!) This COMFY Wearable Blanket is A-M-A-Z-I-N-G!
It doesn't matter what time of year it is, moms love cozy things, and this is the ultimate "cozy thing"! My husband got this as a gift for me a couple years ago and I'm still obsessed. Whenever we have company over, they end up using it, and then hopping on Amazon and ordering one for themselves! It comes in multiple different colors.
---
Something to know about moms…we survive off of coffee! So a cute Mommy Coffee Mug is a GREAT First Mothers Day gift idea that will get a lot of use.
Here are some additional options to check out (Click on image for more detail)!
---
Mama gave up wine for 9 whole months! Get that girl a nice new wine tumbler!
Here are some other really cute options (Click on image for more detail)!
---
Remind her that she deserves to be pampered with this awesome 9 Piece Spa Gift Set!
Husband Tip: Give her the "night off" so she can take a nice relaxing bath, using the items in this spa set. Perhaps while enjoying a nice glass of wine!
---
As a busy new mom, she isn't always going to have time to take a nice relaxing bath. Not every day anyways. But that doesn't mean she can't get a few moments of peace and relaxation every day to nourish her mental health! She deserves it, and it's important for moms to keep their mental health in check through self care. Otherwise, it's only a matter of time before she suffers from the classic "mom burn out".
These highly rated and best selling Aromatherapy Shower Steamers are really cool, and they turn the everyday shower into a spa experience! The therapeutic essential oils helps to melt away the stress and tension from the day. A MUST HAVE for any mom!
---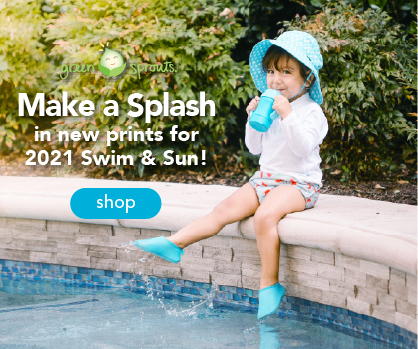 When I became a new mom, no one had warned me about the neck and back pain that came along with carrying a baby around all day! Plus often times having bad posture if you're trying to get the baby in the only feeding position that they will accept!
This Cordless Neck and Back Massager is a great first Mothers Day gift idea. She'll get a lot of use out of it! It has several intensity levels, 2 heating level and a long last battery!
---
MORE RESOURCES
10 Must Have Baby Products For New Moms
The Complete Toddler Gift Guide
13 Brain Boosting Wooden Puzzles For Toddlers
Daddy Daughter Date Ideas For Toddlers