This post is all about family command center ideas.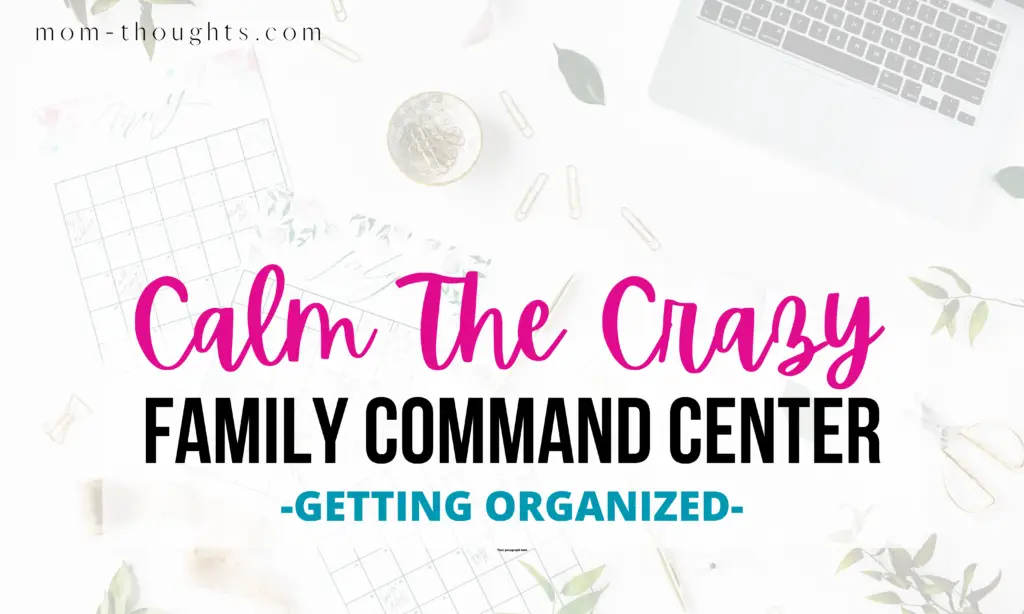 family Command Center
Setting up a family command center is a total game-changer when it comes to calming the chaos of a busy family. We've all been there…you're already running late, your running around like a chicken with its head cut off trying to find your car keys. You finally find your car keys, but wait, where's your kid's tablet!? Then you find the tablet…battery is dead. Or you're rushing out to work and daycare/school drop off, and your kid's backpack is nowhere to be found. It's a TERRIBLE way to start your day! That's where a family command center comes to the rescue!
As a means for providing for my family, I may earn commissions if you shop through the links on this page at no additional cost to you. Thank you!
What is a Family Command Center?
A Family Command Center is a central location for important family information and items that you need to access on a daily basis. The purpose of a family command center is to help busy families organize their schedules and make getting out of the door a much less chaotic process!
What Should Be In A Family Command Center?
What is included in your family command center will vary family-to-family, but typically it will include things such as:
Family calendar
Charging station
A place for car keys
A place for incoming/outgoing mail
Dinner menu for the week
Restaurant kit for toddlers
Where Should A Family Command Center Be Located?
You'll want to set up your family command center in a high traffic area where your family passes through each day. Kitchens, mudrooms, and entry ways are all great places to set up your command center. It has items that you're grabbing on your way out the door, or a place where you're wanting to place things when you come back in the house, so you'll want it to be somewhere that you pass when coming and going.
How To Set Up Your Family Command Center
1: Decide where you want to set up your family command center
2: Clear the space so you have room to set up all of the command center necessities
3: Put some sort of table in the space, then add in all of your organization products! (Details to below)
Digital Family Command Center
I am a big fan of digital family command centers. Not everything has to be digital, but I personally love having a central digital display for your command center.
Skylight Calendar
This Skylight Calendar is super popular among families for their command center. This one touchscreen device houses your family calendar, color coded chore charts, and meal plan. It's compatible with Google Calendar, iCloud Calendar, Outlook Calendar, Cozi, and Yahoo.
Echo Show 15
The Echo Show is another great option for a digital family command center. Keep the location of your family command center in mind when selecting the Echo Show, because this device goes beyond organizing your family's life. With the Echo Show, you can also watch shows (Netflix, Hulu, Amazon Prime Video, Disney+, and more.) You can also pull up your Ring Security Camera, and most other smart devices can be displayed on the screen as well. Since this device does SO much, I wouldn't recommend tucking it away in a mudroom because you likely wouldn't use it to it's full potential in a location like that.
More Family Command Center Ideas:
File Holders
File Holders are an absolute must-have for your command center! I like this set because it comes with 4 holders at a great price, and allows your to label each holder. What each bin is used for will vary based on family, but some ideas include:
Incoming Mail
Outgoing Mail
School Papers
Adult Documents (i.e. if you have an appointment the next day and need to bring a specific form)
Instructions for babysitters/petsitters
Take Out Menus
Coloring books to take to restaurants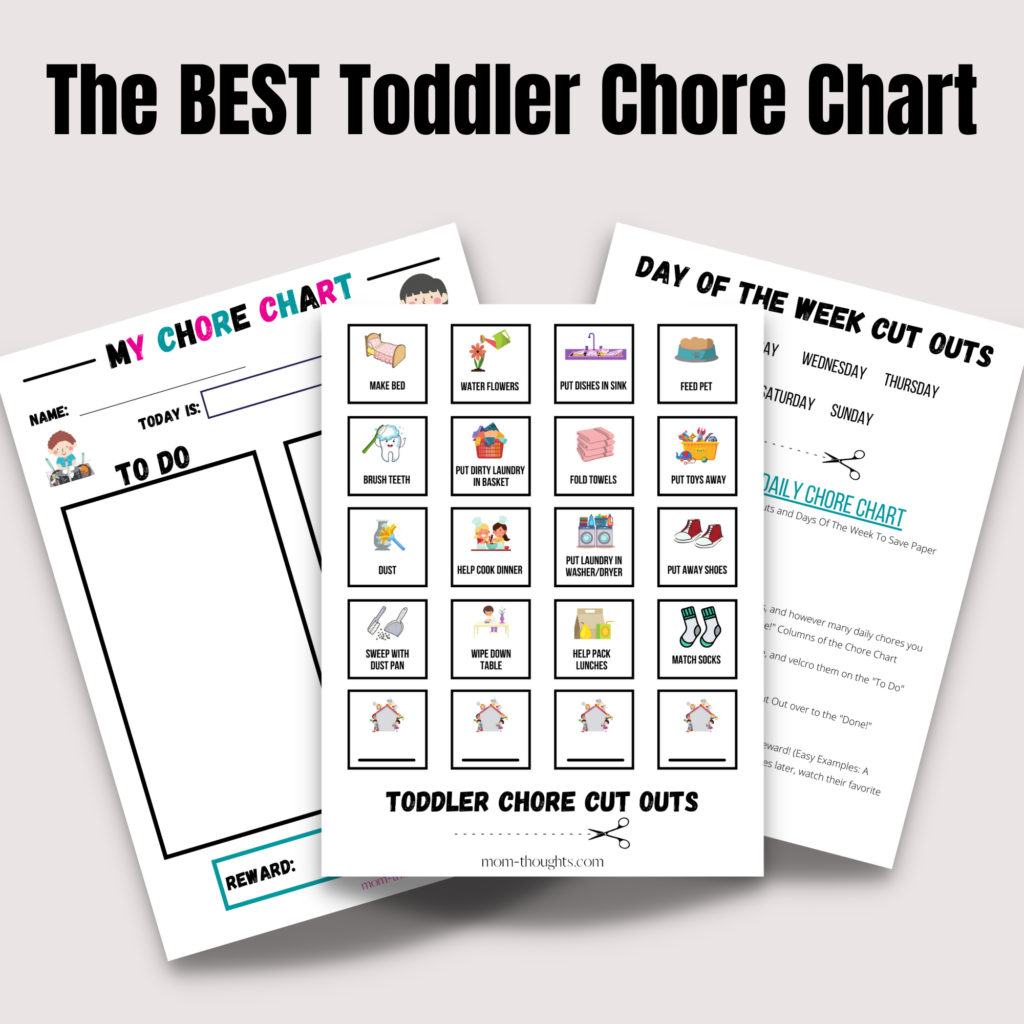 Your family's Command Center is a great place to put your child's chore chart. Here at Mom-Thoughts, we have a great interactive chore chart for toddlers. Get yours HERE. Instant Download, with instructions for use.
HOW TO USE THE TODDLER CHORE CHART PRINTABLE
1) Laminate The Chore Chart, Chore Cut Outs and Days Of The Week (Grab these laminating sheets from Amazon. No laminating sheet required)
2) Cut Out The Daily Chore Options
3) Cut Out The Days Of The Week
4) Place Velcro Dots on the backs of the cut outs, and however many daily chores you want to include on the the daily "To Do" and "Done!" columns of the Chore Chart
5) Each day, select the chores that need to be done, and Velcro them on the "To Do" column of the Chore Chart
6) Once done, your toddler gets to move the Chore Cut Out over to the "Done!" column
7) If they complete all of their daily chores, they get the reward! (Easy Examples: A special snack, an extra book at bedtime, stay up 10 minutes later, watch their favorite movie, etc.)
If a digital family command center isn't your thing, that's totally fine! This set is a great option because for an affordable price you get a: Monthly Dry Erase Calendar, Dry Erase Weekly Planner (I like using this for a meal planner), and a cork board. This set also works great if you have a narrow wall that you're using for your command center.
If you want to set up a command center on your refrigerator, I love this magnetic set that includes a monthly calendar, weekly planner, and a daily to do list, which can also be used as a shopping list. A shopping list is another great thing to include in your family command center, so each member of your household can add to it throughout the week.
For your key hooks, you can absolutely just use command strip hooks, but this shelf option is great because not only does it add an element of design to your command center, but it also includes a place for you to put mail, or your wallet, or other documents.
Charging Stations
In todays day in age, charging stations are an absolute must-have. The size of your family, and just how many devices are used on a regular basis will determine which charging station is best for you. But here are some of the most popular (and for good reason!)
Now that you know what a family command center is, and what to include in your command center…go get started!
PRINTABLES MOMS ARE LOVING: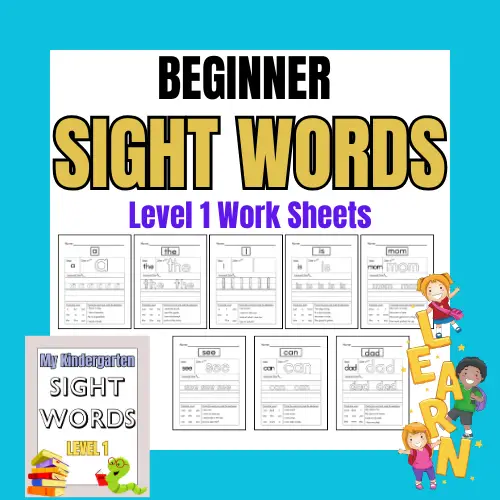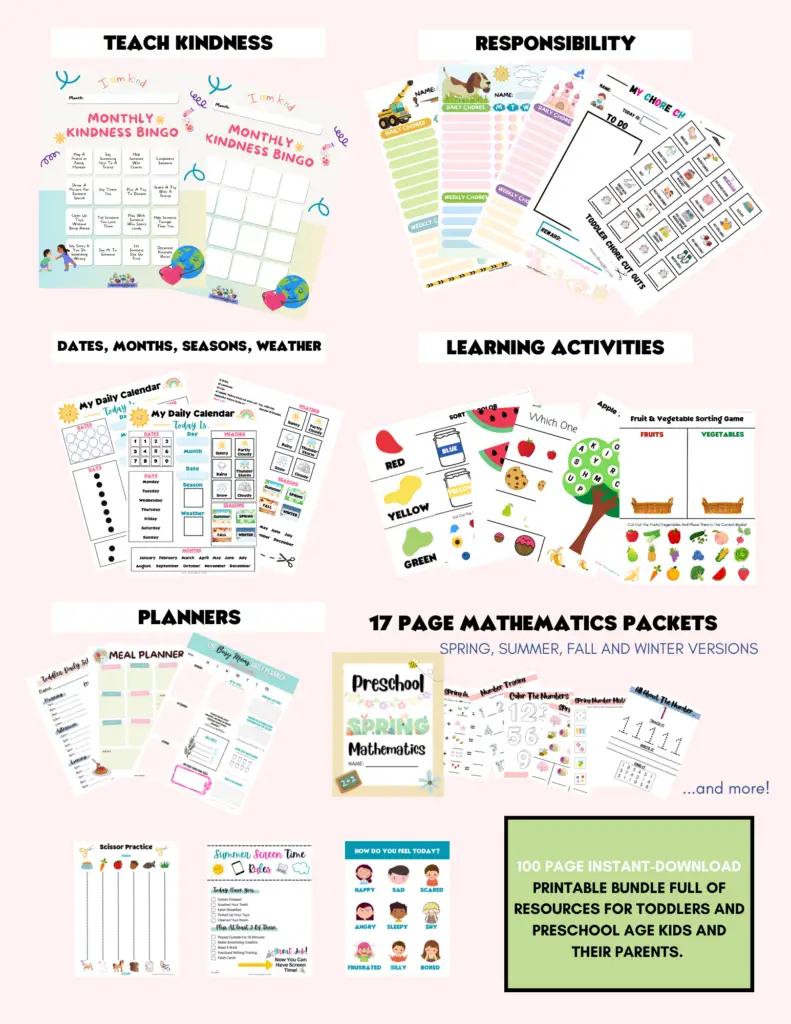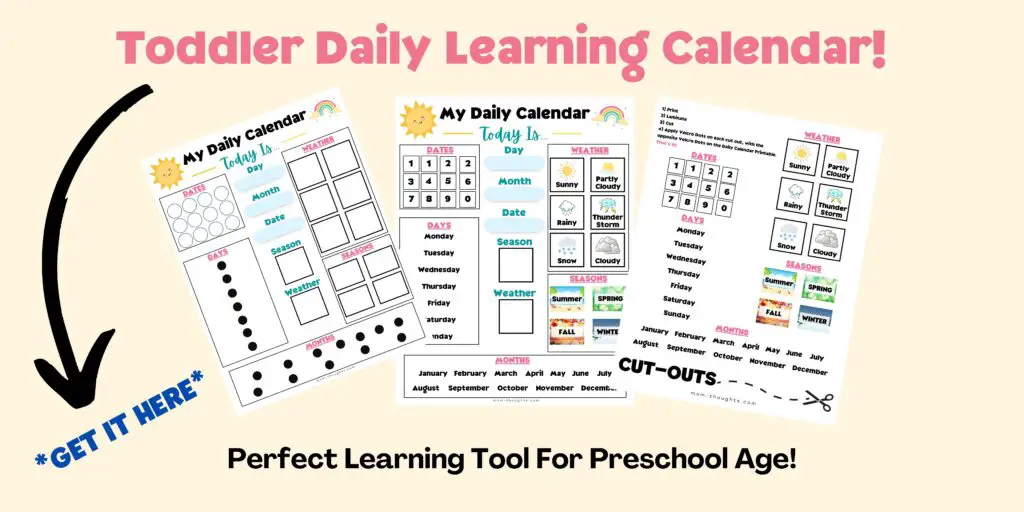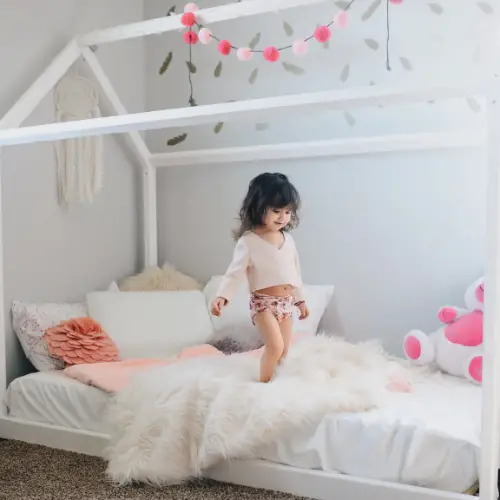 This post is all about the best toddler beds. Best Toddler Beds To Help With…