This post is all about preschool essentials.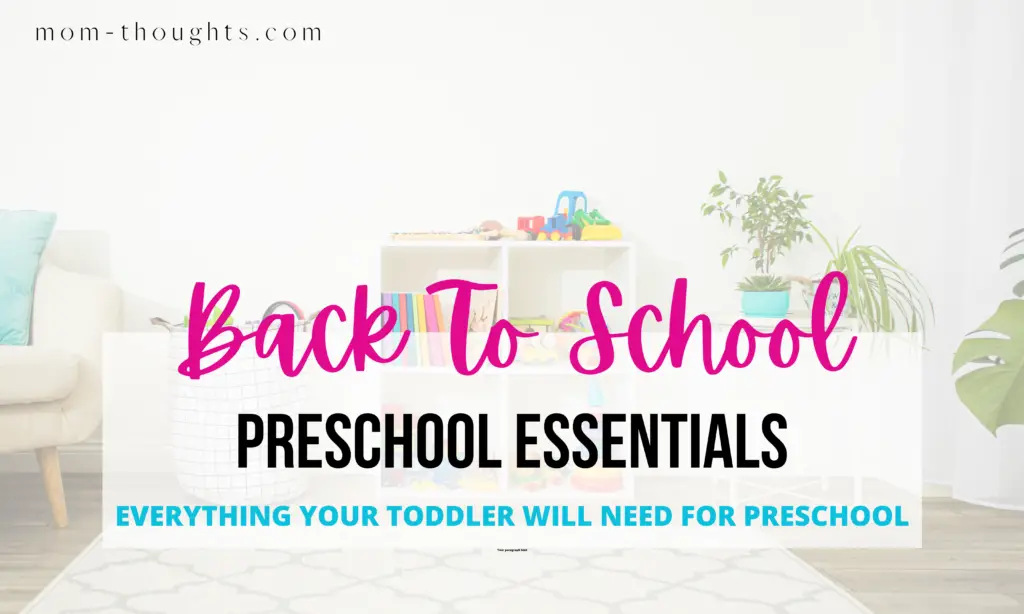 Are you new to parenthood or preparing to send your little one off to preschool? It's an exciting but overwhelming milestone that can leave you with many questions about what your child needs to be ready. From clothing to supplies, the choices can be daunting when researching preschool essentials. To help you get started, this guide will provide an overview of essential items to help make your child's preschool experience the best it can be. We will cover topics such as comfort items, accessories, school supplies, and more. So don't stress! With the help of this guide, you can ensure your child is well-prepared for their first day.
Your child's school will likely provide you with a list of items they need, but here is a list to ensure you're fully prepared!
As a means for providing for my family I may earn a small commission if you purchase through the links on this page.
PRESCHOOL ESSENTIALS – EVERYTHING YOUR CHILD NEEDS WHEN STARTING PRESCHOOL
Backpack is an obviously preschool essential. They'll need to this transport their lunch, snacks, schoolwork, and nap items. I love this Simple Modern brand because of the quality, pockets, and size. I also love that it comes in so many different patterns, so your little preschooler can pick one that they LOVE. Having a fun new backpack can also help combat the separation anxiety at drop-off. (It always helped my daughter to have a fun backpack or new outfit that she was excited about.)
The school will likely not refrigerate the packed lunches, so you'll want to get an insulated lunchbox to carry their lunch and snack items. Bentgo Brand makes great ones. And they fit the kid's Bento Boxes perfectly. There's also tons of pattern options perfect for any boy or girl.
Bento boxes are an absolute must in my book. And the Bentgo brand are my favorites. I have 3 of them that I rotate throughout the week to make sure I always have a clean one ready to pack the night before. Not only are bento boxes for kids great, but the different compartments force me to pack a balanced meal with some variety. As an added bonus, it's always satisfying seeing the final packed lunch, full of color!
You'll need some icepacks to keep your preschooler's lunch fresh. Bentgo Brand takes the cake on this one too! They come in 10 different shapes to make lunch time extra fun. My preschooler picked the Fairy ones, which are super cute!
You'll need to send them to preschool with a spill-proof water cup every day. You likely already have some of these stocked up, but if not, you'll need to get a few. I highly recommend the THERMOS FUNTAINER. Not only to they come in lots of fun designs, but you can completely pop out the straw area and clean it through the dishwasher. So there's no hidden mold anywhere! To top it off, you can buy replacement straws, so you can switch out the straw/sipper periodically. (A set of two replacement straws are only $4.99 right now!)
You'll need to label all of your child's belongings when sending them to preschool. (Lunchboxes, water cups, bento boxes, etc.) Having water-proof labels like these make it MUCH easier!
No, you're preschool will not sleep in a crib at naptime, but the crib sheets fit the cots that they use. (Most daycare centers have cots for the children to take naps on, but check with your specific school.) I swear by these sheets because they are SO buttery soft! It comes in a 2-pack with lots of fun pattern options to fit your little one's personality.
Any of their blankets from home would be a good choice. Preferably a blanket they use often and would find some comfort in while away from home. Or if your school doesn't offer cots, you'll want to grab a Nap Mat (with built in pillow and blanket)
Open-toed shoes are not typically allowed at preschool because it can be a safety hazard when they're on the playground. You'll want to ensure they have a comfortable pair of shoes that will be good for lots of running around! Get ones that are easy to take on and off as well! You don't want to be dealing with that struggle in the morning, and you won't want to put the preschool teachers in a frustrating situation with difficult shoes! (They typically keep their shoes on all day, but kids will be kids.)
Even when children are potty-trained, accidents are bound to happen. So you'll need a Wet Dry Bag to keep in your kids cubby.
11. Extra Clothes (Including Underwear)
These preschool essentials are often forgotten about! Your preschooler will need an extra set of clothes (including underwear) to keep at school incase of an accident.
Stock up on all the favorite snack and lunch items! If you haven't already, try out Amazon Fresh! Amazon Fresh offers grocery delivery on TONS products – from a complete grocery selection to everyday essentials, toys, gifts and more.
I also really like using these re-usable snack bags. Not only is it better for the environment, but as an added bonus…it saves money from constantly re-buying plastic bags! And yes, they are dishwasher safe!
13. sunscreen
Especially during the summer months, you'll need to send a bottle of sunscreen to your child's preschool. Keep in mind that most preschools will not allow the aerosol bottles. My preschooler has very sensitive skin, and I also just try to stay away from highly toxic brands. So after some research, Blue Lizard has become one of my favorite sunscreen brands to use on my preschooler, and for our whole family.
14. Diapers, Wipes, Diaper Cream
If your child isn't potty trained yet, you'll need to send diapers, wipes and diaper cream to school. Some preschools may require your preschooler to be potty trained before they start, so definitely check with them. (Check out this post of the 15 Best Potty Training Books for Parents and Toddlers!)
15. Seasonal Outerwear
Your preschooler will get outside time year round, as long as the weather is safe. So you'll need to be prepared with heavy coats, mittens and hats for winter, and light jackets for the spring and fall months.
16. Any Needed Medication
If your child requires any daily medication that will need to be administered by the school staff, make sure that is documented and communicated to the school director and staff.
Make sure your toddler is ready for preschool with this 100 page Toddler/Preschooler Resource Bundle!
100 Page Instant-Download Printable Bundle full of resources for toddlers-preschool age kids and their parents!
Includes great learning activities for indoor activities, planners, chore chart options, daily learning calendar, kindness BINGO, emotions chart, mathematics packets for each season, scissor activities, and more!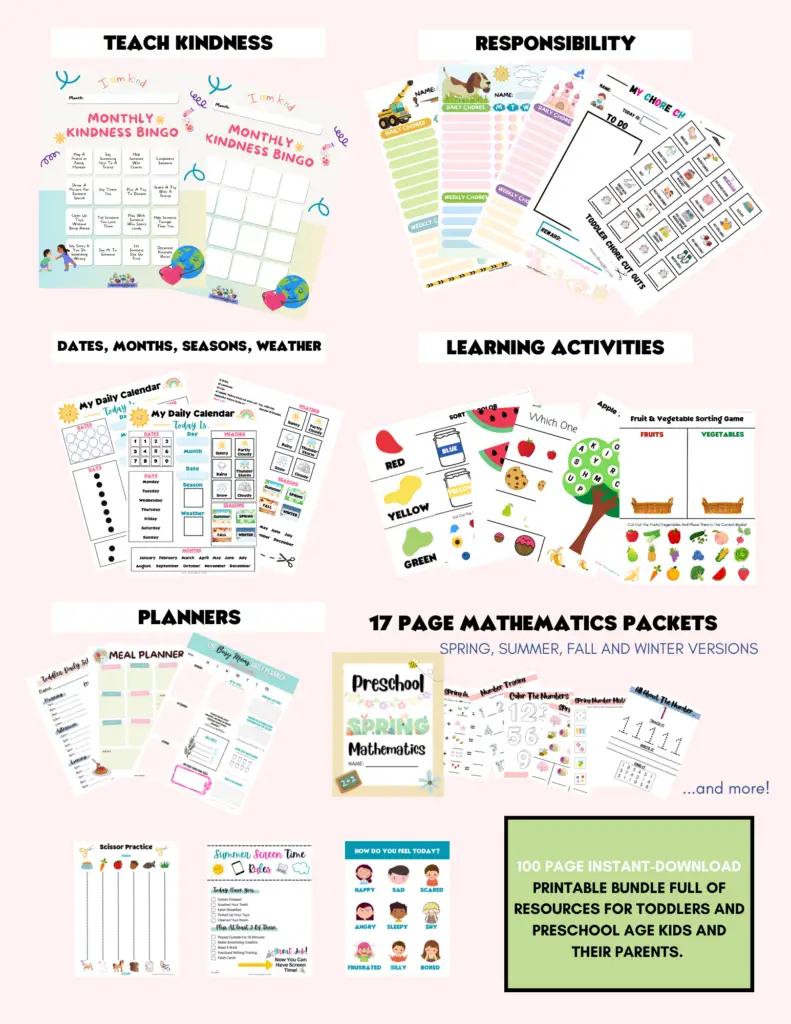 This post is all about the best puzzle storage ideas. Are your kid's puzzles overwhelming…